In the Workshop: Paint
From surfboards to Harleys, the global UAP Paint Team come from a variety of different backgrounds, and each lend their impeccable skills to prepare, paint and finish the artworks that come through our workshops.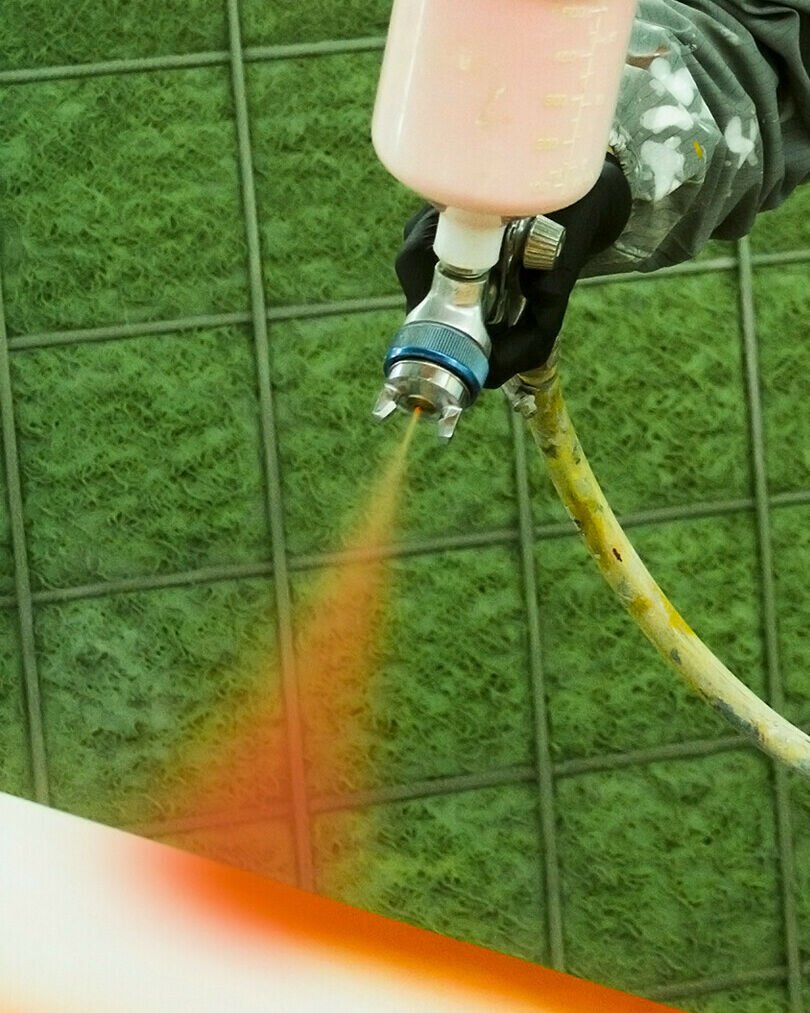 From surfboards to Harleys, the global UAP Paint Team come from a variety of different backgrounds, and each lend their impeccable skills to prepare, paint and finish the artworks that come through our workshops.
Behind each polished and perfected artwork unveiled to the public is a dedicated team with a wealth of diverse knowledge. To mark the establishment of UAP New York's first paint booth, we're celebrating our in-house painting capabilities which, until now, have only been undertaken in our Australian workshop.
UAP Brisbane's Head of Paint is Matt Keane, a former owner of a successful surfboard-making business who began his UAP career as a pattern maker before eventually transferring his skillset to painting. With a highly trained eye for detail and a commitment to mastering a new trade, Matt has led the department through hundreds of projects. Producing a vast range of finishes – high gloss gallery works, durable outdoor installations and everything in between – Matt and the team are well versed in applying tailored processes to match each artwork's individual needs.
Beyond the artwork's unique appearance, factors like project timelines, the artist's specified process and the install location coming into play means there is no one-size-fits-all approach – and this applies to not only the painting itself, but the preparation.
'The careful preparation of the piece, and the timing of when each step needs to happen – it's all behind the scenes, but it's something I really enjoy.'

- Matt Keane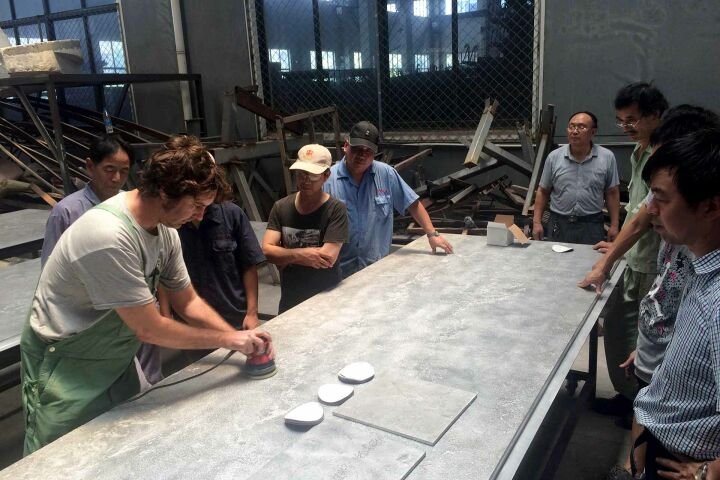 The finish for Idris Khan's Wahat al Karama involved a paint rub hand-applied to each of the 850 aluminium panels. The surfaces were then sanded back at varying degrees to create the distinctive shade gradient.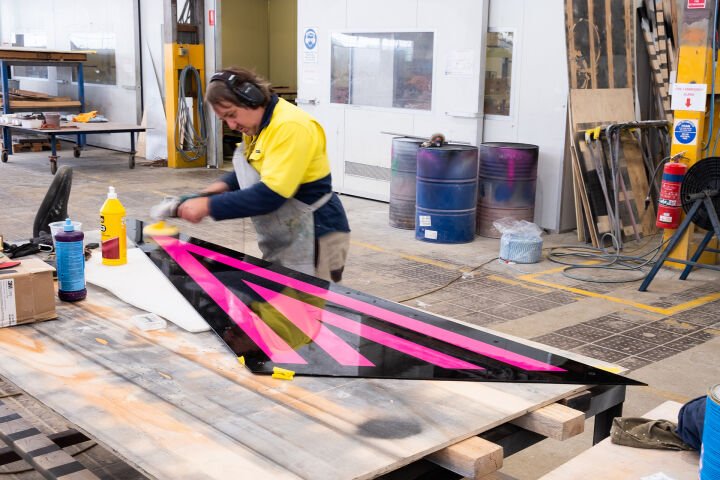 Reko Rennie's Mirri has a striking, glossy finish. This required a thoroughly prepared piece, and was produced using complex masking, 2 pack vehicle wet spray and multiple clear coats
When it comes to painting, preparing the work effectively is an essential and often unseen component. For many artworks, the paint team are provided with cast and fabricated metal from which they must fashion a smooth, flawless canvas. Even miniscule bumps or divots left unaddressed will become obvious once paint is applied, so the artwork is methodically assessed, and imperfections are filled in or ground away. A custom process of sanding, priming, and puttying the surface is used to create the foundation for the final product, and the required finish determines the number of iterations: more repetition equals a smoother surface. From there, base coats, topcoats and clear coats are applied, interwoven with periods of baking, specific drying schedules, and colour mixing that requires a chemist-like level of precision.
After years of the Brisbane workshop leading in-house painting projects for installations all over the world, these complex capabilities will now live at UAP New York too. A newly constructed paint booth in our Rock Tavern foundry will be home to Ted Turner, a recent addition to the team. Ted has been painting in various forms for over 40 years, including a long stint as a world-class designer at the Harley-Davidson Design Studio. Within the corporation's Product Development Center, Ted designed prototype paint and graphics for custom motorcycles for the global market, so he's no stranger to producing high quality paint jobs destined for the public eye. Add in experience in hot rod customisations, sign writing and murals, and there's hardly a paint type Ted hasn't touched: expertise he'll now bring to exploring his long-held interest in the art realm.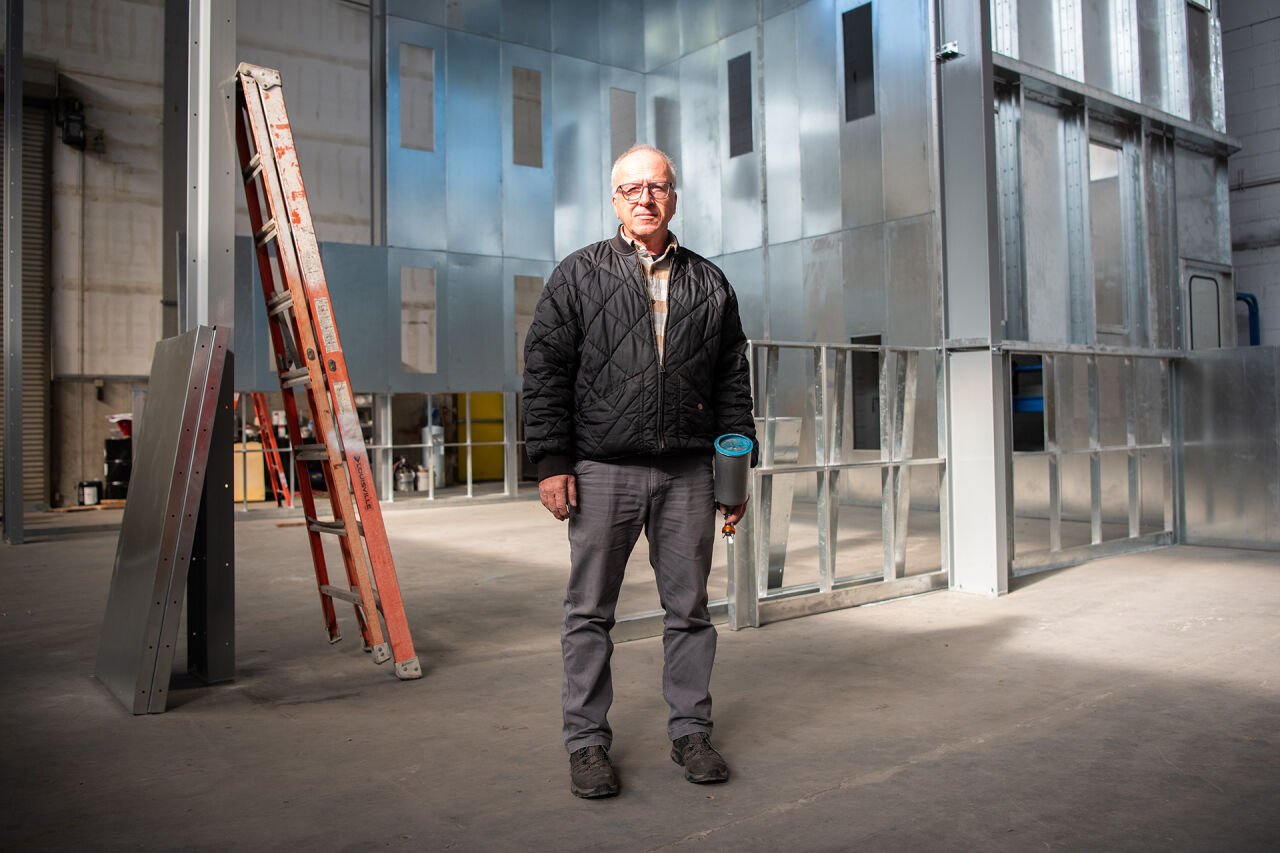 Ted Turner in UAP's North American Workshop
Bringing someone else's vision to life is a test of my insight and my knowledge.

- Ted Turner
Armed with his diverse background, Ted is aware of the unique challenges that come with making artworks – and he's excited. Ted will have access to a paint booth with over 430 cubic metres of space, plus the dedicated time and resources to deliver remarkable paint finishes for works by some of the world's best-known creatives – but beyond all this, what Ted is most looking forward to is simply 'working together with a team, making things to amaze people'.
By Grace Dooner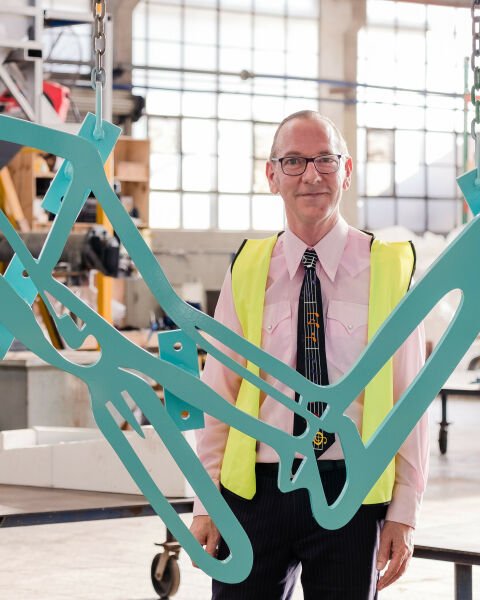 With a creative practice that explores language and pop culture through paintings, drawings, light works, installations, and musical performances, Melbourne-based artist Jon Campbell's 2021 public art installation Backyard represents a stylised pop version of his childhood backyard in the western suburbs of Melbourne.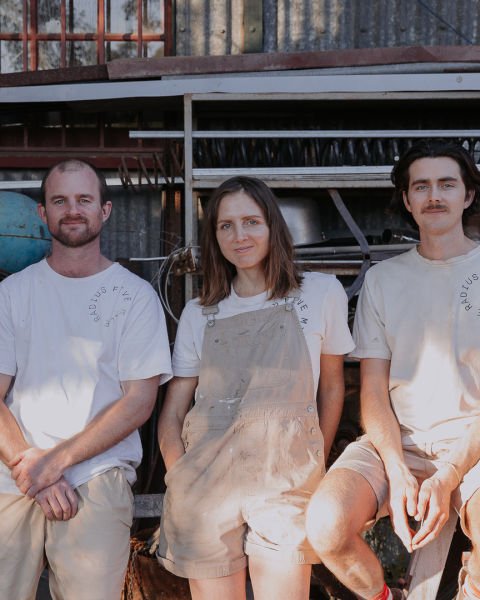 Living in a world where architecture has minimal impact on the environment through the application of appropriate design, materials and technologies while also ensuring ongoing benefits for future occupants in the form of comfort, wellbeing and energy efficiency has been the lifeblood of Brisbane-based architecture and design studio, Five Mile Radius.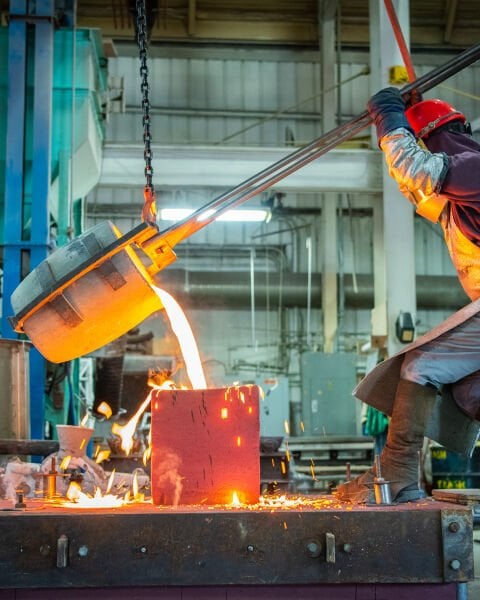 Daniel Tobin talks about artistic intent, making mistakes and learning from them, and the company's journey to sustainability.