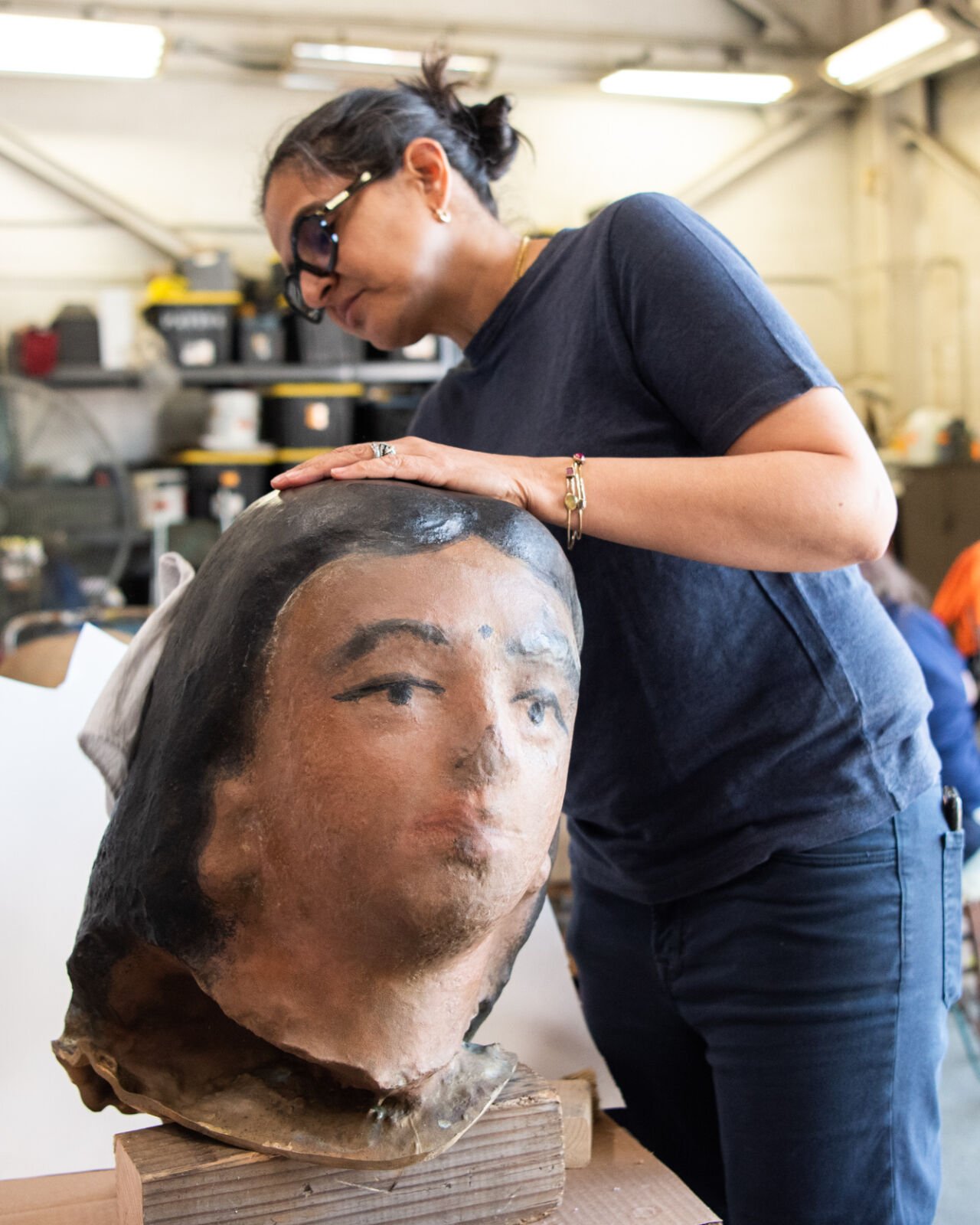 Born in London in 1969, Bharti Kher has worked across painting, sculpture, and installation for more than two decades, transforming a range of everyday materials from the bindi to furniture, saris and clay figurines, into new states of being and forms that are entirely her own. Led by her personal experience of double displacement, Kher weaves together the daily rituals of everyday life drawn from multiple places with a kind of magical realism and created mythology.
Highly attuned to the complexities of class, race, and gender, her artworks are multifaceted and unfixed. Kher navigates this and her own position as a woman, creator, and artist traversing different geographic, cultural, and social environments. Her work encompasses an expansive range from figuration to abstraction, spanning the detailed cast bodies of sex workers to the adjacency of precariously balanced geometric and organic shapes and forms. Kher's engagement with Indian visual and material culture informs both the subject and material of many of her works.
Kher has exhibited in museums around the world, including solo exhibitions at the Irish Museum of Modern Art, Dublin, Ireland; DHC/Art, Montreal, Canada; Museum Frieder Burda / Salon Berlin, Berlin, Germany; Isabella Stewart Gardner Museum, Boston, MA; Vancouver Art Gallery, Vancouver, Canada; Rockbund Art Museum, Shanghai, China; and Baltic Centre for Contemporary Art, Gateshead, United Kingdom. Her work is held in the collections of Tate, London, United Kingdom; Queensland Art Gallery and Gallery of Modern Art, Queensland, Australia; Kiran Nadar Museum of Art, New Delhi, India; The Walker Art Center, Minneapolis, MN; Leeum Samsung Museum of Art, Seoul, Korea; Ishara Art Foundation, Dubai, UAE; and Guggenheim Abu Dhabi, Abu Dhabi, UAE; among others. The artist presently lives and works between London and New Delhi.
Bharti Kher is represented by Hauser & Wirth, Galerie Perrotin and Nature Morte, New Delhi.