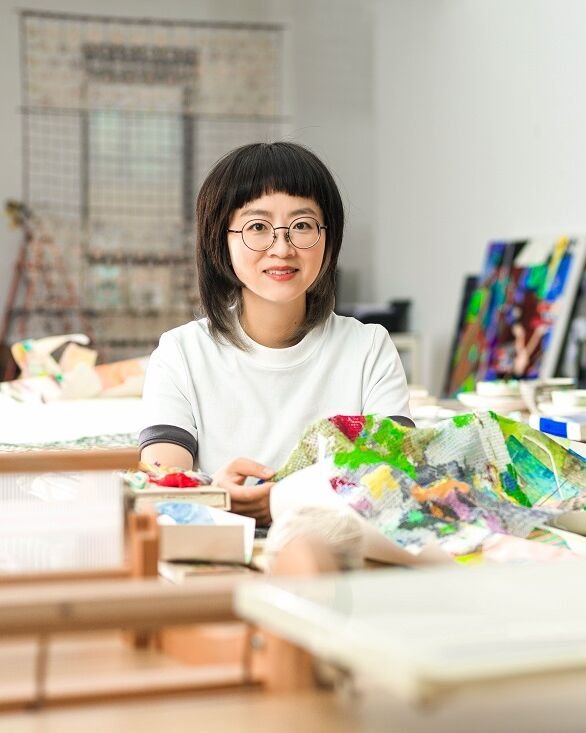 Born in 1982, Ningbo, Bi Rong Rong currently lives and works in Shanghai. In recent years, her works are closely related to walking and collecting behavior. Whenever passing through or arriving in a strange place, or returning to a place she used to be familiar with, Bi Rongrong observes and reads it in a personal way, including reading the surface of the city—the "urban skin".
Bi Rongrong believes that the urban skin can be the ornamental patterns carved on buildings, the patterns of fabrics wrapped around the body, the information of posters posted on the street walls, the vegetation rooted in the corner of the city, and so on. Bi Rongrong collects them from different times and spaces, and merges them in her unique creative context. Through manual or digital processing, she transforms them into a variety of mixed media works including painting, collage, fabrics, video and site-specific installation. The fragmented images and patterns from her works, although separated from their original context, grow by themselves in another way, and constantly transform into new image landscapes in new spaces.
After completing the MA of Chinese Traditional Landscape Painting at Sichuan University, she studied at the MA of Painting Department of the Frank Mohr Institute in the Netherlands. She has established cooperation with many important art institutions and public art projects, including: Centre for Heritage Arts & Textile in HK, Shanghai Museum of Glass, UCCA Lab, K11, Shanghai Pearl Art Museum, A Thousand Plateaus Art Space, Vanguard Gallery. And public art projects include Shenzhen-Hong Kong Bi-City Biennale of Urbanism\Architecture, Shanghai Urban Space Art Season, Cass Sculpture Foundation (UK), etc.