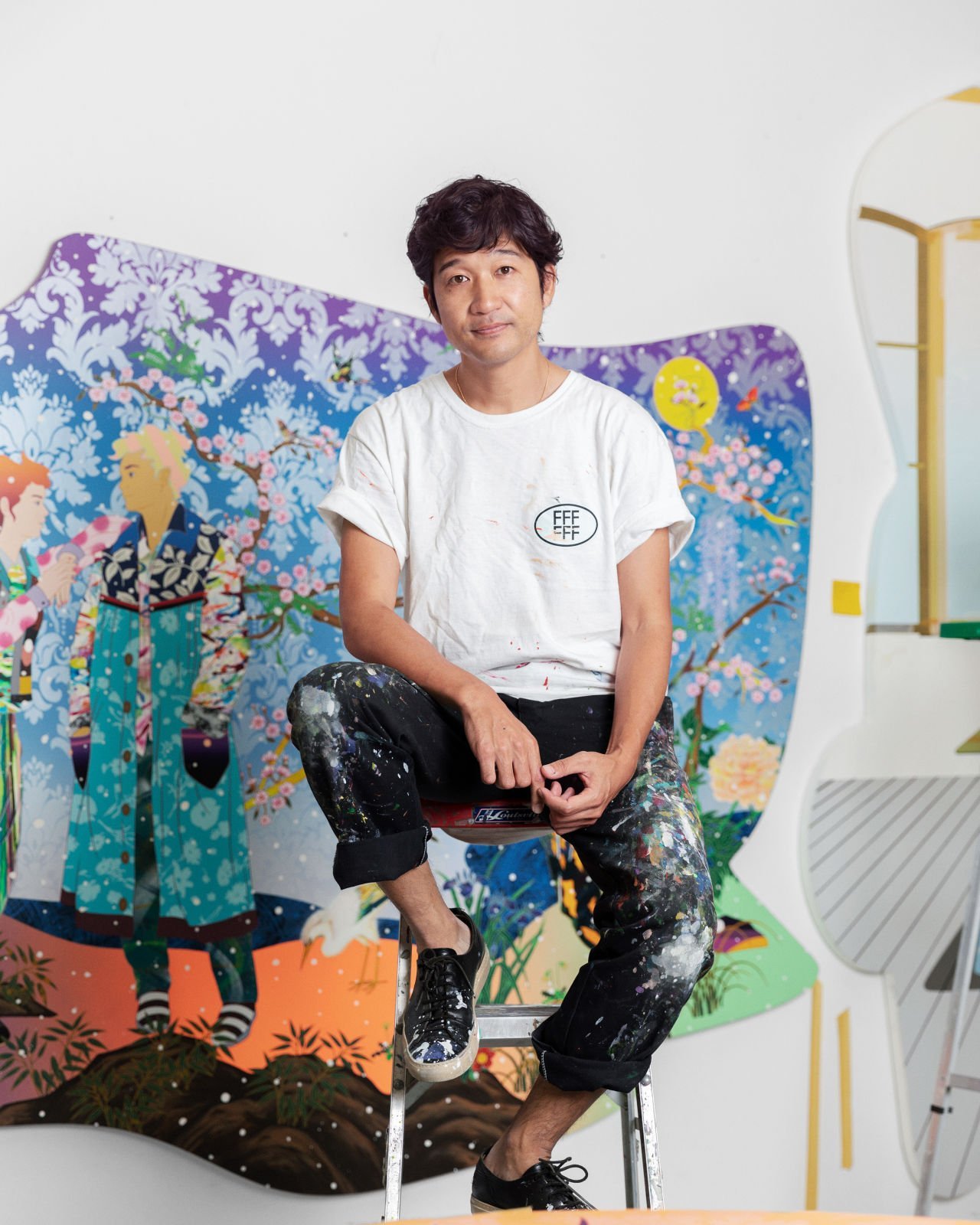 A first-generation Japanese American who lives and works in New York City, Tomokazu Matsuyama (b. 1976, Gifu, Japan), as a bi-cultural visual artist, he notably remains dedicated to both Eastern and Western aspects into his aesthetic evolution. He has also developed a singular aesthetic grounded in an elegant expression of what he refers to as "the struggle of reckoning the familiar local with the familiar global.", and he is keenly aware of the nomadic diaspora, a community of wandering people who seek to understand their place in a world full of contrasting visual and cultural dialects.
By raising questions of national and individual identity through the formal qualities and subject matter of his paintings, Matsuyama examines the "natural chaos" of our social environments and challenges viewers to confront their own conceptions of cultural homogeneity.
Matsuyama is influenced by a variety of subjects, including Japanese art from the Edo and Meiji eras, classical Greek and Roman statuary, French Renaissance painting, and post-war contemporary art. Furthermore, his works feature amalgams of references, including figures borrowed from fashion magazines; clothing reminiscent of historic Japanese garments; backgrounds evocative of Shogun-era screens and panels; curved canvases that simultaneously recollect mid-century Modernist Minimalism and the far more ancient history of shaped tea platters; and elements such as a junkyard tire and a bag of potato chips that situate the images starkly in the present age, and spotlight popular culture as embodied by mass-produced commodities.
Matsuyama received his MFA in Communications Design from the Pratt Institute, New York. Recent exhibitions include Realms of Refuge, Kavi Gupta, Chicago, IL; Tomokazu Matsuyama: Accountable Nature, Long Museum West Bund, Shanghai, China; Tomokazu Matsuyama: No Place Like Home, Zidoun-Bossuyt Gallery, Luxembourg; Tomokazu Matsuyama: Oh Magic Night, Hong Kong Contemporary Art (HOCA) Foundation, Repulse Bay, Hong Kong; Edo Pop: The Graphic Impact of Japanese Prints, Japan Society, New York, NY, USA; Tomokazu Matsuyama: Palimpsest, Harvard University, Cambridge, MA, USA; Thousand Regards, Katzen Arts Center at American University Museum, Washington, DC, USA; and Made in 17 hours, Museum of Contemporary Art Museum, Sydney, Australia, among others. Public displays of Matsuyama's work include a monumental, permanent sculptural installation, activating Shinjuku Station East Square, Tokyo, Japan, one of the busiest urban train stations in the world, as well as acclaimed, large-scale public commissions in Beverly Hills, CA, and in the Bowery neighborhood of Manhattan, mobilizing Matsuyama's signature examinations of bi-culturalism and pop culture. Matsuyama's works are in the permanent collections of the Long Museum, Shanghai, China; LACMA, Los Angeles, CA, USA; Asian Art Museum, San Francisco, CA, USA; and The Dean Collection (Swizzbeats and Alicia Keys), USA; among many others.
Tomokazu Matsuyama is represented by
Kavi Gupta
(Chicago),
Kotaro Nukaga
(Tokyo) &
Zidoun Bossuyt
(Luxembourg).
Image credit: Tomokazu Matsuyama Studio