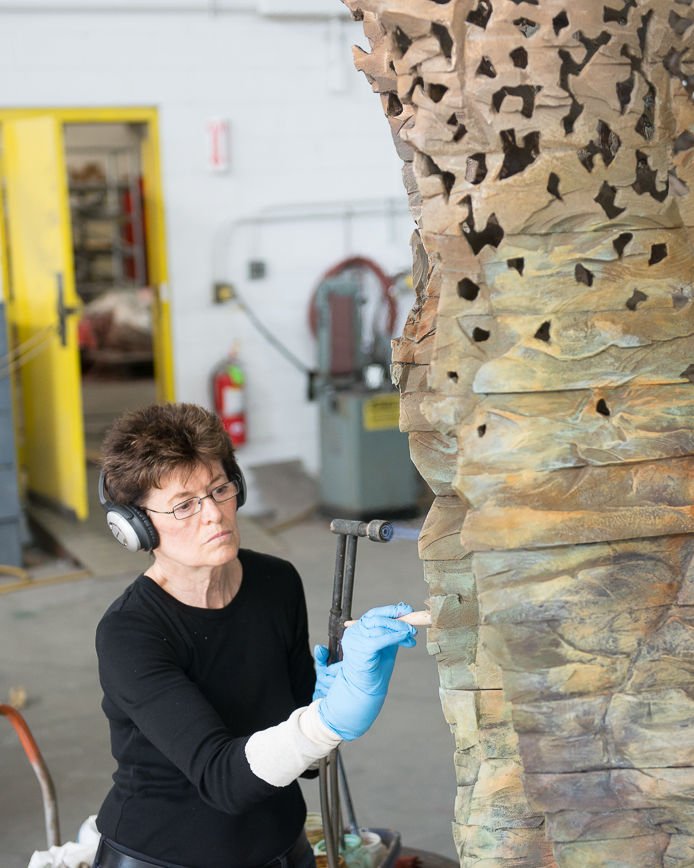 Over a remarkable four-decade-long career, Ursula von Rydingsvard has become one of the most influential sculptors working today. She is best known for creating large-scale, often monumental sculpture from cedar beams, which she painstakingly cuts, assembles, and laminates before finally rubbing a graphite patina into the work's textured, faceted surfaces. Her signature abstract shapes refer to things in the real world — vessels, bowls, tools, and other objects — each revealing the mark of the human hand while also summoning natural forms and forces. In recent years, von Rydingsvard has explored other mediums in depth, such as bronze, paper, and resin, continuing to expand upon her unique artistic vocabulary.
Von Rydingsvard's work is represented in the permanent collections of over 30 museums including the Metropolitan Museum of Art, New York; Museum of Modern Art, New York; Whitney Museum of American Art, New York; Walker Art Center, Minnesota; Nelson-Atkins Museum of Art, Missouri; Storm King Art Center, New York; and Detroit Institute of Arts, Michigan. Permanent commissioned sculptures by von Rydingsvard are on view in multiple public locations including the Massachusetts Institute of Technology; Microsoft Corporation, Washington; Princeton University, New Jersey; Bloomberg Corporation, New York; and Barclays Center, New York; among others. Recent solo museum exhibitions include Ursula von Rydingsvard: The Contour of Feeling at the Fabric Workshop and Museum, Pennsylvania and Now, She, a presentation of large-scale outdoor sculptures at the Philadelphia Museum of Art, Pennsylvania.
Von Rydingsvard was born 1942 in Deensen, Germany. She has lived and worked in New York City for over 40 years.
Ursula Von Rydingsvard is represented by Galerie Lelong & Co.
This biography is courtesy of Galerie Lelong & Co.
Image credit: Chris Roque