Selfie Panda Gains Popularity in China and Rest of the World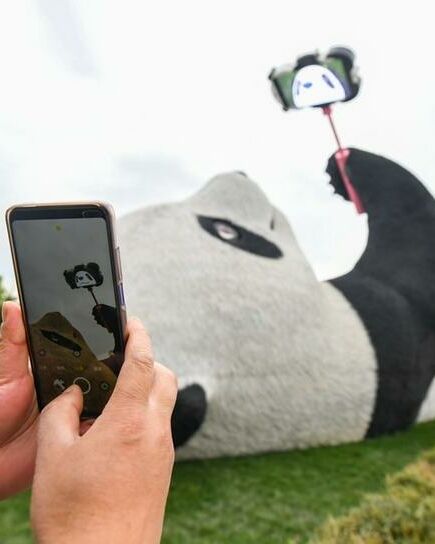 #Selfie Panda Goes Viral!
Panda-mania materialized! A 'Selfie Panda' sculpture by Dutch artist Florentijn Hofman debuted recently in the city of Dujiangyan in southwest China's Sichuan province, and may well become the new mecca for selfie and panda lovers alike.
The sculpture is 26.5m by 11m by 12m in dimension, featuring a selfie-taking giant panda lying on its back. Weighing 130 tonnes, UAP was engaged by the client from the onset of this project, developing a curatorial scope followed by the design, engineering, fabrication and installation of the work. Over 3 million strands of painted wire were screwed into the perforated aluminium body of the sculpture to create a tactile and weatherproof fur coat. The selfie stick showcases a large programmed LED screen with a camera embedded into it, emulating a real phone. Visitors are encouraged to take selfies via a custom developed mobile application.
The work is a direct reference to the ongoing conservation efforts to protect the species by creating a clever social commentary, offering large scale community engagement and attracting global attention.

'Selfie Panda' is inspired by a real giant panda that went astray in downtown Dujiangyan in 2005. It soon became a popular photogenic spot following its public debut and has drawn millions of China domestic tourists to the province of Sichuan.