Design Robotics: 'a Lifetime of Summers' by Nike Savvas
An immersive and multi-colored sensorial experience was commissioned by Lendlease in 2019, as a permanent hanging art installation atop the ground floor of The Exchange – Sydney's latest architectural icon and platform for creative innovation. Urban Art Projects (UAP) was instrumental throughout the design, fabrication and installation of this optically exquisite piece.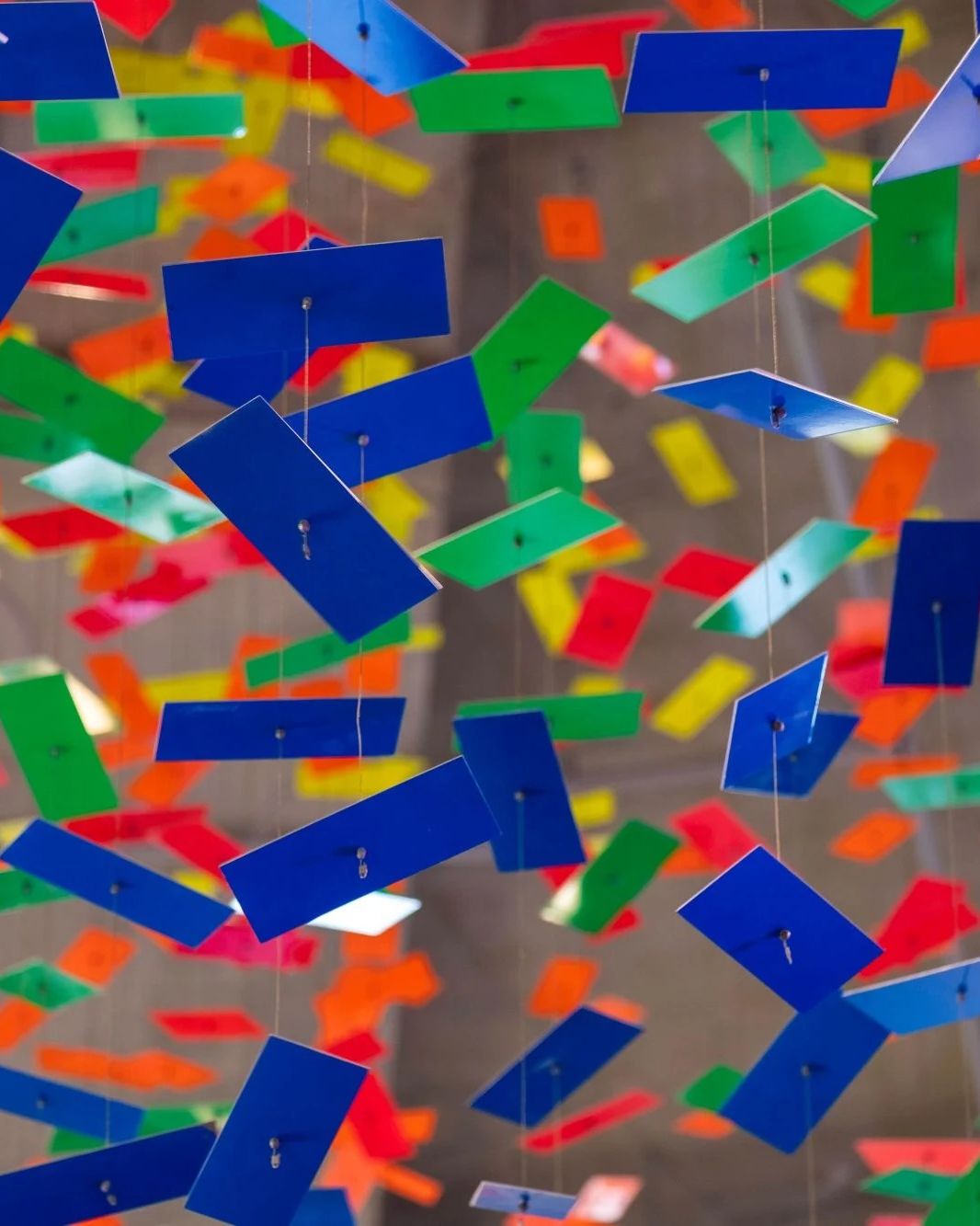 #Cascading gracefully and elegantly suspended from the ceiling of The Exchange, in Sydney's Darling Square, are 9,200 incandescent shades of yellow, orange, pink, green and blue rectangular tabs of what appears to look like a dusting of jolly confetti.
No wonder that such a myriad of colors is perfectly christened as "A Lifetime of Summers".
This immersive and multi-colored sensorial experience was commissioned by Lendlease in 2019, as a permanent hanging art installation atop the ground floor of The Exchange – Sydney's latest architectural icon and platform for creative innovation. Urban Art Projects (UAP) was instrumental throughout the design, fabrication and installation of this optically exquisite piece.
The brains behind it all, Nike Savvas, is a feted contemporary artist of Australian and Greek-Cypriot descent whose work fluidly cuts across sculpture, installation, kinetic and light-based media. Reflecting on her career to date, one can easily detect a sense of playfulness and at the same time profundity in her craft.
One of her latest works, "A Lifetime of Summers" successfully employed augmented reality technology to manage the complexities of the installation on site; a process that flawlessly encapsulates Savvas' signature playful ingenuity and UAP's commitment to always be at the forefront of cutting-edge solutions to make all things possible.
#Of endless summers and the concept of freedom
As can be told of any good art, viewers are effortlessly drawn into layers of meanings when consumed by it. Throughout history, some of these artworks have in fact revolutionized the way we think about politics, social issues and even art itself. Auspiciously, Savvas' creation is one that inspires and stirs pleasurable notions of color in our lives.
"A Lifetime of Summers" is on one end playful and teasing in its vibrancy of form and its use of a kinetic field of shifting colors. Equally, it is profound in its pursuit of meaning. By mere looking at it, one could get lost in his or her own thoughts, maybe even put into a deep hypnotic trance, reveling and reflecting while staying charmed by the sheer spontaneity of endless summers and the concept of freedom.
#Experimenting with Wind and AR technology
The freedom to explore and the venture to experiment – these stood as words to live by for Savvas and each one forming the assembly line of workers at UAP.
The artwork's coverage is 12-meters in diameter, comprising of 9,200 aluminium tabs all in vibrant, fluorescent paint finish, and consisting of 715 ultra-fine wire cable drops that fix back directly into the ceiling structure.
An ambitious scale of this kind could only court a number of impediments, but nothing that seemed unreasonable nor impossible for Savvas and the full squad backing her up. UAP's craftsmanship and knowledge in advanced manufacturing technologies successfully abetted the entire process.
Their vision was as clear as night and day – to design, fabricate and install Savvas' masterpiece in a way that it would appear random and non- structured, and with no distinguishable linear layers of tabs.
To achieve this, once Savvas and Lendlease reached an absolute consensus in the kind of immersive experience that was deemed suitable for The Exchange, wind testing was employed at the UAP Foundry. The team was set to determine the precise spacing requirements in fabrication; a kind of precision that gave way for each wire drop to gently oscillate from the ceiling and create a wonder world of sensations via a soft kinetic field of color. At the same time, one that would regulate clear-cut space gaps to prevent individual wire drops from getting knotted and twisted with the rest.
UAP's involvement and capability resulted in swiftly identifying this scrupulous balance. In actual production, aluminium pieces were carefully designed and mounted to sway at random angles between an approximate range of 0-45 degrees, and with each wire placed at minimum midpoints of 300 millimeters, with an extra 600-gram weights appended at the end of each strand for just the right amount of gravity and swaying effect.
UAP, following a foregoing success with AR technology, also beckoned the use of AR headsets during the documentation and installation stage. Such process allowed the installation team to move freely, whilst skillfully navigating and visualizing each focal point via a direct overlay of digital elements amidst what already existed in the physical world.
AR headsets with Microsoft HoloLens governed the exact placement of the drill hole points. The same had to be carefully matched with the suspended ceiling trays and wire drops, over and above the actual scope of the circular ceiling, between the market hall and mezzanine restaurant of The Exchange.
From illustrating "A Lifetime of Summers" within the site context, to actually keeping it within the limitations of time and cost, AR proved to be the most pragmatic choice.
To this day, everyone involved across all parts of the productions process remain extremely positive and enthusiastic about their user experience and its outcome. Being able to seamlessly combine AR with the reality of the construction site did not only make for a much sounder and safer work environment, or save on hours and days of precious time; it also opened up refreshing opportunities to integrate human creativity and intuition in the process.
In a world that is increasingly robotized and highly automated, empowering artisans, engineers and designers alike with advanced manufacturing solutions such as AR systems, and at the same time gifting them with the autonomy to execute human ingenuity – flexibility in problem solving and adapting their approach on the fly – is all part of UAP's agenda to yield far greater results.
In the case of "A Lifetime of Summers", advanced manufacturing systems and technologies helped reduce the occurrence of human errors which in the domain of construction and design could either be extremely costly and utterly precarious, or both. A key part to this is also having a platform for continuous engagement and relearning about the wide-ranging possibilities of innovative robotic technologies in design-led manufacturing.
#UAP collaborates on a mission to make all things possible
As with other industries, technological advances and human artistry in manufacturing and design is now seen to converge. And while others still fear that the widespread of automation will start to kill jobs, in UAP we celebrate how industrial robots and its supporting technologies integrate not only to assist in the tediously repetitive and the downright dangerous, but also to complement the human creative mind and support its productivity and what it is truly capable of.
It is the beginning of a long-term era where robotic vision systems and software user-interfaces are slowly but surely blending into our day-to-day, moving from factory floors to eventually interacting with people and solving problems in different contexts and to varying degrees. Though still in its early stages, watch this space as UAP is committed to always be at the forefront of novel solutions and meshing of technology with human creativity to make all things possible.
Through the Innovative Manufacturing Cooperative Research Centre (IMCRC), UAP is collaborating with the Design Robotics group from the Queensland University of Technology (QUT), and RMIT University as an industry partner to present a range of new possibilities. The goal is simple – to design for human intelligence and optimize the relationship between people and machines.
Dr. Glenda Caldwell from QUT outlines in one of her video captures that the main feature for the Design Robotics project is, "…the opportunity to work collaboratively with robotic technologies to decrease human risk in manufacturing and increase innovation and creativity".
Making headway in the design process and pushing the boundaries in industrial robotic capabilities is a move to empower the people to navigate the ever-increasing complexity of the workplace and support their human experiences. At its heart is taking the best of what robots and machines can do which is to figure out problems, and the best of what humans can do which is introduce the social intelligence and contextual understanding to create much better products and services for the way we live in the 21st Century.
For businesses like UAP, this will result in an increased ability for mass customization. Dealing with tight deadlines, engineering challenges, and logistical complexities to deliver the full vision should be the last thing in every artist's mind. And while it is about improving efficiencies, part of the exercise is to also design an optimal user interface that will allow and facilitate more inspired and enjoyable creative outcomes between the artists and the machines.
The idea is for every artist to be able to integrate more experimentations using the latest robotic manufacturing technologies and techniques to inform their creative concepts and design thinking; and for the rest of the crafts people at UAP to access it and thus fulfil their collective creative expertise. Ultimately this is not a race against the robots and machines, but rather a race with them.
Contributor: Catherine Gianzon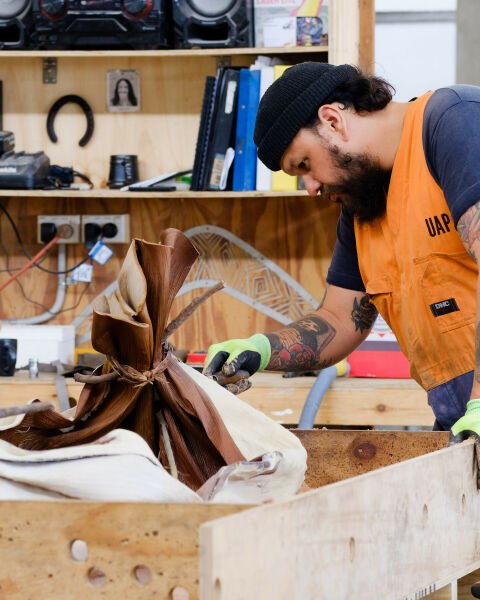 Occasionally, a project will reach the floor that requires an especially complex casting process – recently, this challenge came in the form of Libby Harward's Piccabeen Basket, a work conceived in collaboration with Judy Watson for Gold Coast's HOTA.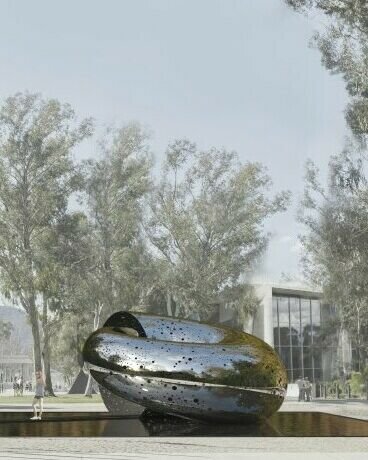 To be built at our Brisbane workshop, 'Ouroboros' will be constructed from mirror-polished recycled and reclaimed stainless steel and weighing approximately 13 tonnes; it will be the largest acquisition and one of the most significant public art commissions ever in Australia.