Best of Public Art 2021
In its sixth iteration, UAP, in collaboration with five influential curators, has surveyed top public art projects of the year, reflecting trends and recurring themes that artists are addressing in different ways and in diverse locations globally.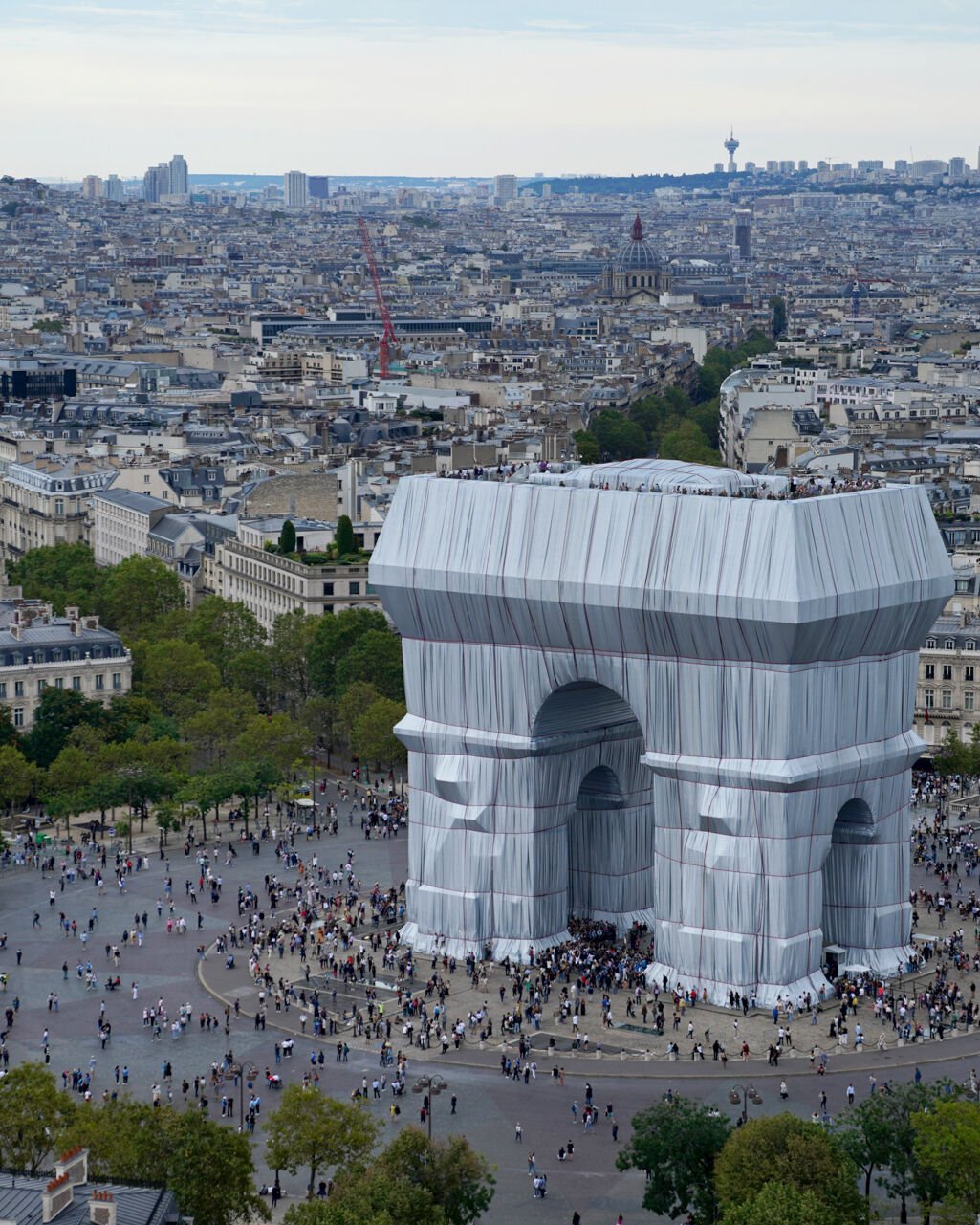 Brisbane, Australia – Public art has become a prolific creative component to cities around the world. Sited in civic spaces and designed to create impact, it carries the potential to change the way community interacts with place, fundamentally. In its sixth iteration, UAP, in collaboration with five influential curators, has surveyed top public art projects of the year, reflecting trends and recurring themes that artists are addressing in different ways and in diverse locations globally.
The highlighted projects intersect a broad range of mediums and scales and reflect the reputation of the world-class curators who each have suggested their top two public artworks. Contributing to this year's list are Paul Farber, Director and Co-Founder, Monument Lab; Kirsten Lacy, Director, Auckland Art Gallery Toi o Tāmaki; Matthew Israel, Commissions Lead at Open Arts, Meta and formerly Co-Founder and Chief Curator, Artful; Yang Zi, Independent Curator, and former Curator and Head of Public Programs at UCCA Center for Contemporary Art; Sarah Collicott, Founder, Artscape; and UAP's Natasha Smith, Curatorial Director, and Ineke Dane, Senior Curator. Their cumulative list, detailed below, includes artworks noted for their innovation, aesthetic engagement, and exhilarating scope, at the same time exploring thematic threads that respond to the current state of the world.
Natasha Smith said "This year's list really packs a punch, ranging from awe inspiring monuments to crystal phantoms. The eye, the mind and the heart are all delighted by a truly diverse and complex array of artistic outpourings amidst a global pandemic (and other things!). This is a really exciting line up and we can't wait to discuss the works and the contributing curators' reasons for selecting them."

Ineke Dane talked about the inspiring nature of the projects put forward, noting that "somehow it's been even harder this year than last to look back. The sense of optimism or turning point signified by the end of 2020 dissipated into a long-form continued Covid endurance throughout 2021 that we're all still living, which makes the realization of public art and its access all the more profound."
UAP and this year's influential group of contributing curators are all responsible for commissioning and delivering world-class public art projects. They look forward to future conversations and curation of top public art projects that stand proud within a global field.
Curators' comments on the annual Best Public Art review –
"The only qualifier to our contributing curators in developing this list was that any works nominated had to be publicly accessible. It really was a case of tell us what you love from the past year and why (no matter the size, no matter the colour, no matter the artist profile).
This naturally resulted in a profoundly diverse list of works. It is hard to define a single trend or theme amongst this eclectic collection beyond those found more broadly such as political commentary, community engagement, social engagement, and placemaking considerations. This was a very democratic process, with five contributing individual curators from around the globe along with UAP's curatorial team, providing two recommended works each to form the Best of Public Art list for 2021"
Best of Public Art 2021
Full list of projects with commentary from curators
#Matthew Israel
Christo (1935 - 2020) and Jeanne-Claude (1935 – 2009) | L'Arc de Triomphe, Wrapped, 1961– 2021, Paris
Christo and Jeanne-Claude L'Arc de Triomphe, Wrapped, Paris, 1961-2021
Benjamin Loyseau 2021 Christo and Jeanne-Claude Foundation
Christo and Jeanne-Claude's posthumous work, which wrapped the iconic French arch in 25,000 square meters of silvery-blue recyclable polypropylene fabric and 3,000 meters of red rope, was arguably 2021's most important visible piece of public art. It attracted worldwide media attention and reportedly six million viewers on the ground in Paris.
The work was captivating for a number of reasons. To name a few, it was an incredibly ambitious project by one of the best-known creators of public art in the world, and it had a great storyline. It was envisioned by the artists since 1961 and Christo had passed away the year before (but had approved the work to be executed posthumously).
What's often lost in the discussion of Christo's works is what they might mean and this continued with the attention paid to the wrapped Arc. However, it's instructive to ponder what this work might be suggesting, especially in our present moment. Over the course of his career, Christo and Jean-Claude cited a few motivations for wrapping objects, such as depriving everyday objects of their function, preserving them for posterity, and proposing them as art. (A case in point is what Christo said in 1985 about his wrapping of the Pont Neuf in Paris. He explained, "I wanted to transform it, to turn it from an architectural object, an object of inspiration for artists, to an art object, period.") As such, we might ask ourselves what does it mean to propose something as an art object today—36 years after that project. Furthermore, what does it mean to take one of the grandest monuments to those who died in wartime and cover it up?
​Wangechi Mutu (b. Nairobi l. New York) | I am Speaking, Are you Listening, 2021 at the Legion of Honor, San Francisco​
Courtesy the artist, Gladstone Gallery, New York, and Brussels/Image courtesy Gary Sexton/FAMSF
San Francisco's Legion of Honor was the setting for one of the most dramatic takeovers of museum public space last year: the installation of four sculptures that were part of Wangechi Mutu's exhibition, "I Am Speaking, Are You Listening?"
The four works were installed in the dramatic colonnaded courtyard that faces the museum's entrance. Usually, Auguste Rodin's Thinker sits alone in the courtyard and looms above those walking by and approaching the museum's front door. Yet Mutu installed her four works, Shavasana I and Shavasana II, Crocodylus, and Mama Ray, to surround the Thinker, and in so doing, she upstaged Rodin and prompted viewers to ponder—and re-Think art history, especially that of modern sculpture. For example, what would Rodin—a (or the) giant of modern sculpture—have made of Mutu, a Kenyan, positioning her works in dialogue with his? Do they have anything in common? And if they do, how does one create a link between the two? And how do the narratives informing Mutu's work—of Afrofuturism, post-humanism, East African mythology, and feminism—engage with Rodin's and the narratives of modern sculpture, if at all?
Besides prompting these historical questions, Mutu's installation was also spectacularly beautiful, especially Mama Ray. One hopes this piece finds a permanent home in a setting where many more can enjoy it. One also hopes that this installation will prompt other art venues to give Mutu the space to install public sculpture and encourage her to think even more ambitiously about the size and scale of her work.
Reuben Paterson's Guide Kaiārahi is a magnificent 10-metre-high waka (canoe) made of 595 iridescent crystals, which rises vertically like a gleaming beacon from Auckland Art Gallery Toi o Tāmaki's forecourt pool. The sculpture welcomes returning visitors after extended lock-down with a spectacular display of refracted light, like a galaxy of stars over the building. The inspiration for the crystalline sculpture originated in the Māori legend of a phantom waka that appeared at Lake Tarawera 10 days before the volcanic eruption of Mt Tarawera in 1886. Hovering above the Gallery's forecourt pool, the magnificent waka suggests navigation to worlds beyond our own, and the use of stars to traverse the vast Pacific Ocean to Aotearoa. Moreover, in a time of crisis, it has provided Auckland (Tāmaki Makaurau) with comfort and hope that we hold the capacity to navigate turbulence, major change and our own personal journeys ahead, with the stewardship of ancestral and universal rhythms.
Reuben Paterson Guide Kaiārahi 2021. Commissioned by Auckland Art Gallery Toi o Tāmaki, owned and generously supported by the Edmiston Trust
Ugo Rondinone (b. Brunnen, Switzerland l. New York | vocabulary of solitude 2021 - 2022, Auckland, New Zealand
Ugo Rondinone vocabulary of solitude 2014 - 2021, polystyrene foam, epoxy resin, fabric
Installation view: Auckland Art Gallery Toi o Tamaki, 2021. Courtesy of the Artist and Galerie Eva Presenhuber, Zurich. Photograph, Jennifer French
The extraordinary 2021 full building rendition of the major artwork, vocabulary of solitude, 2014–21, by Swiss artist Ugo Rondinone speaks particularly to the moment we find ourselves in, and transformed Auckland Art Gallery Toi o Tāmaki for its reopening this year. In the soaring North Atrium, a transparent rainbow façade pours coloured light across a floor inhabited by a community of hand-made, human-scaled clowns. Each, in a different pose and emotional state of being, watches the passage of time as the sun passes over the Gallery, day in, day out. There is a clown for almost every emotion we have felt during the Covid era – loneliness, boredom, deflation, introspection, exhaustion and wonder.
Lulwah Al Homoud's compelling and visually captivating artworks are conceived following in-depth research, placing the philosophy of Islamic art and the mathematical principles of the universe and its creation at its heart. Exhibited as part of the annual Noor Festival, a festival of light and public art installations shown in multiple locations across Riyadh, The Infinite Blue provided an immersive experience and attracted huge numbers of visitors. Entering the installation, the audience stepped into a universe where the intensity of the blue screen is punctuated with the mathematical precision of linear abstractions.
Many of Al Hamoud's artworks use this specific blue which the artist notes is a tone "visible in the sky at sunrise and sunset prayer times" telling us that the earth is rotating to the sun again – perhaps also symbolic of hope in these challenging Covid times and a celebration of light over dark. For me it seems to trigger personal inner responses; all of which, are positive. This public art installation epitomises Al Hamoud's artistic practice, being timeless, fundamental and ubiquitous.
Image courtesy of Lulwah Al Homoud Foundation. Photo by Riydah Art
Multiple Artists | Circa 20:20 2021, London
Circa 20:20 is a digital public art and culture program shown at a set time each day, in global locations, including London's Piccadilly Circus light screen with particular recognition to the October 2021 program entitled' 'WHERE DO WE GO FROM NOW?'.
Curated to showcase digital artistic output by creatives and 'thinkers', the project attracts submissions from those in early career to internationally recognised artists such as Ai Weiwei, Patti Smith and David Hockney. In our socially distanced times this project has brought art, poetry, music, profound thought and a sense of connectivity to global audiences while also generating debate and intrigue.
In October, as the COP26 climate change negotiations approached, the screens were lit up each evening with videos showing responses by different people, who had been selected after submitting their responses to the question where do we go from now? The project brings forward commentary using creative expression, not on fripperies of the day but on our very values; real-world crises, our past, present and future.
Images courtesy of CIRCA. Photo by Roisin Murphy
#Paul Farber
Suzanne Brennan Firstenberg (b. South Dakota l. Maryland) | In America 2021, Washington, DC
Images Courtesy of Angela N Via Flickr
This fall, in the throes of the COVID-19 Delta variant outbreak in the United States, within a country struggling with the weight of an unfathomable collective grief and battling through pernicious anti-public health propaganda, artist Suzanne Brennan Firstenberg installed her monumental In America project on the National Mall in Washington D.C. The premise: Firstenberg and a team of associates planted small, palm sized white flags en masse, each representing a life lost to the COVID-19 pandemic. The flags were placed on thin wires, installed by piercing the ground and in turn blanketed the north lawn around the Washington Monument. A year before, Firstenberg first carried out an earlier version of this project in the area surrounding RFK Stadium, an iteration that conjured the nearby Arlington National Cemetery. Just as Firstenberg had done in her previous iteration at RFK, passersby on the National Mall were invited to dedicate single flags to loved ones and friends killed by the pandemic by writing messages to them. In carrying out this project on the National Mall, Firstenberg elevated the stage of her work, focalized the scale and pain of the pandemic in the heart of the symbolic core of the nation, and created a place and archive of images necessary for mourning and connection in the midst of mass compounding loss. Sweeping views of the installation could be seen covering much of the grassy footprint around the Washington Monument, rising to over 700,000 flags by the end temporary installation.
Sited at the edge of Constitution Avenue, between 15th and 17th Streets Northwest, the installation of flags was framed by nearby monuments and museums, the White House, as well as a large somber billboard on which the national death toll was updated each day. This feature was as photogenic as it was necessary to ground this artwork as part memorial and part indictment. Adding to this, for those seeing the installation from up close, you could find a small, pointed section of flags near the main sign highlighting the cumulative death toll of New Zealand (27), a country that took an early stringent approach to confront the pandemic, next to a collection of flags representing what the cumulative death toll "could have been" if the United States had "adopted New Zealand's approach" (1,809). These details pushed this temporary installation with enduring perspectives and sightlines, in grand and granular ways.
One afternoon in September, I took my students from the nearby Corcoran School of the Arts and Design at the George Washington University for a tour of the Mall that closed with a visit to In America. We plotted our approach from the steps of the Lincoln Memorial, where we happened to see White House helicopters encircle the area above the installation. We later learned that it was President Biden viewing the memorial from above. Minutes later, when we approached the installation from ground level, we stopped to listen to the sound of the breeze working its way through the sea of flags, flapping and clamoring, harkening and haunting. We eventually split up, as my students moved through the massive installation. We all lost one another for minutes at a time, snagged by the hand-written note on a particular flag, ruminated on another viewer's reaction, or swept up in the entirety of the project and this pandemic. When we found one another again, just before sunset by the billboard sign, we gathered to pause and take in what we went through together. There, we could feel the rush and release of grief and glimpsed a prospect of accountability.
Michelle Browder (b. l. Montgomery, Alabama) | Mothers of Gynecology 2021, Montgomery, Alabama
Images Courtesy of Jill Friedman
In Montgomery, Alabama, one mile from the State Capitol, and a block from Equal Justice Initiative's National Memorial for Peace and Justice, Michelle Browder's The Mothers Of Gynecology monument stands as a new beacon of truthtelling and historical acknowledgement. Dedicated in September 2021, the fifteen-foot-tall, metal ensemble sculpture honors three Black women – Anarcha, Betsey, and Lucy – who were enslaved and brutally experimented upon without consent by Dr. J. Marion Sims, dubbed the "father of gynecology" despite his horrific and inhumane practices. In New York City (where Sims is buried), following a grassroots campaign from groups including Black Youth Project 100, a statue to Sims was removed by the city in 2018. However, in Montgomery, the city where Sims conducted his heinous experiments, a statue remains on the grounds of the state capitol, and is prohibited to be altered under state law designed to protect Lost Cause Confederate monuments.
Artist Browder first learned about Anarcha, Betsey, and Lucy as a student at the Art Institute of Atlanta over two decades ago. As she recalled to the Washington Post, she has long pondered, "What am I going to do to change the narrative?" Browder, who also founded and operates More Than Tours through a fire-engine-red trolley with "1619" emblazoned on one side of the front hood, has shifted the practice of storytelling in a city that that claims status as both the "Cradle of the Confederacy" and "Birthplace of the Civil Rights Movement." Over the last several years, in consultation with metal artists including several who produce projects for Burning Man, Browder took up welding and installed a fabrication lab in the back of a massive family-owned warehouse that also became her studio. There, she fashioned The Mothers Of Gynecology monument with collected common metal objects including discarded medical tools and surgical implements. The resulting sculptures are intricate and layered, as they mark presence and absence in place.
Since its dedication in September, Browder's The Mothers of Gynecology has emerged as another meaningful site of reckoning and reimagining monuments in Montgomery and beyond. The sculpture sits on a circular base lined by bricks, on the corner of Mildred and Sayre Streets where Browder, family members, and several colleagues have also inaugurated the More Up Campus – a featured project of Monument Lab's Re:Generation 2022 nationwide public art and history exhibition – as a holistic space where art, history, and health come together and conversations take place around the legacy of slavery, maternal health, and reproductive justice.
#Yang Zi
Zhao Bandi (b. and l. Beijing, China) | Panda Garden | Life on Clouds 2021, Shanghai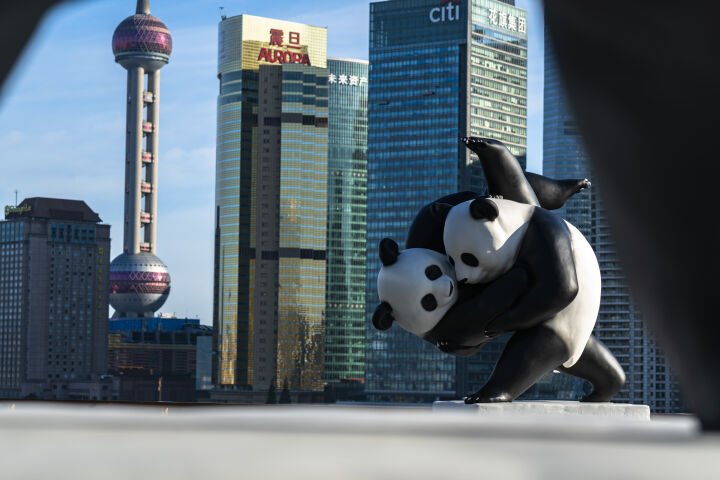 Zhao Bandi, "Xuan", installation view of the exhibition Panda Garden | Life on Clouds, at Digital Sky Garden, courtesy of Fosun Foundation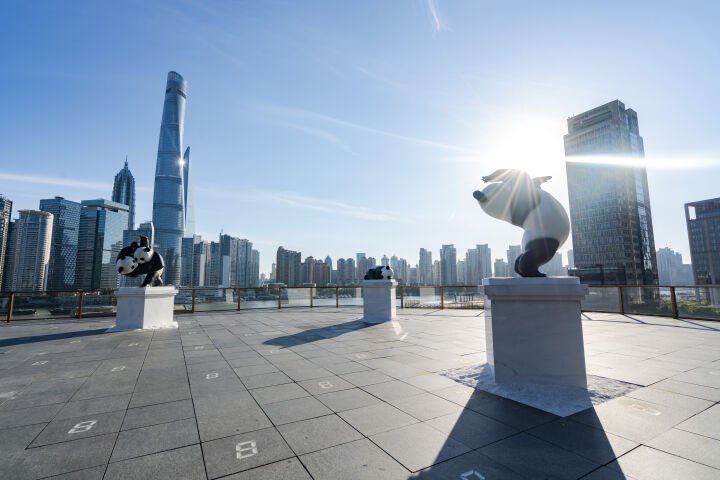 Zhao Bandi, "Lian", installation view of the exhibition Panda Garden | Life on Clouds, at Digital Sky Garden, courtesy of Fosun Foundation
In 2021, the "Painting Summit Forum" organized by Zhao Bandi in 2017 regained attention on the Internet. In this forum, he invited 8 other prominent Chinese painters to conduct a discussion that seemed to be tedious and aimless. Four years later, people seem to finally understand the intentions of this cunning artist: when these painters gathered together, the topic that emerges from their conversation is surely about the continuation and betrayal of Chinese socialist realist painting in the contemporary context. Also in 2021, Zhao Bandi unveiled the public sculpture Panda Garden | Life on Clouds at Fosun Foundation. He used the urban landscape of Shanghai's busiest locations as a backdrop for this group of works. The work seems to return to his old ways of using panda symbols. But it is a path that sheds light on the hidden clue in the "Painting Summit Forum": how to view a drastically changing reality with an accumulated experience of painting, and to point out where this drastic change is persistent.
Isa Genzken (b. Bad Oldesloe, Schleswig-Holstein, Germany l. Berlin) | Rose II 2021, Hong Kong
Images courtesy of K11 MUSEA
I would prefer to call Isa Genzken's intricately woven work 'minimalist art' because her work is suffused with what Michael Fried calls 'theatricality'. In Rose II, this theatricality is vast enough to encompass the historical significance of a particular time and place; or rather, it is the time and place that play a decisive role beyond the elements of the work itself in making her public artworks so memorable. The giant rose, which once stood in New York and Paris, blooms in Hong Kong, responding in equal measure to the skyscraper-lined cityscape and the city's need for kitschy spectacle. This time, more locally, it seems to be a romantic gesture that patches up the torn social sentiments and rebuilds a trustful relationship with each other. By virtue of its timing and location, the dual functions of art, both soothing and provocative at once, are embodied in this sculpture despite the simplicity of its form.
#UAP Curatorial Team
Sanford Biggers (b. Los Angeles and l. Harlem, New York) | Oracle 2021, New York City
Credit: Photo by Daniel Greer, Courtesy of Art Production Fund

Sanford Biggers took over the Rockefeller Center in Spring 2021 with his monumental Oracle sculpture (7.64 US tons of cast bronze). This awe-inspiring work marked a key moment in the COVID trajectory of New York City as it began to re-open, with warmer weather signalling a key turning point after a gruelling winter for all New Yorkers. Over a decade in the vision and planning, with Art Production Fund, Oracle, standing at 25 feet tall, is the latest in the Biggers' "Chimera" sculpture series, which merges African masks and European figures. The seated body is inspired by the ancient Temple of Zeus, while the head is based on masks and other sculptures from various African cultures, including Luba art and the Maasai culture. Biggers also wanted the work to complete the story at the Center with an African voice, speaking in a conceptual conversation with other monuments in the surrounding urban space which predominantly speak to western mythology and symbols. Biggers flags, which compliment the solidarity of Oracle, depict water patterns and reference the African slave trade in the US. This work is one that evokes the curiosity of the viewer and packs a serious punch on aesthetic gravitas. The Oracle, through an interactive QR code also delighted viewers by sometimes answering questions, with what Biggers described as 'poetic vagaries'.
Emeka Ogboh (b. Enugu, Nigeria and l. Lagos and Berlin) | This Too Shall Pass 2021, Frankfurt
Emeka Ogboh's This Too Shall Pass was a poignant, temporary intervention within and throughout Frankfurt; a complex and evocative layering of sound, movement, and site-specific installation occupying aural and physical space throughout the city from July to October. Through the a cappella soundscape component of the work (which travelled on water via the River Main atop a raft, complimented by speakers clothed in woven fabrics with reference to Igbo crafts on land), the artist asks: What does singing together mean in our society, especially in a pandemic and crisis-ridden world where music and art per se have long been silenced?
All-encompassing and evoked via his entangled, sophisticated conceptual armature, 'Ogboh confronts current thinking about the migration of people and their cultural assets, about equality, participation and identity with the principle of cultural appropriation as a way of overcoming borders.' He says above the work hovers the political and human question of how we want to live together in the future; a question that requires constant reassessment and a nimble, generous embrace.
Image coutresy of Emeka Ogboh. Photo by Günzel Rademacher & Sandra Doeller (2021)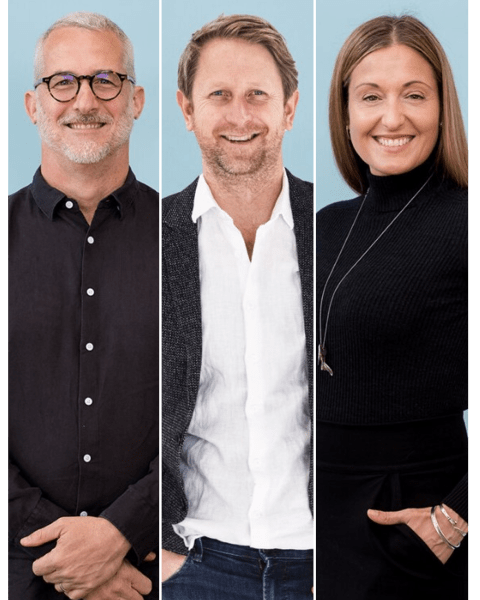 A breakthrough financing vehicle and investment framework bringing to life new works of art aimed to help artists, galleries and commissioning bodies.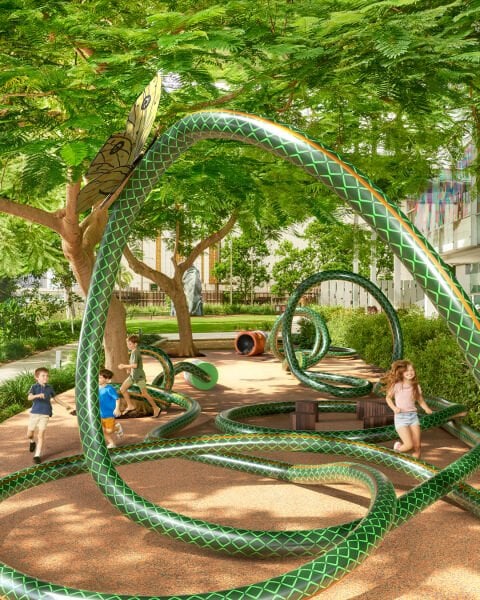 Tony Albert and Nell's vision for QAGOMA's monumental playscape 'The BIG HOSE' prioritises children's learning and celebrates their inquisitive nature.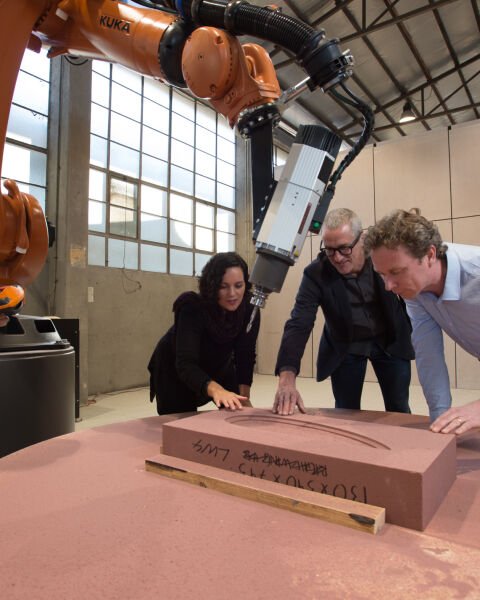 The keys to collaboration between small businesses and the research sector have been revealed in a major new report.