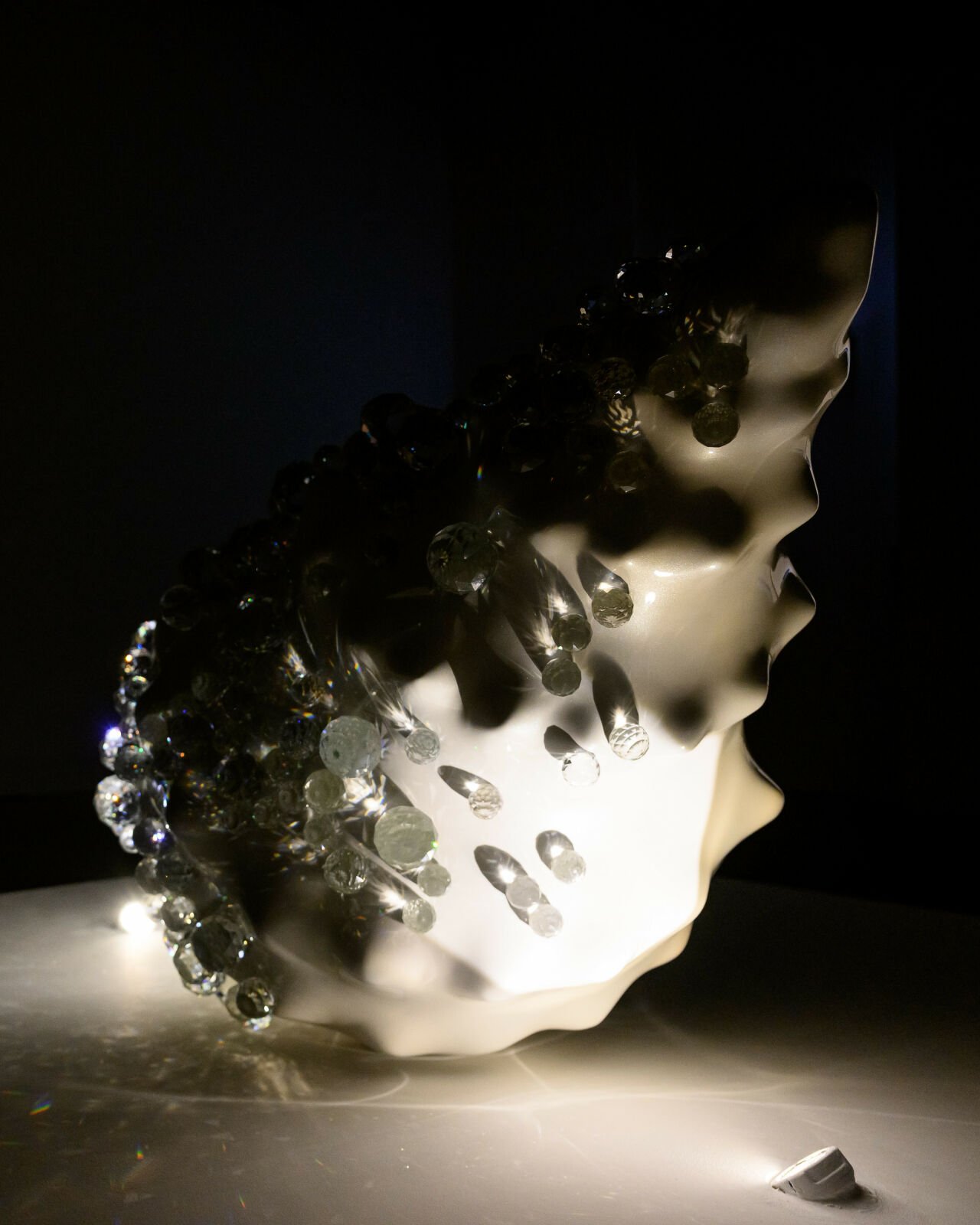 #Koro
WELLINGTON, NEW ZEALAND
In 2021, Paterson's 10-metre-tall sculpture Guide Kāiarahi was unveiled outside Auckland Art Gallery Toi o Tamaki. At the blessing a pūmoana (shell trumpet) was blown, enacting te wheiao, a period of time before the world as we know it emerged. This is a moment when chaos becomes calm, and the spiritual and physical worlds collapse into one.
Koro returns us to that moment in sculptural form, reactivating all of those possibilities, cosmologies, and connections to tūpuna. That breath and the spiritual connections it awakens are present in the dazzling lights emitted from its crystal-encrusted barnacle surface.
Named in honour of Paterson's grandfather Jack, and also acknowledging his great grandfather John, Koro is an embodiment of whakapapa. Jack was a sand miner who supplied the building industry. John was a builder responsible for many of Wellington's early buildings, including the Town Hall that is tenuously clinging to life across the square from this gallery.
Featured at Paterson's largest exhibition to date, titled 'The Only Dream Left' at City Gallery Wellington, Koro is an artwork that explores the interdependence of natural materials, the evolution of cities, and the passage of time. Using sand, shells, and light, the artist tells a story of his connection with sand through his memories of the black volcanic sands of Piha, his grandfather, the importance of sand as a foundational material in modern cities, and highlights the complex relationship between humans and the natural world.
This cast aluminium with pearlescent gloss finish artwork was expertly fabricated and finished by UAP's team in Brisbane using 3D scanning and HoloLens technology to achieve precise placements for the cut crystal adornments.
This artwork was delivered by our team in Australia in collaboration with the artist and made possible through the funding of Art Makers.

Koro is not inhabited by a living body but is instead embodied by the implication of light calling out, like all the voices trailing the waves before him. Wherever each Edition may land, Koro is with voice and a life of his own; he calls out to the stars and waits for a response. The rays of light on the shell's surface reach out, reflecting water and sky equally, parts born and being sentient in its refraction. We should be uncertain whether or not Koro is a greeting or a warning signal for the culture of uncertainty and change ahead.

Reuben Paterson
Image Credit: Rachel See, Yuxin Liu courtesy of the artist Reuben Paterson
Design Assist
Digital Model & Render
Material Exploration
Construction Methods
Workshop
Technical Drawings
Pattern Making
Paint Shop
Sand Casting
Welding and Fabrication
Finishing and Patina
Project
City Gallery Wellington
Location
Wellington, New Zealand