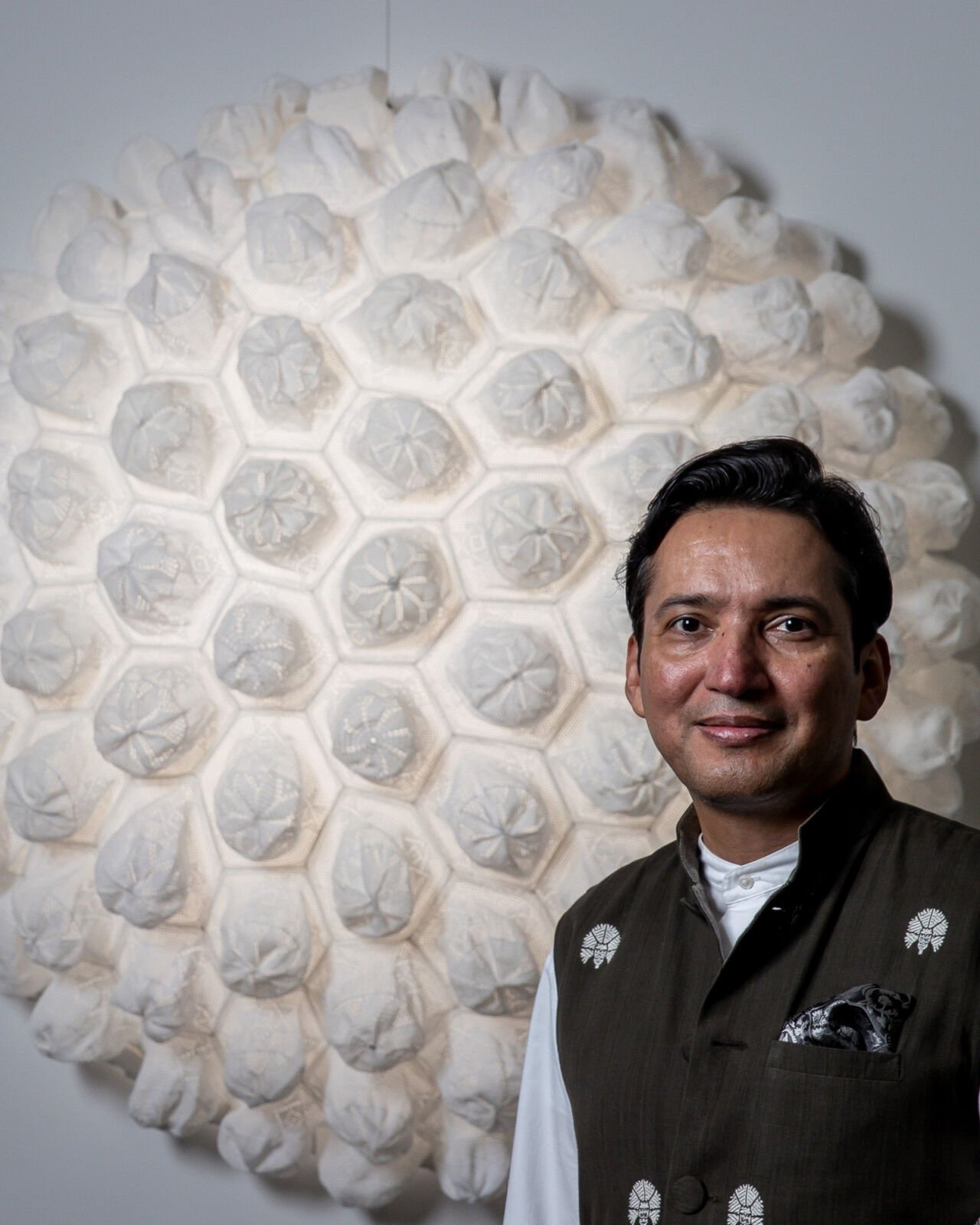 Born 1974, Karachi, Pakistan. Lives and works between Sydney, Australia and Karachi, Pakistan Abdullah M. I. Syed identifies his interdisciplinary art practice as one that champions the power of storytelling, shared vulnerability and love. Creating a form of poetic resistance, which he refers to as manzoom muzahamat, Syed seeks to understand and conceptualise structures of power that dominate the world stage. Working at the intersection of drawing, sculpture, video, textile, photography and performance, his practice embraces the coalescing of skills but also of influences. Syed's practice is inspired by geometric abstraction, sacred knowledge, natural and cosmic principles, diaspora, his South Asian and Islamic heritage and his everyday lived experiences. As he employs traditional craft with contemporary technique, Syed celebrates a cross-cultural dialogue as he grapples with his own sense of place.
Syed has earned a PhD in Art, Media, and Design (2015) from the University of New South Wales, Sydney. In a career spanning more than two decades, Syed has received numerous prizes such as the NAVA Carstairs Prize (2017) and has undertaken several artist residences including Parramatta Artists' Studios (2012-2015) and Artspace (2019). He has participated in solo exhibitions including most recently: Common Threads Run Deep, Gallery Sally Dan-Cuthbert, Sydney (2021); Light upon Light, Aicon Contemporary, New York (2021); and Unframing Sight: Transparency and Reflections, Penrith Regional Gallery (2021). Syed has been included in notable group exhibitions including The National: New Australian Art, AGNSW, Sydney (2021). In 2022 two major public works by Syed were unveiled; Ripple Effect, PHIVE, Parramatta and Tesserae Wall, Warwick Farm, Sydney. Syed's work can be found in important Australian and International private and museum collections including a whole body of work in the collection of the Art Gallery of New South Wales.
Abdullah M. I. Syed is represented by Gallery Sally Dan-Cuthbert, Sydney.