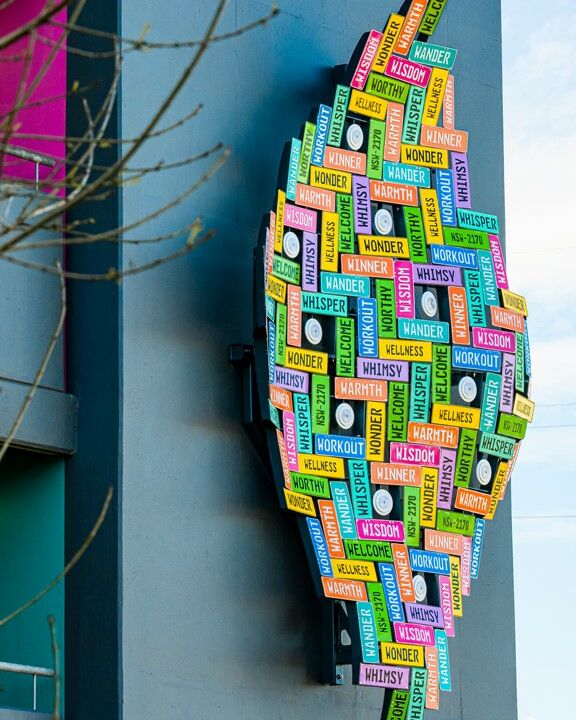 #Tesserae Wall, 2022
SYDNEY, AUSTRALIA
Sydney based artist Abdullah M.I. Syed's champions the power of storytelling from a cross-cultural perspective. Having a diverse art practice crosses drawing, sculpture, textile, collage, photography and performance, Syed highlights the economics of shared histories, identity, vulnerability and resilience.
Responding to a curatorial vision, "Cartographies of Community", developed by UAP's Australian consultancy team for the Warwick Farm Commuter Car park, Syed created the concept for Tesserae Wall, 2022.
The colourful, striking, and playful artwork celebrates the site's cultural diversity and history of racing and sports. Reminiscent of a modern racetrack pattern, a car park grid, and traffic and railway signs, Tesserae Wall, 2022 responds directly to the context of the site, forging a strong understanding of place and identity. With its assorted, interlocking elements and the constructive word play represent beauty and diversity that are united by the richness and strength of the Warwick Farm community.
Fabricated and pieced together within UAP's Australian workshop, Tesserae Wall, 2022 is comprised of almost 150 custom aluminium number plates with embossed lettering, finished in a two-part automotive paint finish.
Abdullah M. I. Syed is represented by Gallery Sally Dan-Cuthbert, Sydney. The project was delivered in collaboration with Design Inc, Stephen Edwards Construction and Transport for NSW.
"Created in the form of a decorative mosaic wall of number plates, the artwork celebrates the diverse Warwick Farm community and its rich history of sports culture."

Abdullah M. I. Syed
Image credits: Transport for NSW, Rachel See, UAP
Consultancy
Public Art Masterplans and Strategies
Artist Procurement and Management
Design Assist
Digital Model & Render
Material Exploration
Materials and Construction Methods
Installation Methodology
Workshop
Technical Drawings
Paint Shop
Welding and Fabrication
Installation
Creative
Abdullah M. I. Syed
Artwork Title
Tesserae Wall, 2022
Project
Warwick Farm Commuter Car Park
Client
Transport for NSW c/o DesignInc
Location
Sydney, Australia