The Big Button in New York City
Garment District Alliance Unveils Iconic New Big Button Sculpture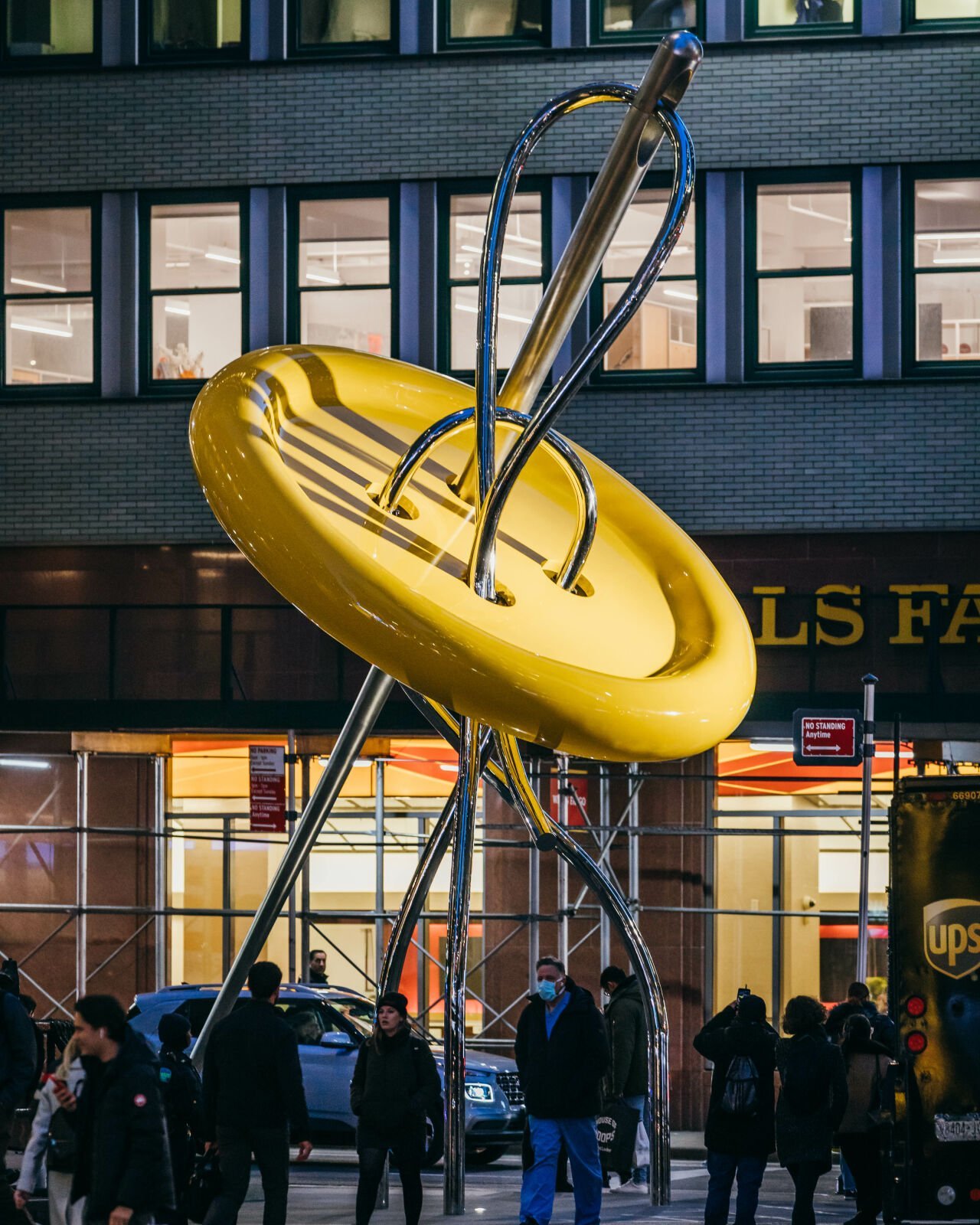 The Garment District Alliance (GDA) today unveiled its new Big Button sculpture in the heart of the Garment District on Seventh "Fashion" Avenue at 39th Street, replacing what had been an information kiosk with a new public art installation that references the neighbourhood's history.
GDA marked the momentous occasion with a ribbon cutting ceremony on February 16, which featured music by Diverse Concert Artists. New York City leaders and members of the Garment District community gathered for the event, including Manhattan Borough President Mark Levine, Council Member Erik Bottcher, New York City Department of Transportation (DOT) Commissioner Ydanis Rodriguez, NYC Department of Small Business Services (SBS) Commissioner Kevin D. Kim, President of the Council of Fashion Designers of America (CFDA) CaSandra Diggs, and President of the Kaufman Organization and Vice Chairman of the Garment District Alliance Board of Directors Steve Kaufman.
"We're thrilled to unveil the newly designed Big Button sculpture, which sits prominently in the heart of our neighbourhood and serves as a welcoming symbol of the Garment District for New Yorkers and visitors," said Barbara A. Blair, president of the Garment District Alliance. "This is a significant moment for the Garment District, and I'm so proud to celebrate this incredible public art installation with the community and the individuals who helped bring this new vision to life."
Designed by Local Projects and UAP, the new version of the Big Button is supported by a "thread" element that further articulates its pop-art concept. The sculpture is 28 feet tall with a 15-foot diameter aluminium button and 32-foot brushed stainless-steel needle, creating a dynamic experience for pedestrians while improving sight lines and enhancing pedestrian flow on Seventh Avenue.
An original kiosk structure was removed to make way for the new sculpture. Built in the 1970s through a public-private fashion industry initiative, the kiosk operated as an industry information centre for over a decade. Like the new sculpture, the kiosk lived in the public and private realms, sitting partially on the city sidewalk and partially on the Seventh Avenue plaza of 1411 Broadway, which today is managed by Hines.
When GDA was formed in 1993, it was given permission by the adjacent property and the City of New York to renovate the structure and rededicate its use as a business-to-business fashion industry resource centre and information kiosk staffed by the BID. The renovation, which concluded in 1996, included the addition of a distinctive rooftop button and needle sculpture designed by James Biber, then of Pentagram Architects, which became an instant icon for the neighbourhood.
"What is so gratifying is that the iconic Big Button remains, even as it changes colour, changes support, and even changes use," said James Biber, principal of Biber Architects. "It had moved from a curiosity to a meaningful icon of the city, reminding us of a time when racks of clothing clogged the streets and the Garment District produced nearly ¾ of all women's and children's apparel in the United States. We are honoured to have started a tradition, planting an iconic marker in the centre of the Garment District. Symbols matter, history matters, and we hope that never changes."
Twenty years later, in 2017, GDA engaged Local Projects, the experiential design firm, to explore content and design concepts for the kiosk's future. Interviews and workshops were held with stakeholders, including GDA staff and Board members, business owners, fashion industry professionals, landlords, city officials, and representatives from Manhattan Community Board 5. Through this process, it was concluded that, while a physical kiosk was no longer necessary due to the growing ubiquity of personal mobile devices, the Big Button is a beloved neighbourhood icon that should remain and be enhanced as a pop art sculpture and placemaking amenity. GDA intended to reuse the original sculpture, but structural damage made it necessary to fabricate a new Big Button, which created opportunities to explore a contemporary interpretation of the beloved classic using new materials and colours.
"We want to encourage visitors to pause and be curious about the history of the neighbourhood, so the new design contains nods to the district's past, present and future. The magical thread draws its strength from the passion and ingenuity that form the fabric of our great city. The button's yellow is a nod to today's NQRW subway lines, honouring the old BMT line that brought workers to the Garment District from Brooklyn and Queens," said Nathan Adkisson, creative director at Local Projects.
In 2018, GDA selected UAP, an international design-build firm that brings works of art to life in public spaces, to head the new sculpture design development and fabrication team that also included Technical Artistry on lighting and Theta Structural Engineering Consulting and McLaren on engineering.
"UAP is proud to have been a guiding force in reimagining this iconic artwork," said Susan Kosor, senior project manager at UAP. "After a five-year process – including design, engineering, fabrication and coordination with multiple city agencies and stakeholders – we are thrilled to see the freestanding, yellow button come to life."
Hines welcomed the new installation and provided technical assistance and support to ensure the new sculpture would blend seamlessly with the plaza.
"For years, the Big Button structure marked the Garment District's status as the world's fashion capital. Hines is proud to play a part in making sure this symbol will be a permanent installation for future generations and is committed to implementing public art throughout its portfolio to create lively and inviting streetscapes," said Jason Alderman, senior managing director and head of the New York office of Hines.
The Garment District Alliance also worked closely with the New York City Department of Transportation throughout the development of the new Big Button.
"DOT is excited to celebrate the unveiling of the newly designed Big Button sculpture, an iconic symbol of the Garment District's history," said NYC Department of Transportation Commissioner Ydanis Rodriguez. "We are proud to have worked closely with the Garment District on this elegant redesign of public space that will improve sight lines and enhance pedestrian flow and safety."
The new Big Button sculpture is the Garment District's first permanent public art installation. Previous temporary installations by the Garment District Alliance have included work by Chakaia Booker, Kang Muxiang, Del Geist and Patricia Leighton, among other prominent artists worldwide.
The Garment District is home to diverse business sectors from technology to hospitality and includes thousands of people working in the creative economy, including fine and performing artists, designers, architects, photographers and more than a hundred theatres, galleries, performance spaces and studios.
Photos of the new Big Button courtesy of the Garment District Alliance.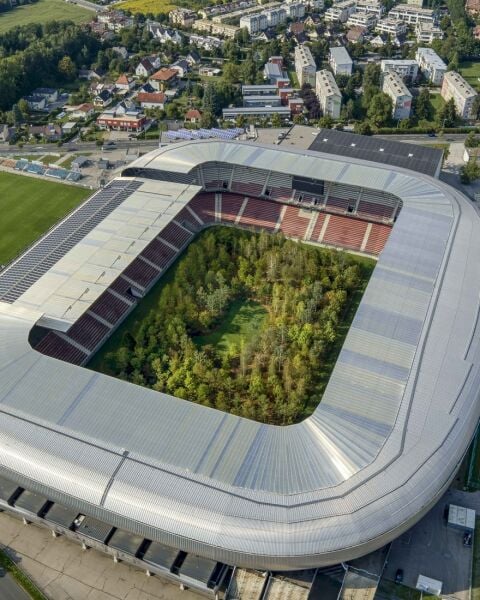 From Times Square in New York to the Parisian gardens of Petit Palais, artists summoned international attention in 2019 through fresh public artworks. The most incisive sculptures, penetrating light installations, and eye-opening murals spurred meaningful discussions around identity, politics, climate change, and community, while, at times, inspiring awe as well.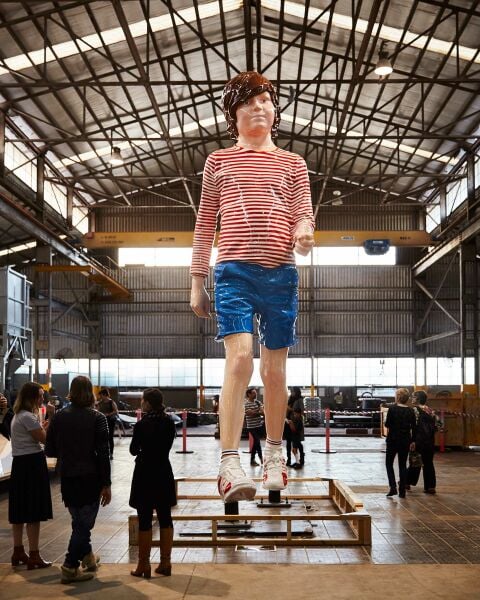 UAP is an international production and metal workshop that is responsible for creating everything from large-scale public art or architecture commissions to the iconic Oscars statuettes for the Academy Awards.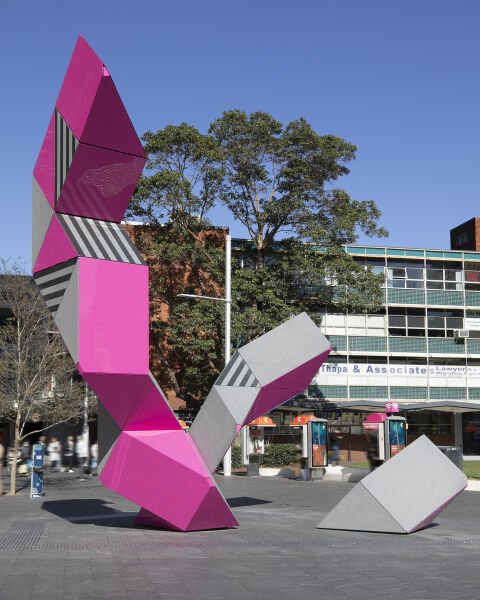 Created by Kamilaroi artist, Reko Rennie, the 7.5-metre tall sculpture depicts two eels rising from the ground and crossing each other as they play.