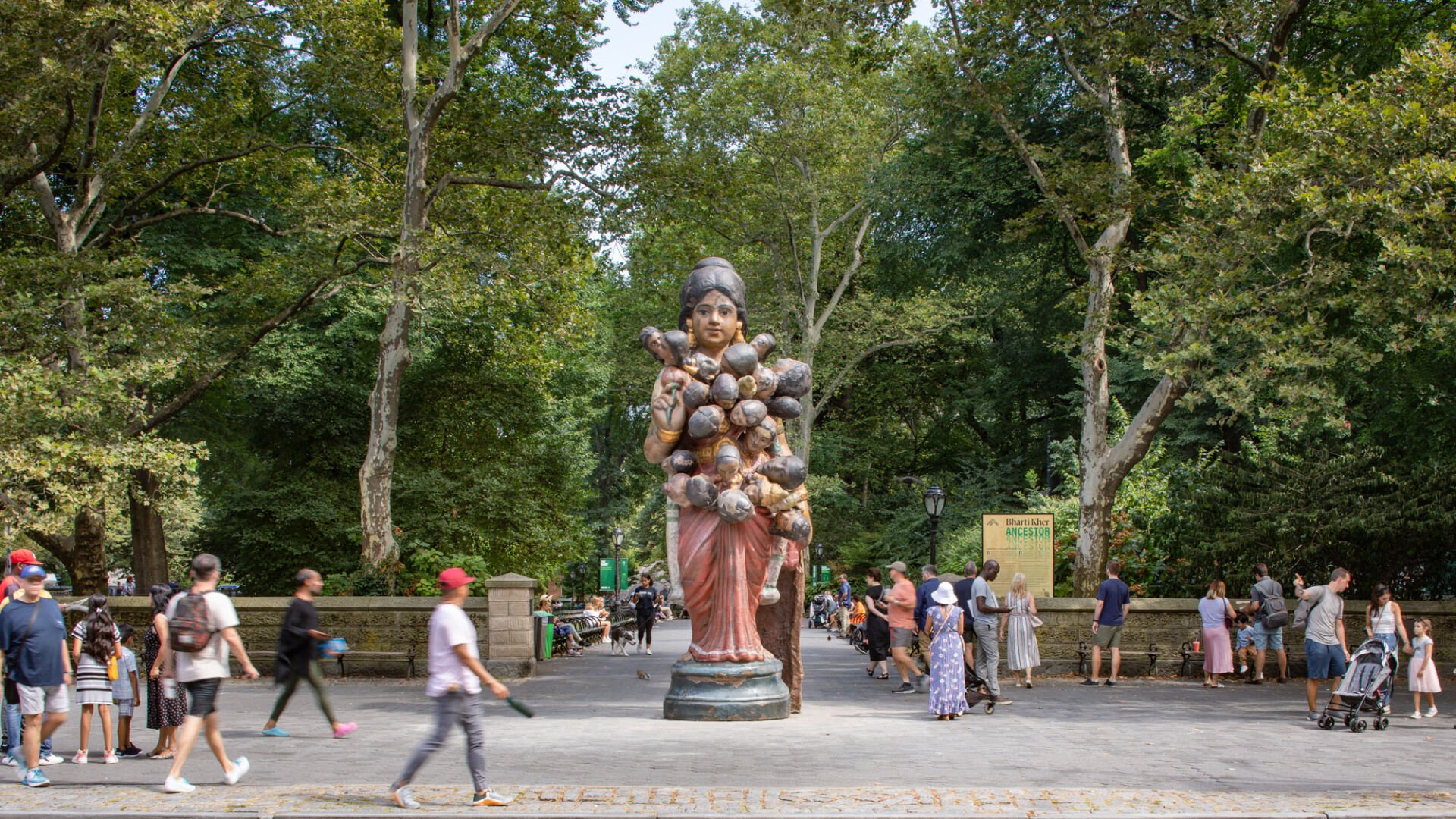 #Ancestor
NEW YORK CITY, USA
New Delhi and London-based artist Bharti Kher, weaves together the daily rituals of everyday life drawn from multiple places with a kind of magical realism and created mythology. Highly attuned to the complexities of class, race, and gender, her artworks are multifaceted and unfixed.
Depicting a universal mother figure linking our cultural and personal pasts and futures, Ancestor is Kher's most ambitious work to date. Adorned with the heads of her 23 children that extend from her body, Ancestor embodies multiculturalism, pluralism, and interconnectedness. They manifest a sense of belonging and celebrate the mother as a keeper of wisdom and the eternal source of creation and refuge.
Located at Doris C. Freedman Plaza at the southeast entrance of Central Park stands this 18-foot tall patinated bronze sculpture. From scanning and enlarging the original maquette, to fabricating, patina and hand painting this large sculpture, UAP was engaged throughout the design coordination and construction of Kher's largest project.
This project has been delivered in collaboration with Public Art Fund.
I invite viewers to leave their wishes, dreams and prayers with Ancestor; and to pass on their wisdom of living and love to the next generation. She is the keeper of all memories and time. A vessel for you to travel into the future, a guide to search and honour our past histories, and a companion–right here, right now–in New York City.

Bharti Kher
Courtesy the artist; Hauser & Wirth; Perrotin; Nature Morte, New Delhi; and is in the collection of the Kiran Nadar Museum of Art, New Delhi. Presented by Public Art Fund at Doris C. Freedman Plaza, New York City, September 8, 2022—August 27, 2023. Image credits: Nicholas Knight, Courtesy of Public Art Fund, NY and Chris Roque, Courtesy of UAP | Urban Art Projects
Design Assist
Digital Model & Render
Material Exploration
Materials and Construction Methods
Installation Methodology
Workshop
Technical Drawings
Pattern Making
Mould Making
Sand Casting
Welding and Fabrication
Finishing and Patina
Location
New York City, USA