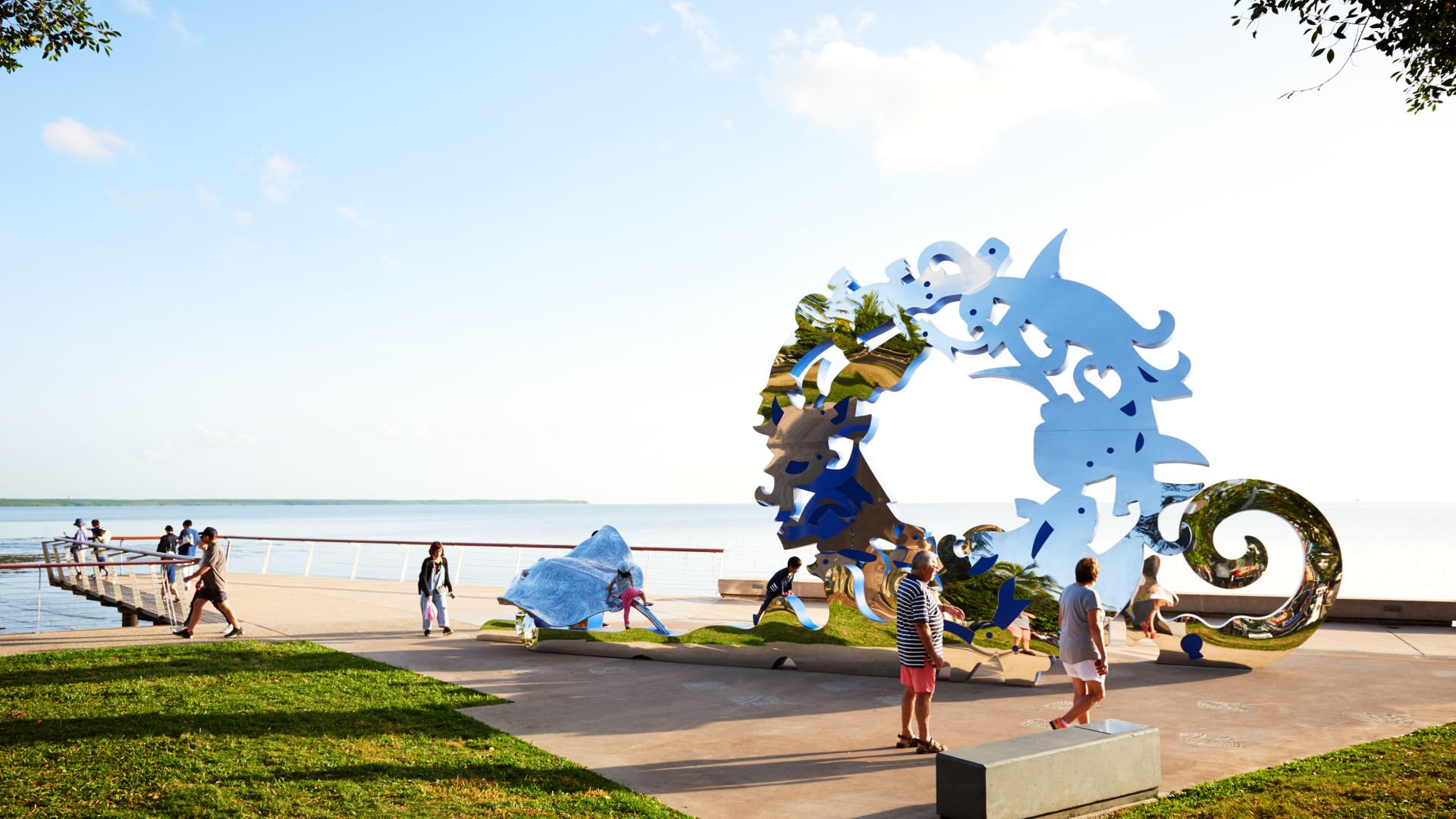 #Citizens Gateway to the Great Barrier Reef
CAIRNS, AUSTRALIA
Indigenous artist Brian Robinson, worked with UAP and Creativemove to realise Citizens Gateway, a spectacular sculpture on the Cairns Esplanade in North Queensland.
Commissioned on behalf of the Citizens of the Great Barrier Reef the artwork announces the global launch of the movement, while framing Cairns as the official gateway to the World-Heritage listed Great Barrier Reef — one of the seven wonders of the natural world.

Inspired by the local Aboriginal reef creation story and intertwined with both Indigenous and international narratives, Citizens Gateway reflects Cairns' dynamic cultural life and highlights the spectacular marine environment gracing its coastline. A totemic stingray leads an arched wave of marine creatures and birds towards a future in which the Reef is preserved in all its glory, offering an inspirational environmental vision for visitors and viewers to support. Surrounding the sculpture are 6 ground plane works representing stingrays — created by artists under Robinson's mentorship from the traditional Indigenous owner groups.
At six metres in height, with a brilliantly polished stainless steel surface, the artwork encourages passers-by to reflect on their connection to the Reef, evoking a sense of environmental responsibility. UAP worked collaboratively with Robinson, to deliver this sculptural homage to the reef, translating his distinctive aesthetic into a powerful sculptural form, and fabricating the wave-like gateway and finely detailed ground plane artwork.
Image credits: Roger D'Souza.
The artwork was made possible in collaboration with The Australian Government, through the Great Barrier Reef Marine Park Authority; Cairns Regional Council; Cairns Regional Council through the Embracing 2018 Public Domain Improvement Program; Queensland Government, through Arts Queensland's Backing Indigenous Arts Initiative; Ports North – Port of Cairns; Tourism Tropical North Queensland.
Artwork Title
Citizens Gateway to the Great Barrier Reef
Client
Tourism Tropical North Queensland
Location
Cairns, Australia