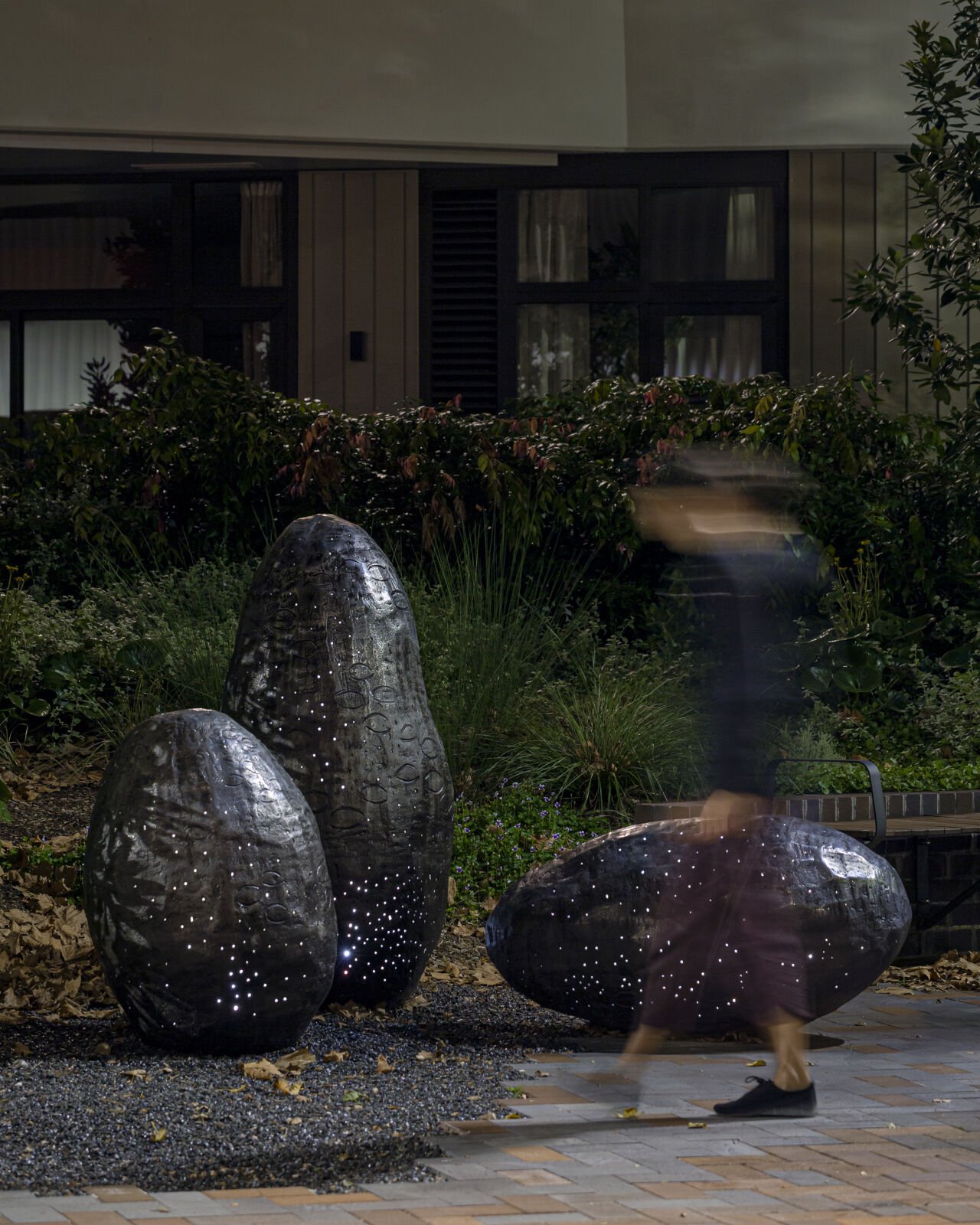 #Bawuwan
SYDNEY, AUSTRALIA
Lucy Simpson's Bawuwan for Park Sydney Erskineville comprises three sculptural forms that represent the banksia seedpod, nestled amongst a surrounding pocket parkland as a celebration of First Nations knowledge systems and complex cultural land management practices.
Yuwaalaraay artist Lucy Simpson explored the site's First Nations history, which has been an important meeting place since time immemorial. She creatively investigated Aboriginal land management practices, specifically the use of fire to care for country, which has been practiced by Australia's First Nations peoples, including the Gadigal, for thousands of years. In this work, the banksia becomes an important symbol, as a plant which not only endures the fire, but thrives as a result. Bawuwan emerges as a beacon between the old and the new, bringing important cultural practices and knowledges into the public realm.
UAP Public Art Consultancy curated a masterplan of public art for Park Sydney Erskineville, with Bawuwan comprising Stage 1 of the delivery of a public art trail within the mixed-use residential development. Lucy Simpson and UAP collaborated to explore various fabrication techniques for the work, which was cast in aluminium at UAP's Brisbane foundry with a bespoke black paint rub finish. Emanating soft illuminations from within at night, Bawuwan becomes a carrier of light as a symbol of resilience and duality for all.

Bawuwan not only honours and acknowledges the crucial role of these ancient and generational practices, but comments on the continued fundamental importance to country and ecological communities. Like the banksia, carrier of fire and light, through this work we hope to carry and share story and contribute to narratives which remind us of a collective responsibility to care for that which sustains us all.

Lucy Simpson
Image credits: Document Photography, Linda Hoang / courtesy of Tract
Consultancy
Public Art Masterplans and Strategies
Creative Brief Development
Artist Procurement and Management
Public Art Strategy
Design Assist
Dedicated Design Assist
Materials and Construction Methods
Installation Planning
Technical Drawings and Engineering Support
Materials and Construction Methods
Installation Methodology
Workshop
Pattern Making
Project Management
Sand Casting
Installation
Project
Park Sydney Erskineville
Client
Greenland Australia
Location
Sydney, Australia