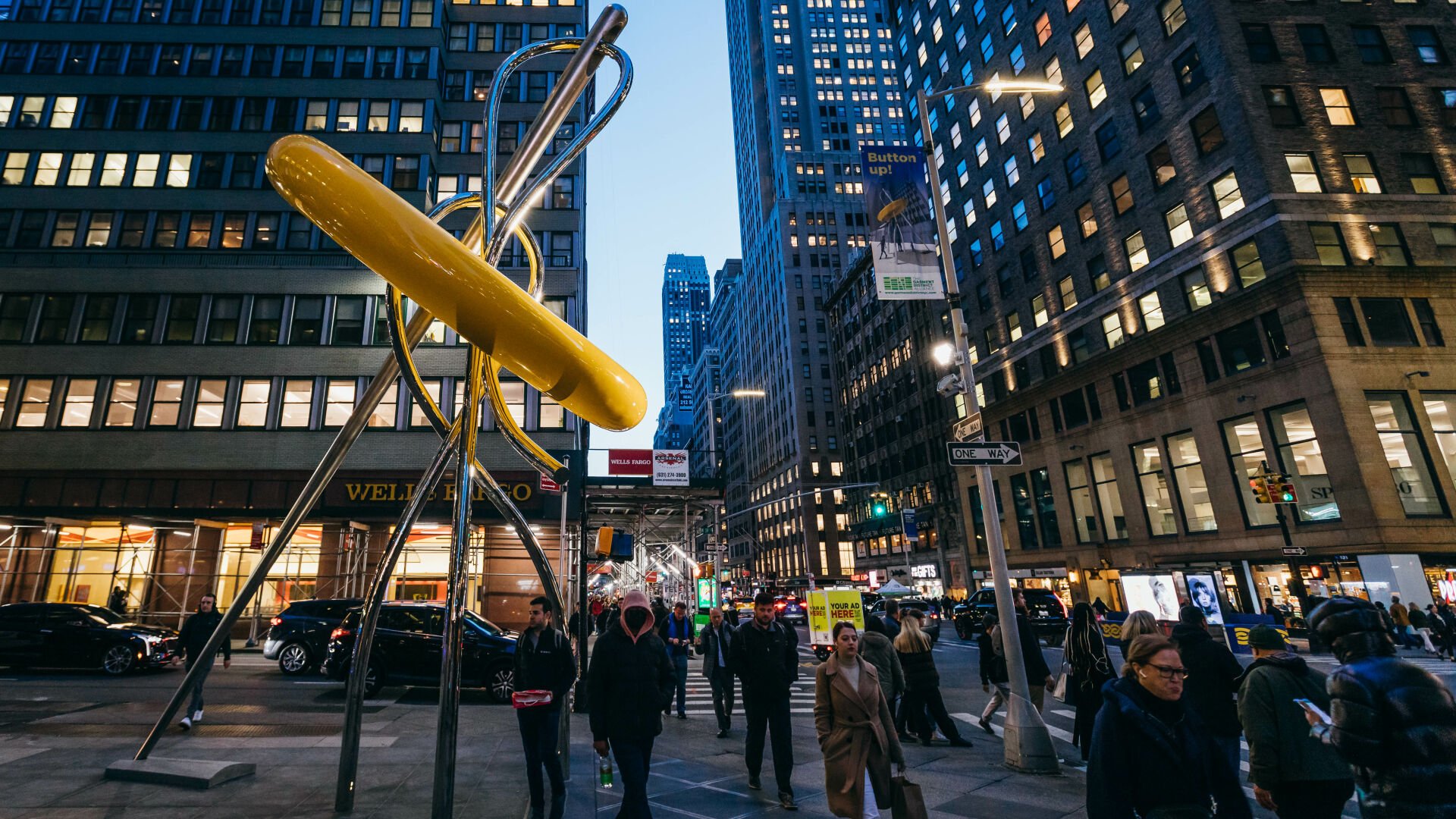 #Big Button
NEW YORK CITY, USA
The Garment District Alliance has unveiled its new Big Button sculpture in the heart of the Garment District on Seventh "Fashion" Avenue at 39th Street, replacing an information kiosk with a new public art installation that references the neighbourhood's history.

An original kiosk structure was removed to make way for the new sculpture. Built in the 1970s through a public-private fashion industry initiative, the kiosk was operated as an industry information center for more than a decade. Like the new sculpture, the kiosk lived in the public and private realms, sitting partially on the city sidewalk and partially on the Seventh Avenue plaza of 1411 Broadway, which today is managed by Hines.
When GDA was formed in 1993, it was given permission by the adjacent property and the City of New York to renovate the structure and rededicate its use as a business-to-business fashion industry resource center and information kiosk staffed by the BID. The renovation, which concluded in 1996, included the addition of a distinctive rooftop button and needle sculpture designed by James Biber, then of Pentagram Architects, which became an instant icon for the neighborhood.
Twenty years later, in 2017, GDA engaged Local Projects, the experiential design firm, to explore content and design concepts for the future of the kiosk. Interviews and workshops were held with stakeholders, including GDA staff and Board members, business owners, fashion industry professionals, landlords, city officials, and representatives from Manhattan Community Board 5. Through this process, it was concluded that, while a physical kiosk was no longer necessary due to the growing ubiquity of personal mobile devices, this iconic sculpture is a beloved neighbourhood icon that should remain and be enhanced as a pop art sculpture and placemaking amenity. The Garment District Alliance intended to reuse the original sculpture, but structural damage made it necessary to fabricate a new 'Big Button', which created opportunities to explore a contemporary interpretation of the beloved classic, using new materials and colours.
The new permanent sculpture is 28 feet tall with a 15-foot diameter aluminium button, and 32-foot brushed stainless-steel needle, creating a dynamic experience for pedestrians while improving sight lines and enhancing pedestrian flow.
After a five-year process – including design, engineering, fabrication and coordination with multiple city agencies and stakeholders- UAP studios and workshops in New York and Shanghai are thrilled to have been instrumental in reimagining and bringing to life this iconic artwork.
"We want to encourage visitors to pause and be curious about the history of the neighbourhood, so the new design contains nods to the district's past, present and future. The magical thread draws its strength from the passion and ingenuity that form the fabric of our great city. The button's yellow is a nod to today's NQRW subway lines, honouring the old BMT line that brought workers to the Garment District from Brooklyn and Queens."

Nathan Adkisson, Creative Director at Local Projects
DOT is excited to celebrate the unveiling of the newly designed Big Button sculpture, an iconic symbol of the Garment District's history, we are proud to have worked closely with the Garment District on this elegant redesign of public space that will improve sight lines and enhance pedestrian flow and safety.

NYC Department of Transportation Commissioner Ydanis Rodriguez
Image Credit: Alexandre Ayer / @DiversityPics for the Garment District Alliance, and Chris Roque
Design Assist
Digital Model & Render
Material Exploration
Construction Methods
Installation Methodology
Workshop
Technical Drawings
Paint Shop
Welding and Fabrication
Installation
Client
The Garment District Alliance
Location
New York City, USA