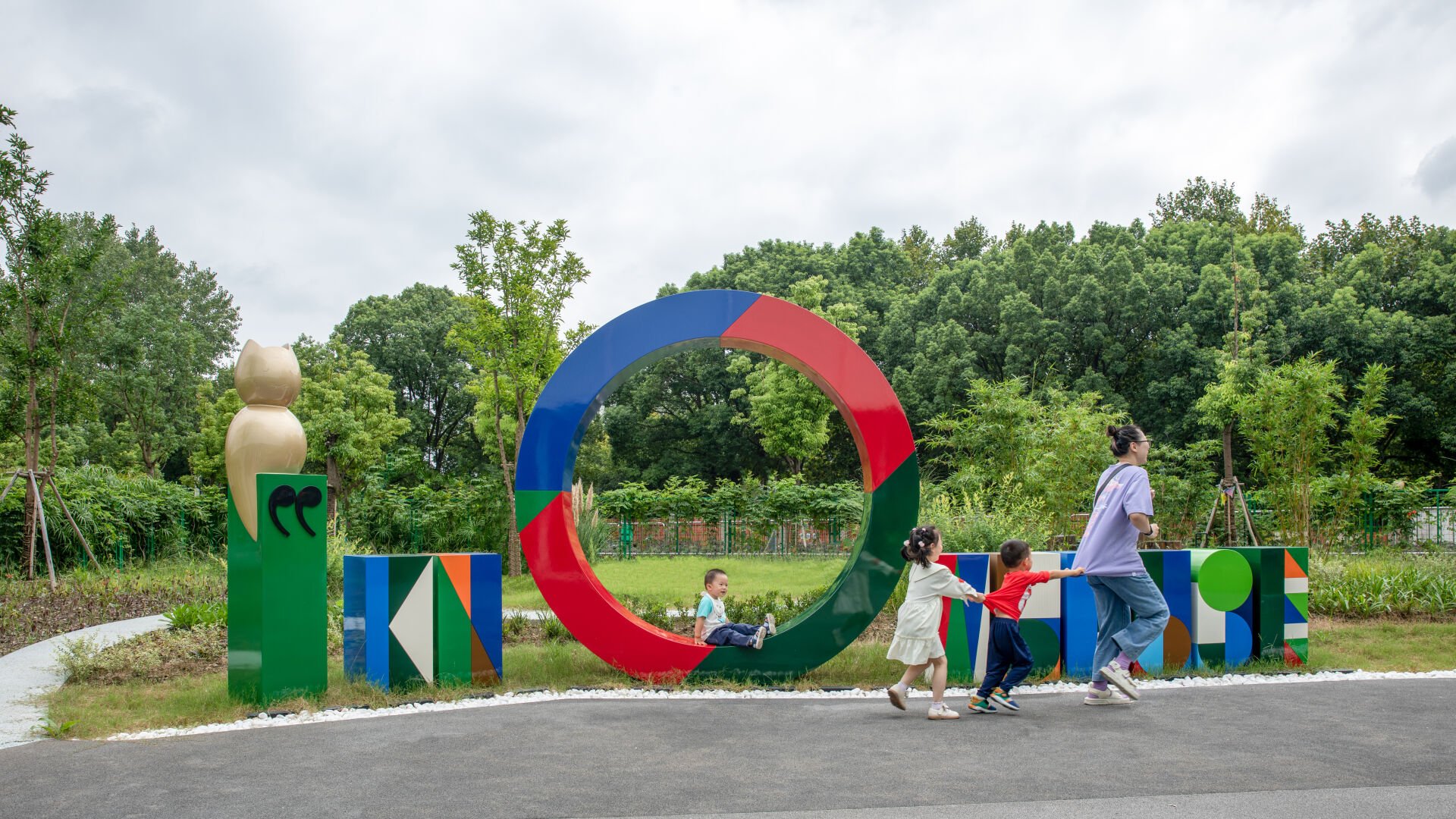 #Knowledge Power/Butterfly Kites
SHANGHAI, CHINA
Emily Floyd is renowned for her text-based sculptures and pedagogically inspired works that combine a strong focus on visual equalities with interest in the legacies of modernism. Working across diverse mediums, including sculpture, printmaking and public installation, Floyd's works engage various literary disciplines to create bold, child-friendly spaces for public engagement, education, and interaction.
Emily Floyd's Knowledge Power is a two-part installation for Shanghai Library East, part of the library's public art program commissioned to complement the world-class architecture designed by Schmidt Hammer Lassen architects under UAP China's curatorial theme 'Mediums: The Development of Writing'.
In her signature style, Emily Floyd has embraced vibrant colour and dynamic form to create an engaging garden playscape. This painted aluminium artwork comprises giant children's building blocks to form the phrase "Knowledge is Power!" a famous saying in China and a quote taken from the walls of the original Shanghai Library. This artwork expresses the positive mission of the Shanghai Library East whilst creating an iconic landmark.
Alongside this text, Floyd has included a friendly animal sculpture in the form of a kitten. In Chinese manhua (Children's Literature) illustrations, we often see cats as gentle companions for children whilst they are reading and studying. The artist hopes this artwork will help children feel that the library belongs to them and that knowledge will give them power today and into the future.
It is so important for us to think differently about public space and ideas of place. That is what art in the public sphere can do. It can make us think about the places that we inhabit in a different way and thinking about the possibilities for the future is so important.

-Emily Floyd
As part of Floyd's permanent installation for Shanghai Library East, the artist delivered Butterfly Kites. A kite, previously colloquially known as "Zhi Yuan", is one of the popular elements used in Chinese manhua Children's literature. For Butterfly Kites, Floyd has activated two iconic symbols - a butterfly and a kite in reference to this recurring motif in Chinese manhua. As kites carry children's hopes and dreams for the future, this artwork celebrates the pure and quiet mood of reading.
From the initial curatorial vision to design development and throughout the manufacturing, painting work and suspended installation of the artwork, our team in China worked closely with Emily Floyd to deliver this incredible work for Shanghai Library East.
Image Credit: Artwork image and video courtesy of RAWVISION studio, the artist, Shanghai Library and galleries
Consultancy
Public Art Masterplans and Strategies
Artist Procurement and Management
Marketing Solutions
Design Assist
Digital Model & Render
Material Exploration
Materials and Construction Methods
Installation Methodology
Workshop
Technical Drawings
Pattern Making
Paint Shop
Welding and Fabrication
Installation
Artwork Title
Knowledge Power/Butterfly Kites
Project
Shanghai Library East