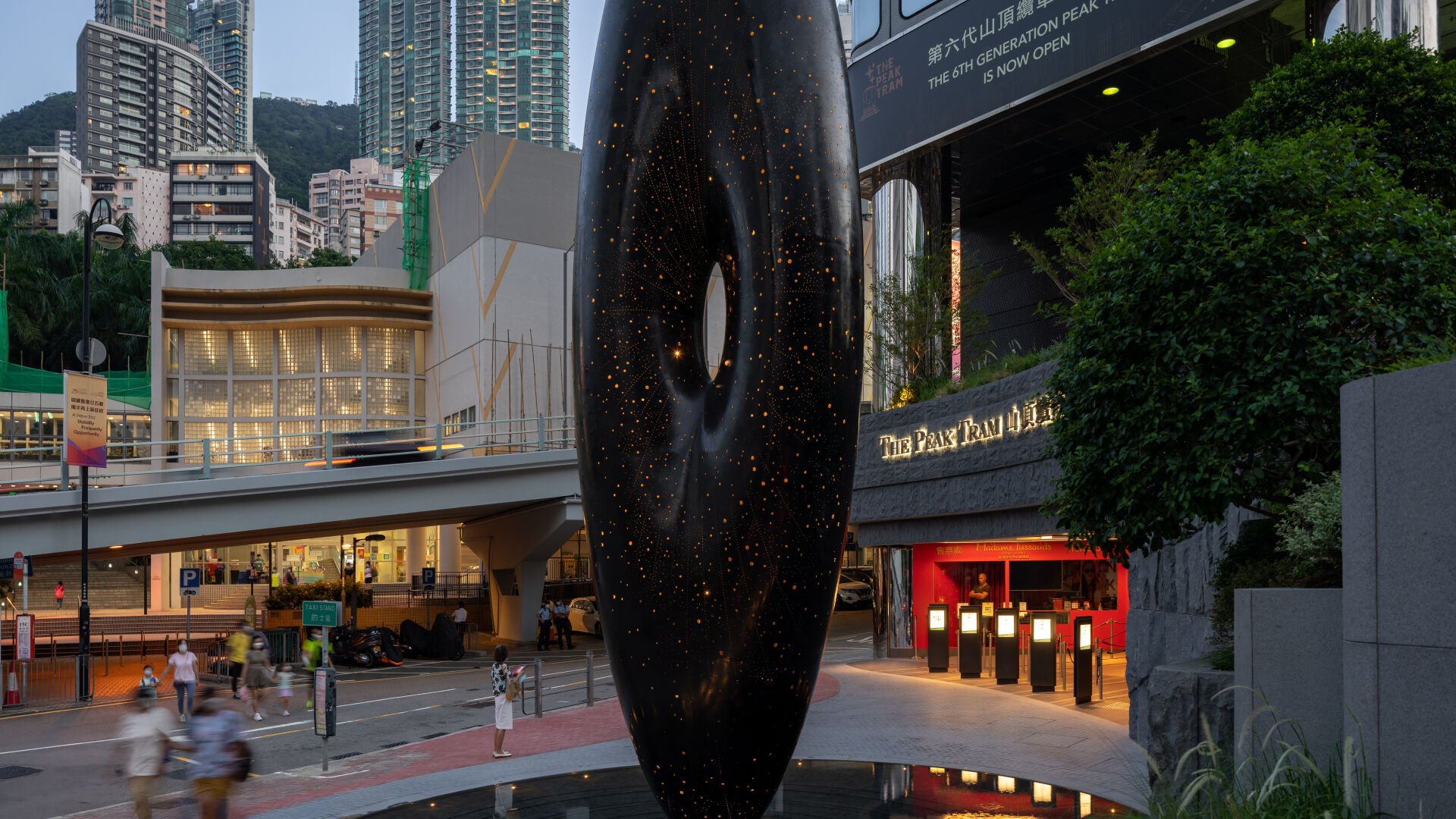 #Eye of Infinity
HONG KONG, CHINA
Lindy Lee is an Australian artist whose practice explores her Chinese ancestry through Taoism and Ch'an (Zen) Buddhism – philosophies that see humanity and nature as inextricably linked. Her artwork embodies the intimate connections between human existence and the cosmos. It highlights the vastness of space and invites curiosity.
With its central void, the Eye of Infinity's form conjures poetic associations of seed, portal, and eye. The seed speaks of germination and growth - of the saplings growing to reach the sky. The seed is an auspicious symbol and a deliberate reference to the abundant mountain forestry and country parks that Hong Kong is deservedly proud of. A portal is a threshold – a transitional space that leads from one place to another. The Peak Tram is, in essence, a portal that facilitates the transition from sea level to summit. Finally, the 'eye' references more lyrical notions of the gaze. People travel to high places to experience and be inspired by a direct and personal relationship with a vastness that contains all in front of and beyond the horizon.
"The psyche of Hong Kong is one of ascension. The Peak is one of Hong Kong's ultimate summits offering one of the world's most sublime vistas of city, sea and sky. This spirit of ascension inspires the Eye of Infinity. No city on the planet embodies the intimate connection between heaven and earth, sea and sky, as Hong Kong does." - Lindy Lee
The Eye of Infinity's torus form has been elongated to become an oval shape with the void in the centre. It is made from cast bronze with a black patina finish and has been crafted with thirty-five thousand tiny, drilled apertures to allow light to sparkle through. The internal lighting will change throughout the day to reflect the changing light of the Peak and the daylight transitioning to evening, as well as growing in lighting intensity to signal the approaching arrival of the Peak Tram to the Central Terminus.
Our teams in China and Australia worked closely with Lindy Lee and her studio team based outside Byron Bay, Australia, and art consultants Art Partners-, from the concept generation for both the artwork and landscape design, through to the technical design development phase to the production and final installation of the piece. This monumental sculpture was cast in bronze using a sand-casting technique, and the varied and complex elements of the artwork were assembled, finished, and patinated, all in close coordination with the artist over a period of almost three years.
Image Credits: Kris Provoost. Rachel See. UAP | Urban Art Projects
Design Assist
Digital Model & Render
Material Exploration
Materials and Construction Methods
Installation Methodology
Workshop
Technical Drawings
Pattern Making
Sand Casting
Welding and Fabrication
Finishing and Patina
Installation
Artwork Title
Eye of Infinity
Project
The Peak Tram Central Terminus
Client
The Peak Tramways Company / The Hong Kong and Shanghai Hotels