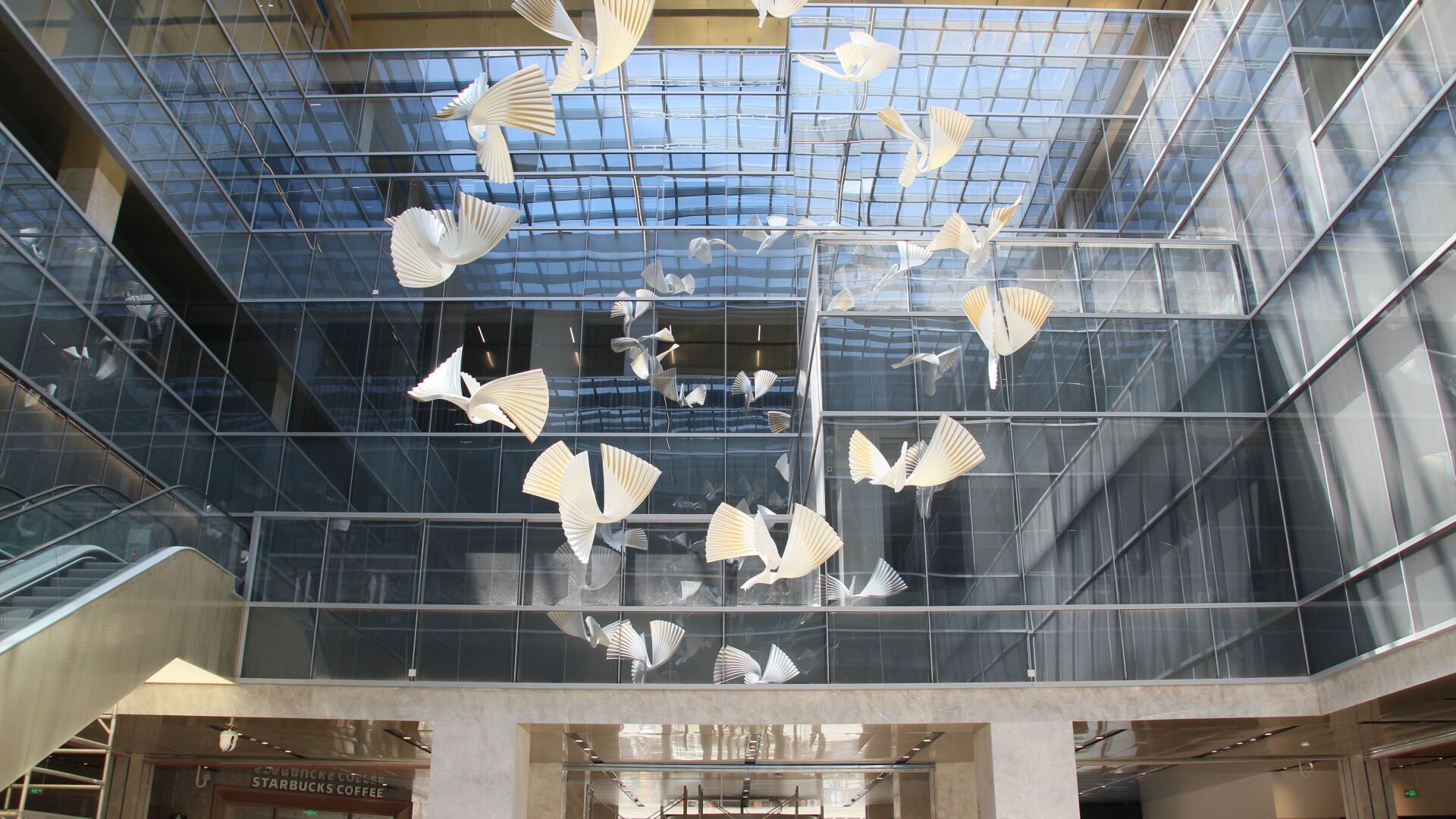 Richard Sweeney is a sculptor who draws inspiration from the natural world's organic structures and growth patterns. He takes a hands-on approach to creating three-dimensional forms by physically manipulating materials. Sweeney pays close attention to details in the creation process, aiming to create spaces with a sense of movement and unique forms.
In his latest artwork, Sweeney focused on capturing the image of birds flying in the air. The artwork is presented in an infinite loop, creating a sense of continuity. The piece is displayed in the spacious atrium of The Exchange Twin Towers, where 26 birds fly gracefully. Their golden feathers encircle the transparent walls as they dance in a vertical spiral formation that resembles the number "8" or the infinity symbol. The birds exhibit various textural qualities, and their appearance changes with the intensity of the light, creating a beautiful play of light and shadow in the space.
To create the artwork, our UAP China team conducted numerous tests and ultimately decided to use imported panels, which were heated to shape the artwork, bringing to life the various postures of the birds as they raised their wings. During the production process, our artisans carefully analyzed and compared multiple materials, ultimately selecting gold foil for a more satisfying look from various angles.
To celebrate the grand opening of The Exchange Twin Towers, a collaboration between Huijing Exchange Twin Towers, UAP, and artist Richard Sweeney has launched a customized art derivatives gift box set inspired by "Twins". The set includes hand-fired ceramic mugs, hardcover notebooks, and stylish eco-bags cleverly designed by Richard. It's a testimony to the city's culture and allows people to enjoy the charm of art in their daily lives.
I believe that a good public artwork can attract people by using large or imaginative materials and forms, so that the artwork echoes the venue in which it is placed. I would like to thank The Exchange Twin Towers for giving me the opportunity to create this artwork and hope that the revitalised The Exchange Twin Towers will bring vitality and inspiration to the business people who work here as well as to the visitors!

Richard Sweeney
Image Credit: Richard Sweeney, The Exchange Twin Towers and UAP
Consultancy
Public Art Strategy
Artist Procurement and Management
Marketing Solutions
Design Assist
Material Exploration
Construction Methods
Installation Methodology
Digital Model & Render
Workshop
Technical Drawings
Mould Making
Welding and Fabrication
Finishing and Patina
Installation
Project
Beijing Huijing Twin Towers
Client
The Exchange Twin Towers