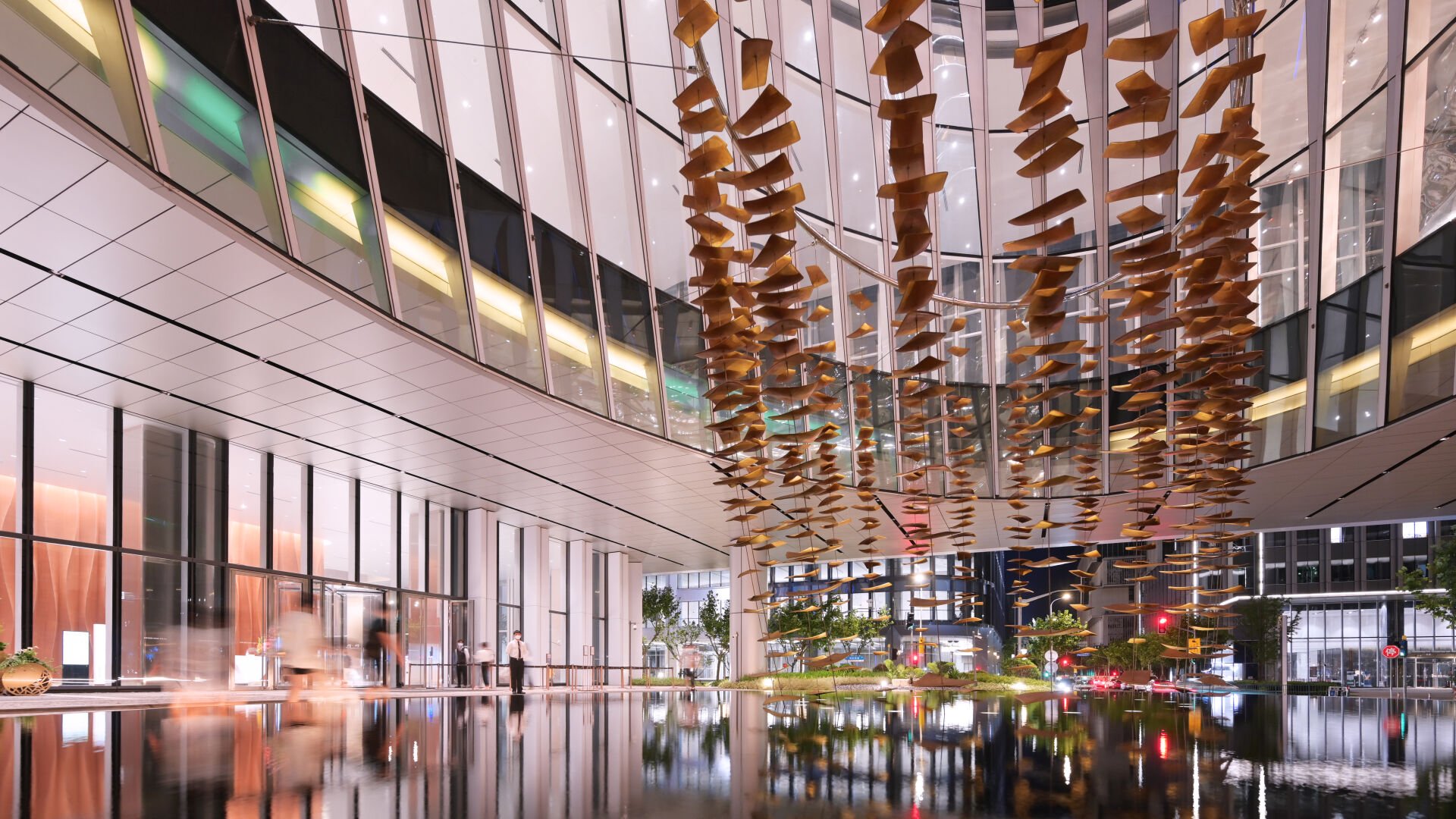 #Falling Light
SHANGHAI, CHINA
The President and Design Principal of Kohn Pedersen Fox Associates (KPF), James von Klemperer, has brought his concept to life as 'Falling Light'. This installation features hundreds of suspended aluminium castings that seem floating, creating a visually striking and engaging viewer experience. This public artwork combines art and architecture to create a visually memorable and engaging experience.
"Falling Light" has 498 aluminium castings suspended in a beautiful arrangement. The artwork floats above a dark pool of water, which helps create a fascinating interplay between castings, the natural light, and the reflections from the water's surface. The play of light is a crucial theme in this artwork, as it brings the bronze elements to life and adds to the illusion of a swirling motion. This sculpture serves as a dynamic focal point in the building and engages in a visual dialogue with the architectural elements of its environment.
UAP was responsible for the artwork's fabrication, installation, and engineering. The primary material used for the artwork is aluminium, and the finishing of the aluminium castings involved anodic oxidation and paint, giving it a shimmering appearance. The artwork's dimensions are an impressive 5,230mm in height, 9,150mm in width, and 7,400mm in depth. "Falling Light" is a stunning example of art and architecture combining to create a unique and memorable public art installation.
Image Credit: Courtesy of Kohn Pederen Fox, UAP | Urban Art Projects
Design Assist
Digital Model & Render
Material Exploration
Construction Methods
Installation Methodology
Workshop
Technical Drawings
Mould Making
Sand Casting
Welding and Fabrication
Finishing and Patina
Installation
Creative
Kohn Pedersen Fox (KPF)
Artwork Title
Falling Light
Project
Lujiazui Qiantan Center