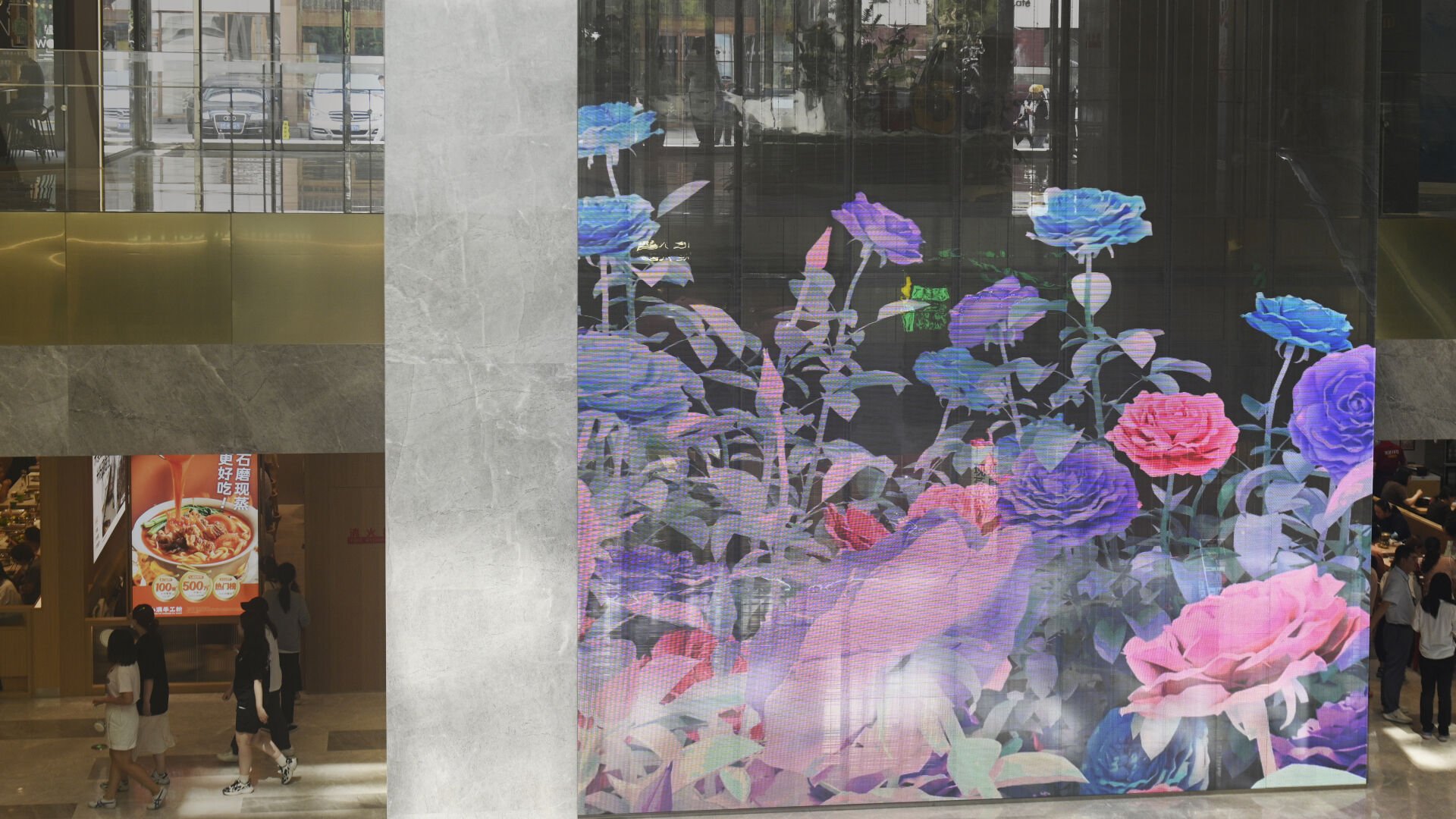 #Floral Wave
BEIJING, CHINA
RICH&MIYU is a design studio located in Tokyo. It was founded in 2019 by Miyu Burns, a Japanese artist, and Richard Burns, a British artist. They specialize in motion graphics, interactive design, and art research. Their work explores the connection between the physical and the non-physical realms and how it is expressed. They concentrate on visualizing abstract concepts like algorithms, natural laws, and social constructs. They scan and track physical objects, experimenting with their form, movement, and deconstructive methods to achieve this.
The digital artwork Floral Wave' is centred on the life cycle of the main character, the moonflower, the city's municipal flower, and incorporates the concept of the flow of all things, presented on a giant transparent LED screen in the atrium. The image begins with a cloud of particles floating in the universe, which converges into a cluster of blooming moonflowers. The image then transforms into a bird on the wing, echoing the image of 'Twins' hanging in the atrium. The particles converge like a flock of birds, illustrating the vitality of all things.
"Floral Wave" presents a microscopic view of the ever-changing landscape, while 'Twins' is a subtle blend of dynamic and static images. These two works of art weave moonflowers and birds into a poetic image of intertwined dance, like a gorgeous stage of life and freedom, conveying the vitality of all living things. This subtle construction, like a scroll of life, evokes infinite reverie and reinterprets the combination of art and space, thus welcoming visitors from all over the world.
Image Credit: Rich&Miyu The Exchange Twin Towers and UAP

Consultancy
Public Art Strategy
Artist Procurement and Management
Marketing Solutions
Design Assist
Digital Model & Render
Material Exploration
Construction Methods
Installation Methodology
Project
Beijing Huijing Twin Towers
Client
The Exchange Twin Towers