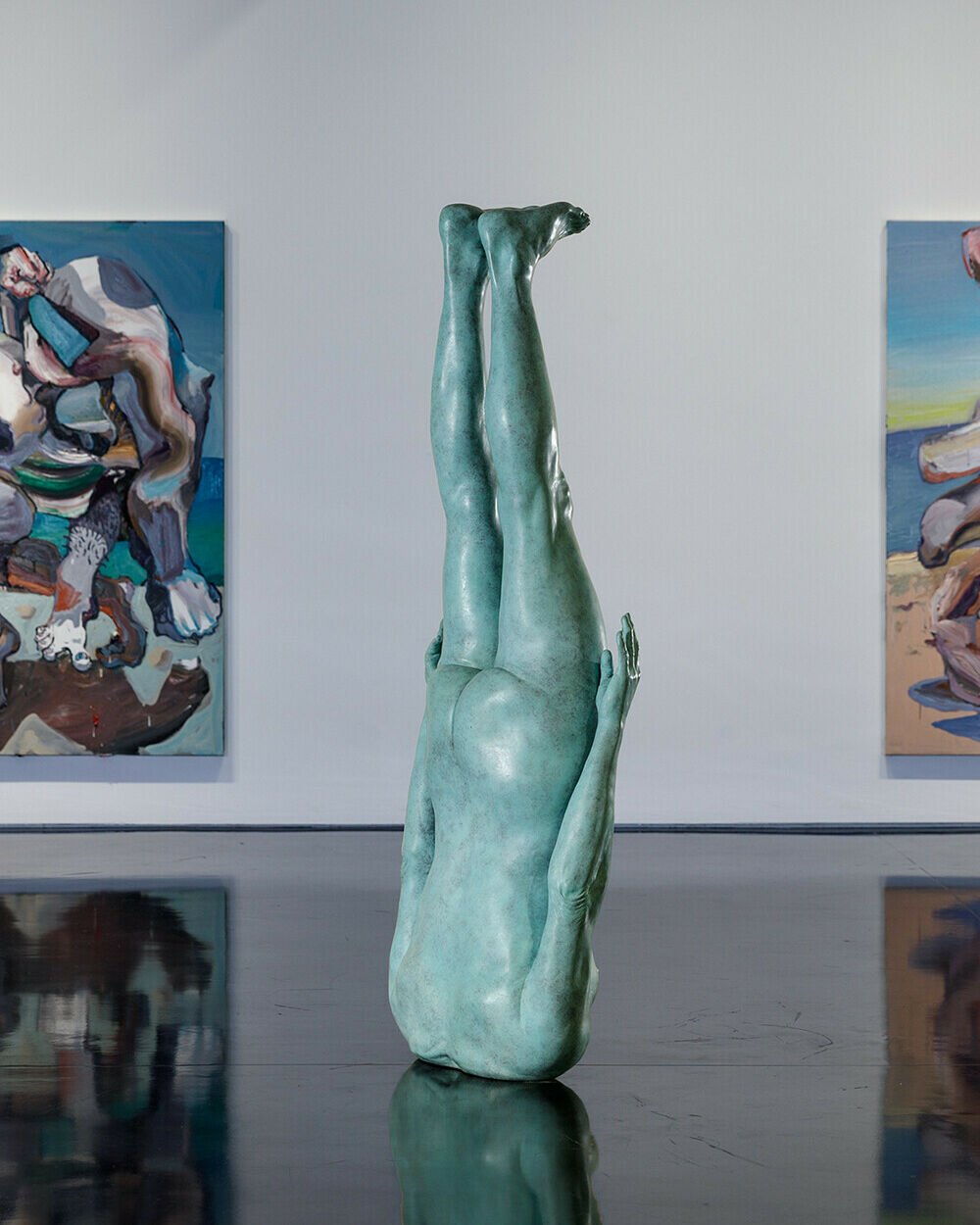 #Freefall
MELBOURNE, AUSTRALIA
Ben Quilty is renowned for his gestural and evocative landscapes and portrait paintings. Quilty's practice reflect his fascination with masculine culture and social issues.
Quilty's 2021 exhibition "The Beach" presented by Tolarno Galleries features a body of work that was created in the lead-up to the 2020 American Presidential election and then continued throughout the COVID-19 pandemic and lockdown. Inspired by the works of American realist painter George Bellows, "The Beach" is a continuation of Quilty's exploration of Australian and masculine cultural identity.
Included within the exhibition is Freefall, a bronze sculptural edition created in a very personal response to the memorialisation of white men, like the John Batman sculptures in Melbourne. Freefall displays the body of a 60-year-old retired first responder living with post-traumatic stress disorder (PTSD). Displayed in conversation with the surrounding paintings depicting the smashed bodies of "blood sport" participants, Freefall depicts a body plagued with a different kind of fatigue. The inverted bronze figure has his identifying features, much like his traumas, buried and erased.

Freefall was crafted in UAP's Australian foundry in close collaboration with Quilty, and cast with Perides Art Projects. To ensure Quilty's vision of a hyper-realistic sculpture was realised, the model was 3D scanned and patterns were milled by a robotic arm, before being refined in pattern making. Cast in bronze with a patina finish, this incredible editioned artwork made its debut during Quilty's 2021 exhibition "The Beach" at Tolarno Galleries in Melbourne
Image Courtesy of Tolarno Galleries
Image Credit: Andrew Curtis & Rachel See
Project
The Beach - Tolarno Galleries
Location
Melbourne, Australia
Build
UAP & Perides Art Projects