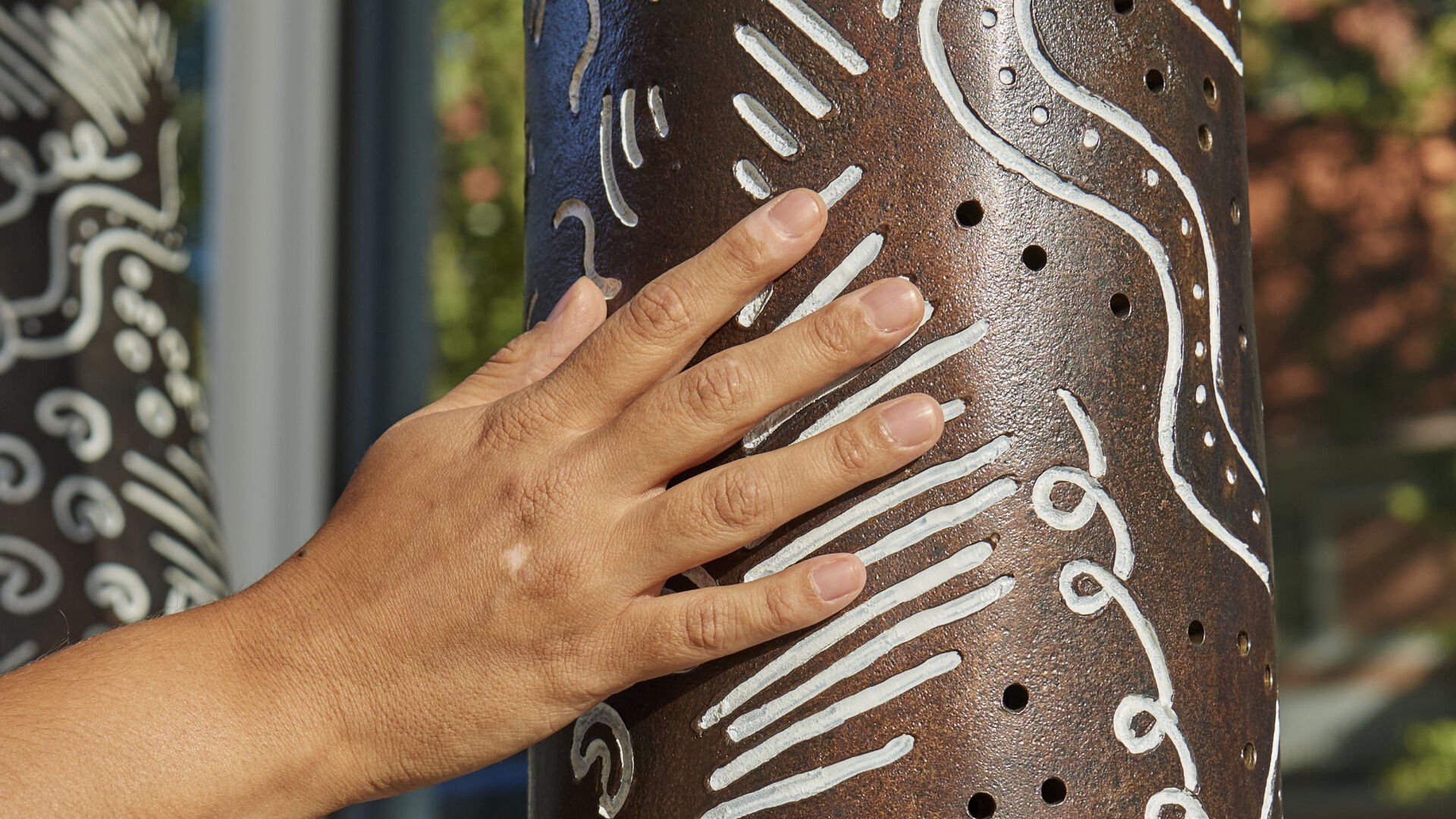 #Goodjal ba Ngoonii Koomdaam
PERTH, AUSTRALIA
Jarni McGuire was born and raised in Noongar country; a Whadjuk, Ballardong and Yuat woman living in Boorloo (Perth). Her creative practice brings our traditional stories and art into the modern landscape using inspiration from her culture, language, and listening to Elders.
The story of the Two Brothers Dreaming deeply resonated with the artist during the briefing sessions conducted by Brookfield Properties, Development WA, Apparatus, Hassell, UAP and Artify. It became evocative of memories of McGuire's dad's dancing together while holding their Bindi Bindi (dance sticks.) The artwork upscales the traditional dance sticks, continuing the cultural and familial practice of making these sticks which McGuire's family has done for many years, whilst layering a dual meaning that connects to the Two Brothers' story.
From the initial sessions, McGuire spent some time at our workshop in Brisbane. Having McGuire in our foundry is a valuable part of the making process as she worked alongside our pattern makers and designers, explored the concepts and got advice on the manufacturing techniques for this 2.8m tall cast bronze sculpture titled 'Goodjal ba Ngoonii Koomdaam.'
Working in collaboration with the artist and Apparatus Art Consultants, our team in Australia worked closely with McGuire to create this site-specific work for Brookfield Properties' One the Esplanade in Perth, Western Australia. This work was sand cast in bronze and textured with patterns and cut-outs to reference patterns from Bindi Bindi (dancing sticks), making the work recognisable Noongar in design and form. Finished with a partial black rub paint, these incredible sculptures stand within a landmark location on the water's edge of Elizabeth Quay.
Each project is done with proper consultation to ensure the work I produce is authentic and is something my mob and community can be proud of.


Jarni McGuire
Video Credit: Rachel See, Lengash Covenas
Image Credit: Frances Andrijich, Rachel See
Design Assist
Digital Model & Render
Material Exploration
Construction Methods
Installation Methodology
Workshop
Technical Drawings
Advanced Robotics
Pattern Making
Mould Making
Sand Casting
Welding and Fabrication
Finishing and Patina
Installation
Artwork Title
Goodjal ba Ngoonii Koomdaam
Project
Goodjal ba Ngoonii Koomdaam
Client
Brookfeild Properties