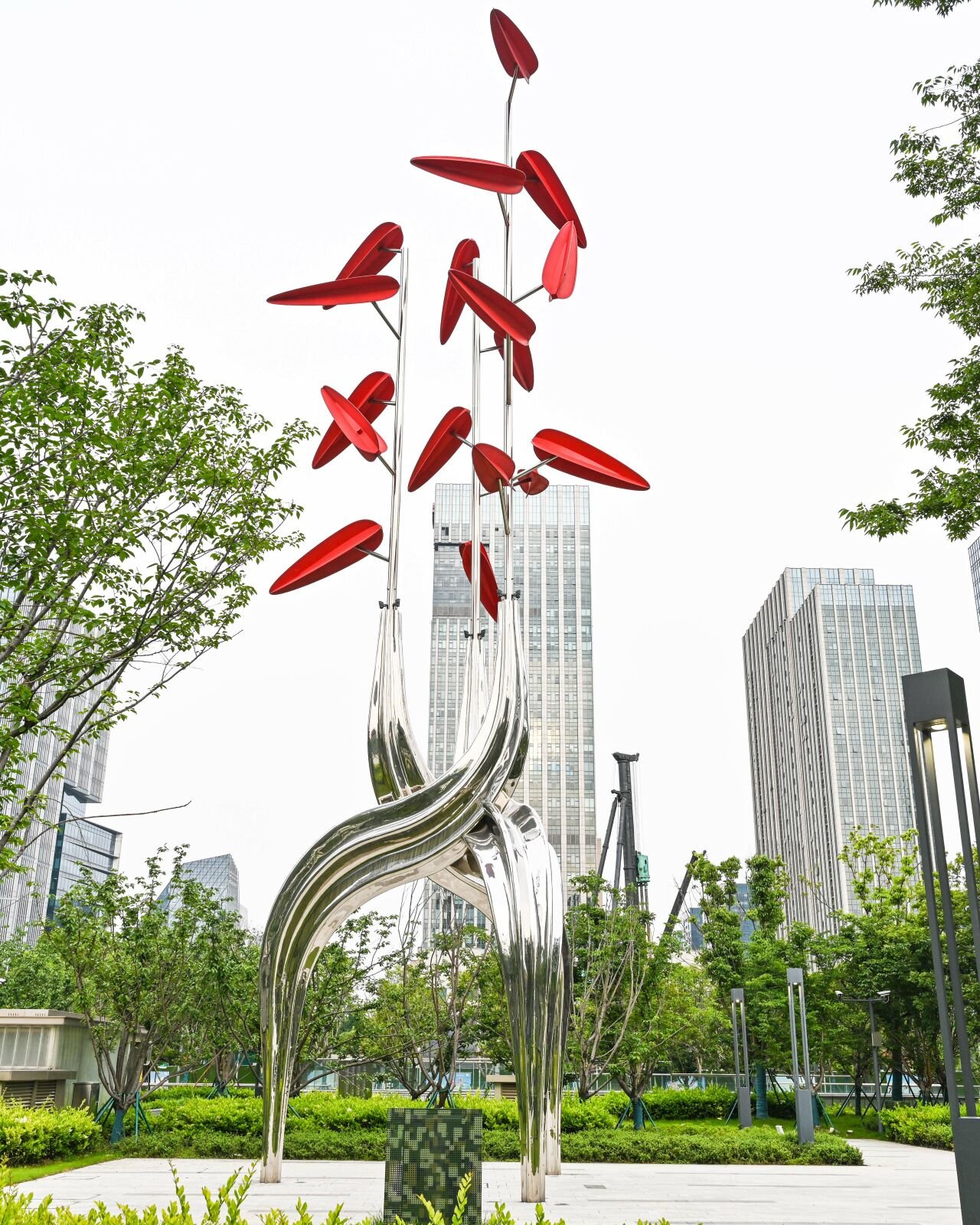 #Writing in the Air
NINGBO, CHINA
Edwin Cheong is an architect-trained artist best known for creating numerous monumental kinetic art sculptures in public spaces around the world. His innovative practice harmonises movement, form and space in each given environment, forming emotive and memorable experiences and outcomes. His work seeks to create awareness of Now, Time and Existence and evoke a sense of wonderment. Beyond the shores of Singapore, his artworks are installed in Taiwan, Australia, the UK and the USA.
At the north entrance of the Central park, the 22-meter aerography artwork Writing in the Air Shaping a distinctive regional landmark. Writing in the Air was inspired by Ningbo's unique city geography which features three rivers (Yong river, Yao river and Fenghua river) converging. The rivers have a long history of providing inspiration to the numerous scholars who were born in Ningbo and have contributed to the profound cultural heritage of the city.
Writing in the Air reflects dancing bamboo forests like a brush and ink swaying in the air. In a poetic expression of Ningbo City's history, This urban landmark artwork is impressive and complements the neighbouring buildings and landscape, both day and night.
UAP is proud to have helped deliver and witness the arrival of Writing in the Air in Ningbo East Central Park to awaken the public to the ongoing exploration of traditional culture through artistic expression.
Consultancy
Public Art Masterplans and Strategies
Design Assist
Digital Model & Render
Material Exploration
Construction Methods
Installation Methodology
Workshop
Technical Drawings
Paint Shop
Welding and Fabrication
Installation
Artwork Title
Writing in the Air
Project
Ningbo East Central Park
Client
Ningbo Central Park