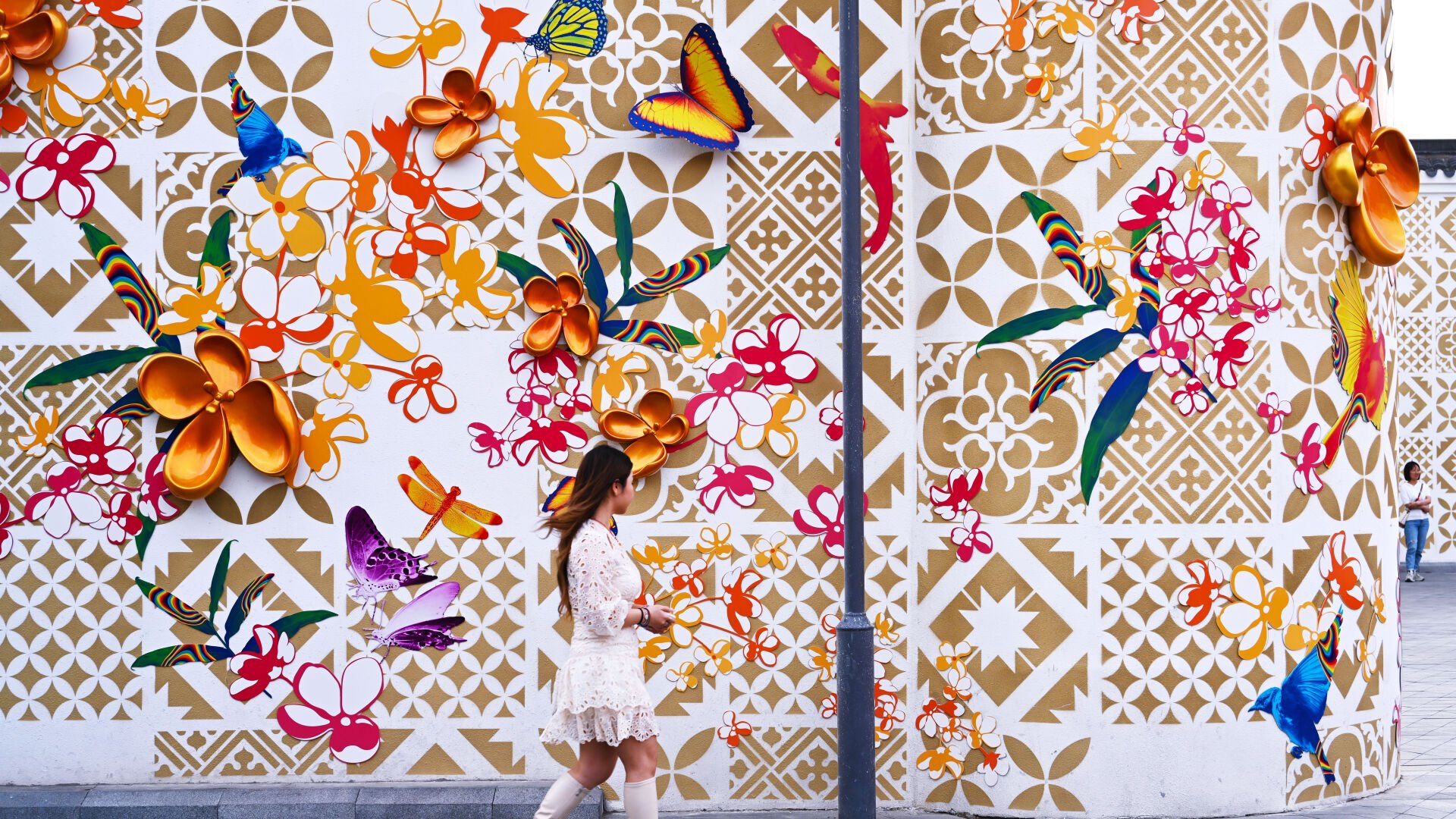 #Magical Gusu
SUZHOU, CHINA
Jacky Tsai, a Chinese artist based in London, uses different art forms, from traditional canvas to digital art, to blend Eastern and Western ideas. His art tells new stories that challenge our views. He explores how cultures connect, sometimes creating tension and sometimes harmony. Tsai's work often looks at classical Chinese art, highlighting its intricate craftsmanship. He uses different mediums to show his art across time, showing how time affects us.

For his work at Suzhou Yanlord Cangjie, Tsai unfurls his Suzhou garden-inspired vision as visitors experience the historical architecture of the Sanjian Wall and Watchtower. Elements of flowers and plants, koi fish, and soaring birds come to life in his innovative interpretations adorning the walls. These vibrant murals breathe fresh vitality into the aging structures. Here, contemporary fashion seamlessly blends into the enriched traditional culture, inviting visitors to encounter a modern aesthetic that beautifully captures the essence of Suzhou-style living.

Jacky Tsai's Magical Gusu is part of the public art strategy developed for Suzhou Yanlord Cangjie based on the curatorial vision Seeking Treasures, Encountering Oneself created by our team in Shanghai.
When visitors come to Yanlord Cangjie, I hope they will enjoy my art and experience the captivating fusion of Chinese and Western artistic influences.

Jacky Tsai
Artwork image courtesy of the artist and Jerome Huang of UAP | Urban Art Projects
Consultancy
Public Art Strategy
Artist Procurement and Management
Marketing Solutions
Design Assist
Digital Model & Render
Material Exploration
Construction Methods
Installation Methodology
Workshop
Technical Drawings
Pattern Making
Paint Shop
Welding and Fabrication
Installation
Artwork Title
Magical Gusu
Project
Suzhou Yanlord Cangjie