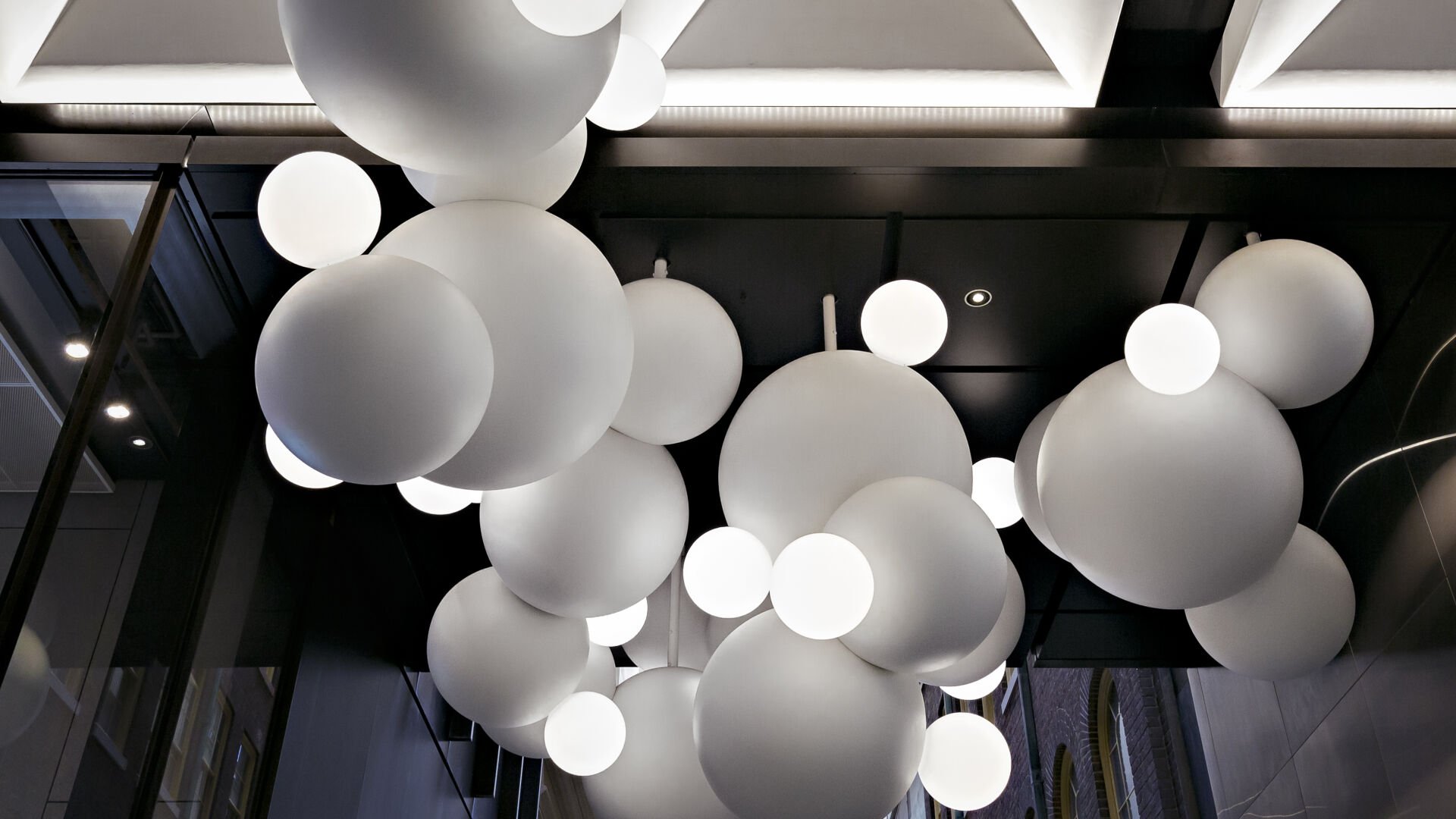 #Magnetism
SYDNEY, AUSTRALIA
Boldly defining the intersecting pedestrian thoroughfares of Sydney's Brookfield Place, the cloud-like sphere clusters of Charles Pétillon's Magnetism appear as if floating effortlessly in space. Comprised of a collection of lit and unlit spheres, this eye-catching and alluring work is an extension of the artist's 'balloon invasion' series, where expansive installations of spherical balloons are used to radically transform the way in which audiences view and engage with everyday spaces.
Borne from the theory of 'magnetism', the artwork explores magnetism as a metaphor to describe the interactions between friends, colleagues and strangers flowing throughout Brookfield Place. Sited above Wynyard Station, one of Sydney's biggest commuter nodes, the artwork acts as an attractive force that captures the gaze of passers-by, compelling new audiences to enter and experience this iconic place of passage.
UAP was engaged by Brookfield to manage the complete delivery of this artwork, including Public Art Consultancy, Design Assistance, Fabrication and Installation of the final artwork. The artwork approach and procurement process was developed through extensive collaboration with Brookfield, Make Architecture and Architectus.
These balloon invasions are metaphors. Their purpose is to change our perspective on things that we encounter every day without paying attention.

Charles Pétillon
Image Credit: Document Photography
Consultancy
Public Art Masterplans and Strategies
Artist Procurement and Management
Design Assist
Dedicated Design Assist
Materials and Construction Methods
Installation Planning
Workshop
Project Management
Installation
Welding and Fabrication
Client
Brookfield Properties
Location
Sydney, Australia