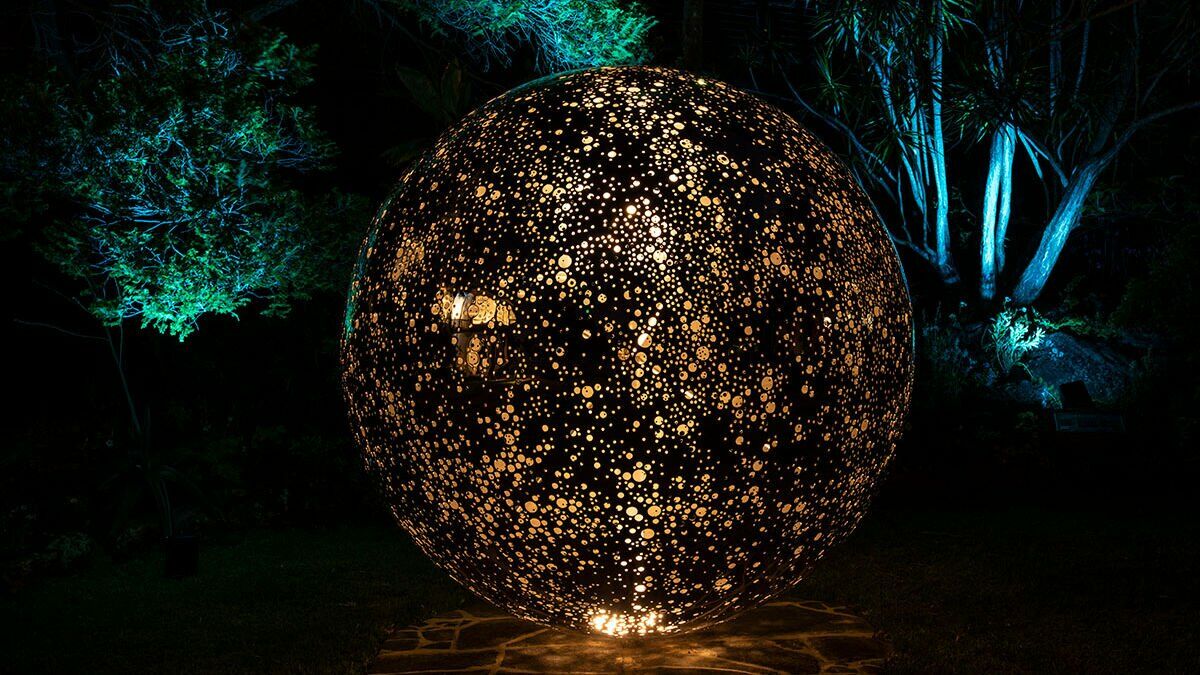 #One Bright Pearl
SYDNEY, AUSTRALIA
The Woollahra Municipal Council commissioned internationally renowned artist Lindy Lee to exhibit her work, One Bright Pearl, in Blackburn Gardens at Woollahra Gallery at Redleaf, starting December 14, 2022. Lee is known for her interdisciplinary art that explores themes of family, history, and identity, often creating large-scale pieces for public spaces focusing on community connections. Her work draws inspiration from her Australian heritage and Chinese ancestry, rooted in philosophies like Taoism, Ch'an (Zen), and Buddhism, emphasising the interconnectedness of humanity and nature.
"One Bright Pearl" is a striking sculpture weighing 260 kilograms, made of mirror-polished stainless steel and measuring 2 meters in diameter. It is part of a series, with the first installed in Norfolk, Virginia, USA and the most recent edition was shown at the Sydney Contemporary 2023 Art Fair. The sculpture is inspired by the ancient Chinese story of the "Dragon's Ball," symbolising qualities such as wholeness, wisdom, and spiritual power. During the day, its reflective surface captures and mirrors the ever-changing surroundings. 'One Bright Pearl' embodies this tale. It features a delicate pattern of tiny holes in a spherical shape, creating captivating shadows during the day and emitting a soft light from within at night, symbolising the cycle of time.
"One Bright Pearl" symbolises Woollahra's diverse community and reflects on themes of new beginnings and modern migration.
UAP worked closely with the artist from inception through the installation of this 260kg mirror-polished stainless steel sculpture measuring 2m in diameter.
During the day, the sculpture's surface, with its mirror brightness, absorbs and reflects the fleeting and ever-changing pageantry of the surrounding world: the movements of people, sky, landscape [and] birds.


Lindy Lee
Lindy Lee, 'One Bright Pearl', Woollahra Gallery at Redleaf, Sydney. Commissioned with the support of Art Makers. Courtesy: the artist, Woollahra Municipal Council, NSW and Sullivan and Strumpf. Photography: Steven Siewert.
Design Assist
Digital Model & Render
Material Exploration
Construction Methods
Installation Methodology
Workshop
Technical Drawings
Pattern Making
Sand Casting
Welding and Fabrication
Finishing and Patina
Installation
Artwork Title
One Bright Pearl
Project
Blackburn Gardens Woollahra Gallery at Redleaf
Location
Sydney, Australia