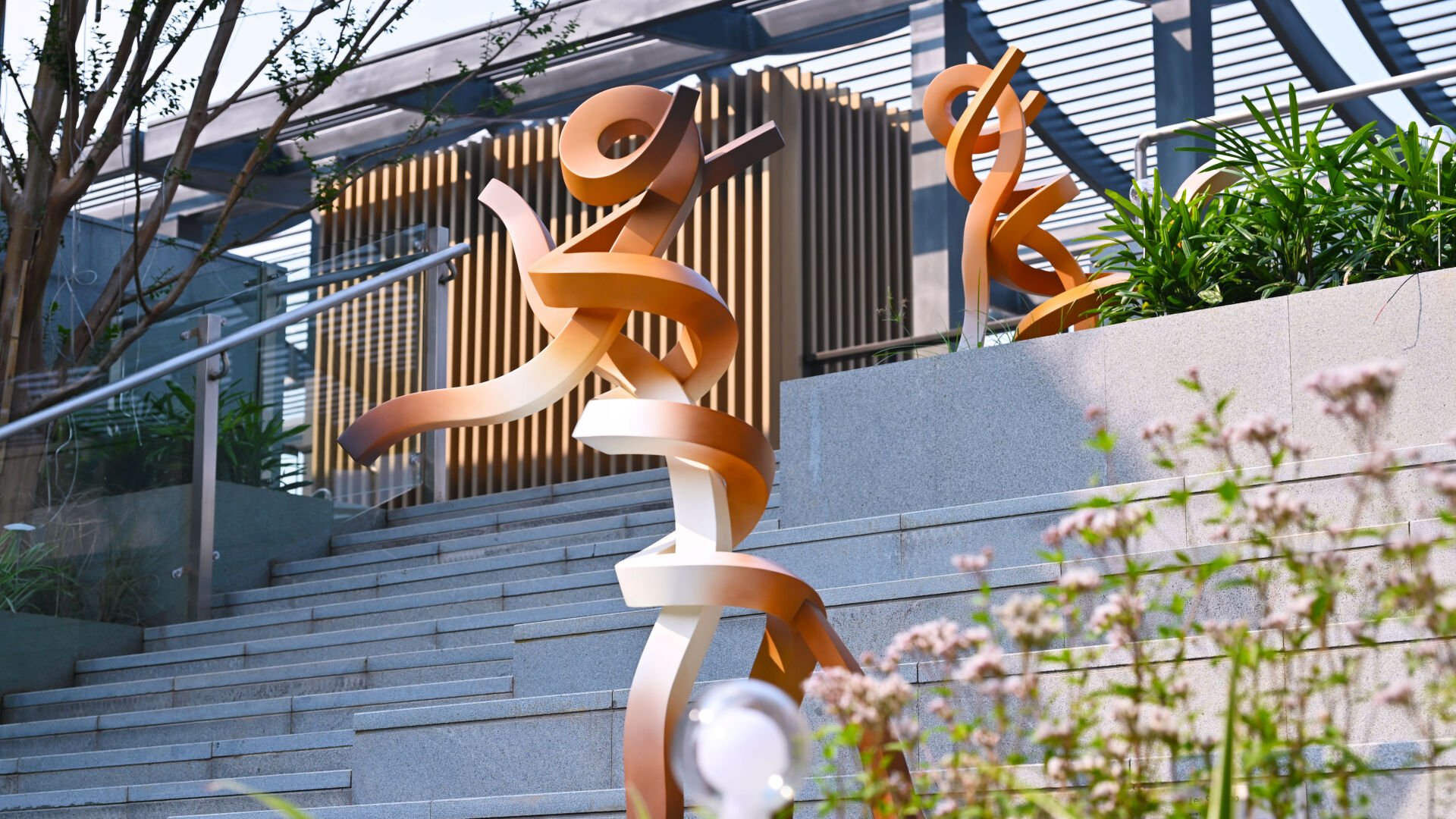 #The Courtyard Creatures
SUZHOU, CHINA
From the picturesque courtyard, descending the stairs, renowned Korean sculptor Lee Sangsoo, known for his highly representative abstract lines, has created several lazy little kitties scattered on the steps, encouraging visitors to continue exploring the hidden artistic elements in Suzhou Yanlord Cangjie. With their friendly and adorable forms, the artworks create an atmosphere of Suzhou's slow-paced lifestyle.

These stainless steel cats are a set of three that interact with the viewers and one another. Each cat has its unique posture and personality, with the largest one measuring about 5.9 feet in length. The edges of the artwork are specially treated to ensure visitors can safely interact with the cats.

The Courtyard Creatures is part of the public art strategy developed for Suzhou Yanlord Cangjie based on the curatorial vision 'Seeking Treasures, Encountering Oneself' created by our team in Shanghai.
To celebrate the grand opening of Suzhou Yanlord Cangjie, artist Lee Sang-soo has been invited to collaborate with UAP to present the "Courtyard Creatures" art derivatives. Inspired by public art installations, this series of exquisite works transforms cute cats into delicate and colourful fridge stickers, which are cleverly placed in tailor-made recycled felt bags. Each set of fridge stickers is uniquely numbered and is a precious limited edition collection.

​When people need a break from their busy lives, they visit shopping centers. There, people find relaxation and relieve stress. How to respond with my artistic appearance may be like relaxed cats without any worries. I hope that my artworks will naturally become part of people's leisure and enjoyment.

Lee Sangsoo
Artwork image courtesy of the artist and Jerome Huang of UAP | Urban Art Projects
Consultancy
Public Art Strategy
Artist Procurement and Management
Marketing Solutions
Design Assist
Digital Model & Render
Material Exploration
Construction Methods
Installation Methodology
Workshop
Technical Drawings
Mould Making
Welding and Fabrication
Finishing and Patina
Installation
Artwork Title
The Courtyard Creatures
Project
Suzhou Yanlord Cangjie