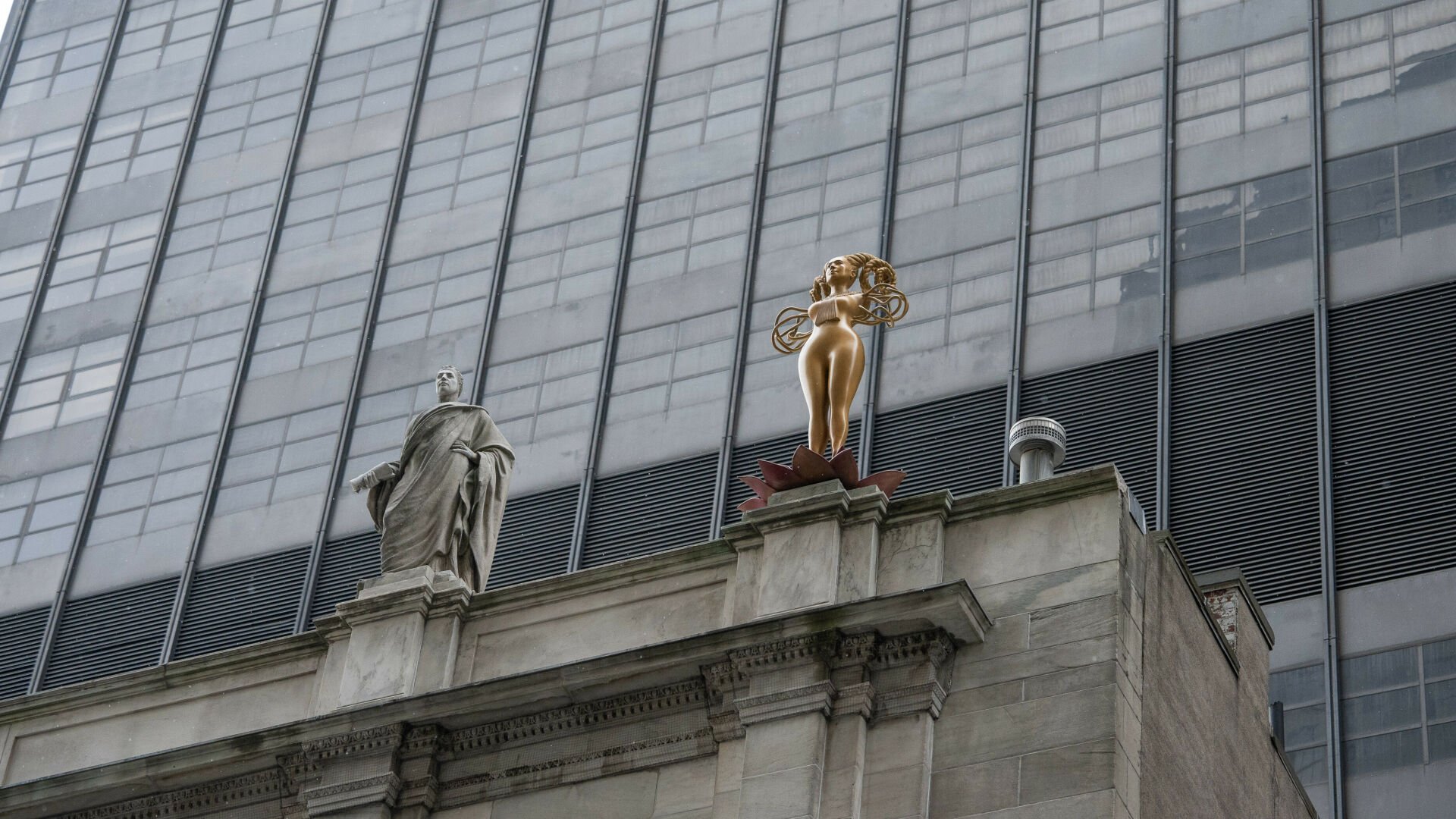 Pakistani-American artist Shahzia Sikander is known for her traditional practice of miniature painting. However, she works in various mediums, including drawing, painting, printmaking, animation, installation, performance and video.
Atop the historic Appellate Division Courthouse, NOW, is a bronze female figure who arises from a colourful lotus, a symbol of wisdom. The female figure's arms that swirl into a decorative motif suggesting tree roots is a reference to what the artist has called the "self-rootedness of the female form; it can carry its roots wherever it goes." The figure's hair is braided to resemble a ram's horns, identified in Eastern and Western traditions as a symbol of strength. The work's connection with the courthouse is imbued with meaning as the building's rooftop is crowned by plinths inhabited by statues of nine historical and religious male legislators, including Confucius, Justinian, Lycurgus, Moses, and Zoroaster—but without a single woman represented atop a plinth until Sikander's temporary installation.
Sikander's work physically and symbolically elevates the female figure, putting her on a level plane with the traditionally patriarchal embodiments of justice and power. This installation is part of recent efforts by the Court of the Appellate Division to add new artworks from diverse contemporary artists to its courthouse, adding modern perspectives on justice to the existing murals and statuary that decorate the building.
Our team in New York worked with Sikander to create the digital files of NOW to prepare PMMA moulds that were refined by our pattern-making team. Cast in bronze and finished with a coloured patina reflecting the lotus flower at the base and gold at the body and head of the figure for this nine-foot-tall sculpture which is placed atop the courthouse of the Appellate Division, First Department of the Supreme Court of the State of New York.
Sikander's NOW was delivered in collaboration with Madison Square Park Conservancy, Sean Kelly Gallery and funded by Art Makers.
Women in my work are always complex, proactive, confident, intelligent and in their playful stances connected to the past in imaginative ways without being tied to a heteronormative lineage or conventional representations of diaspora and nation

Shahzia Sikander
Through luminous allegorical female figures, Shahzia's project asks who is historically represented and who wields power in the justice system, both symbolically and actually. Shahzia continues to innovate artistic forms, and Havah, meaning 'air' or 'atmosphere' in Urdu and 'Eve' in Arabic and Hebrew, is a transformative project. The work conceptually and physically unites the park and the Courthouse through dialogue amongst monumental sculptures, and video animation.

Brooke Kamin Rapaport, Deputy Director and Martin Friedman Chief Curator of Madison Square Park Conservancy.
Image Credit: Chris Roque courtesy of UAP | Urban Art Projects
Design Assist
Digital Model & Render
Workshop
Technical Drawings
Pattern Making
Lost Wax Casting
Welding and Fabrication
Finishing and Patina
Project
Madison Square Park
Client
Madison Square Park Conservancy
Location
New York City, USA