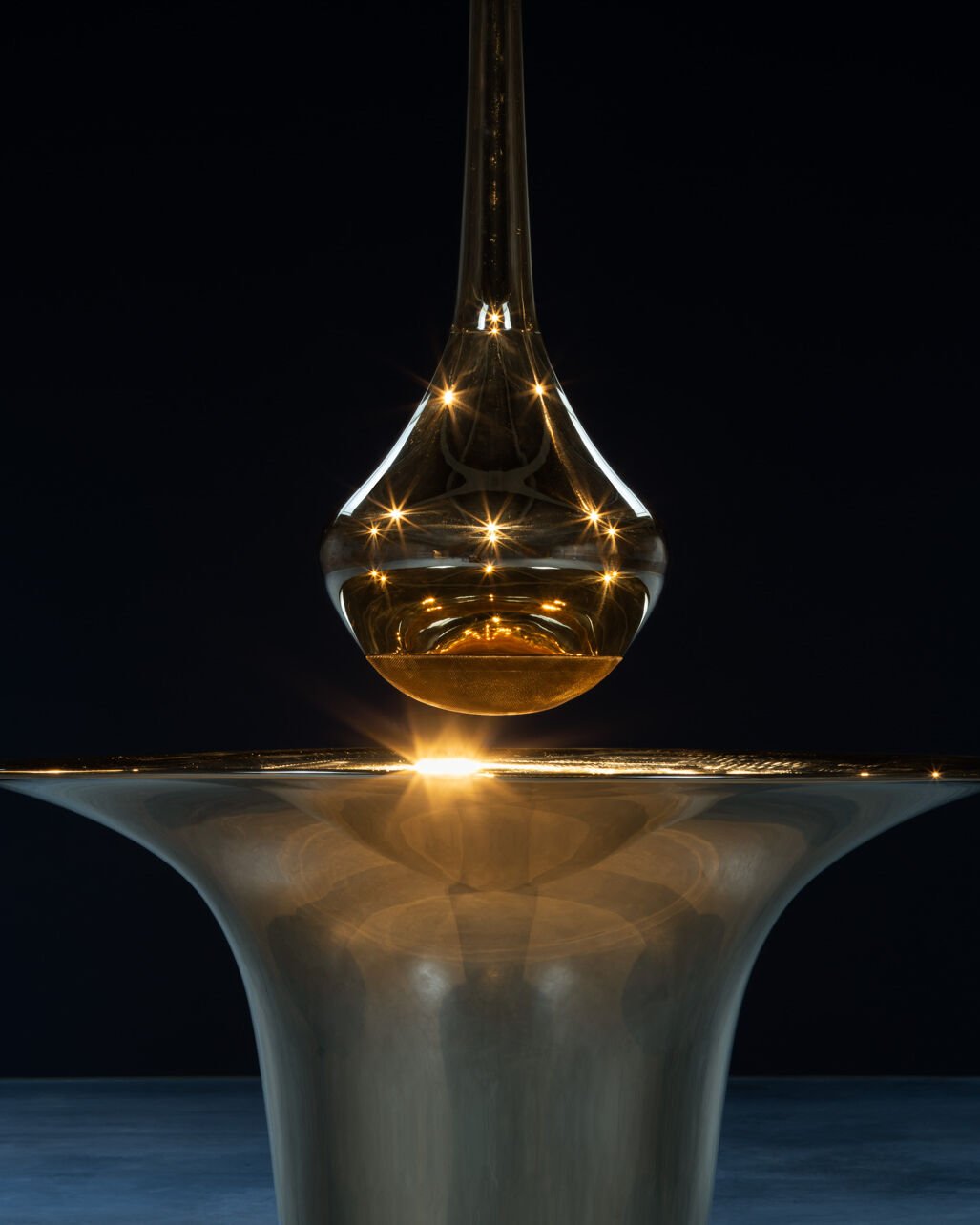 #Untitled (2022)
NEW YORK CITY, USA
Multi-media artist Camille Norment's practice spans drawing, installation, performance, sculpture, sound, and video. In 2022, Norment held a solo exhibition at the Dia Art Foundation Chelsea gallery space, titled Plexus.
The site-specific exhibition was comprised of two sculptural installations united through a minimal sonic composition across the gallery's two spaces. Suspended from the ceiling in one of the spaces is, Untitled, a brass vessel that resembled an inverted bell, with a teardrop-shaped sculpture hanging from above that contained a built-in speaker.
In Untitled, Norment engages with three tones – the bell, the feedback, and sine wave – which resonate with ideas of experienced time and historicity, power, political resistance, and agency. As a unified sculpture, the work amplifies and summons the sound directed into it through a feedback loop facilitated by live microphones hung from the ceiling. Modulated by the movement of bodies through space, the installation privileges the visitor as an influential agent in the work. As the visitor nears the sculpture, spectral artifacts of static from radio recordings of social protests in the 1960s and '70s become audible.
UAP's North American team worked closely with Norment and the Dia Art Foundation to realise this incredible work. Untitled was made using mirror polished brass in UAP's upstate New York studio and workshop.
Camille Norment, Untitled, 2022. Installation view, Dia Chelsea, New York. © Camille Norment. Photo: Bill Jacobson Studio, New York. Courtesy Dia Art Foundation
Process image credit: Chris Roque
Design Assist
Digital Model & Render
Materials and Construction Methods
Installation Methodology
Workshop
Technical Drawings
Pattern Making
Sand Casting
Welding and Fabrication
Installation
Artwork Title
Untitled (2022)
Location
New York City, USA