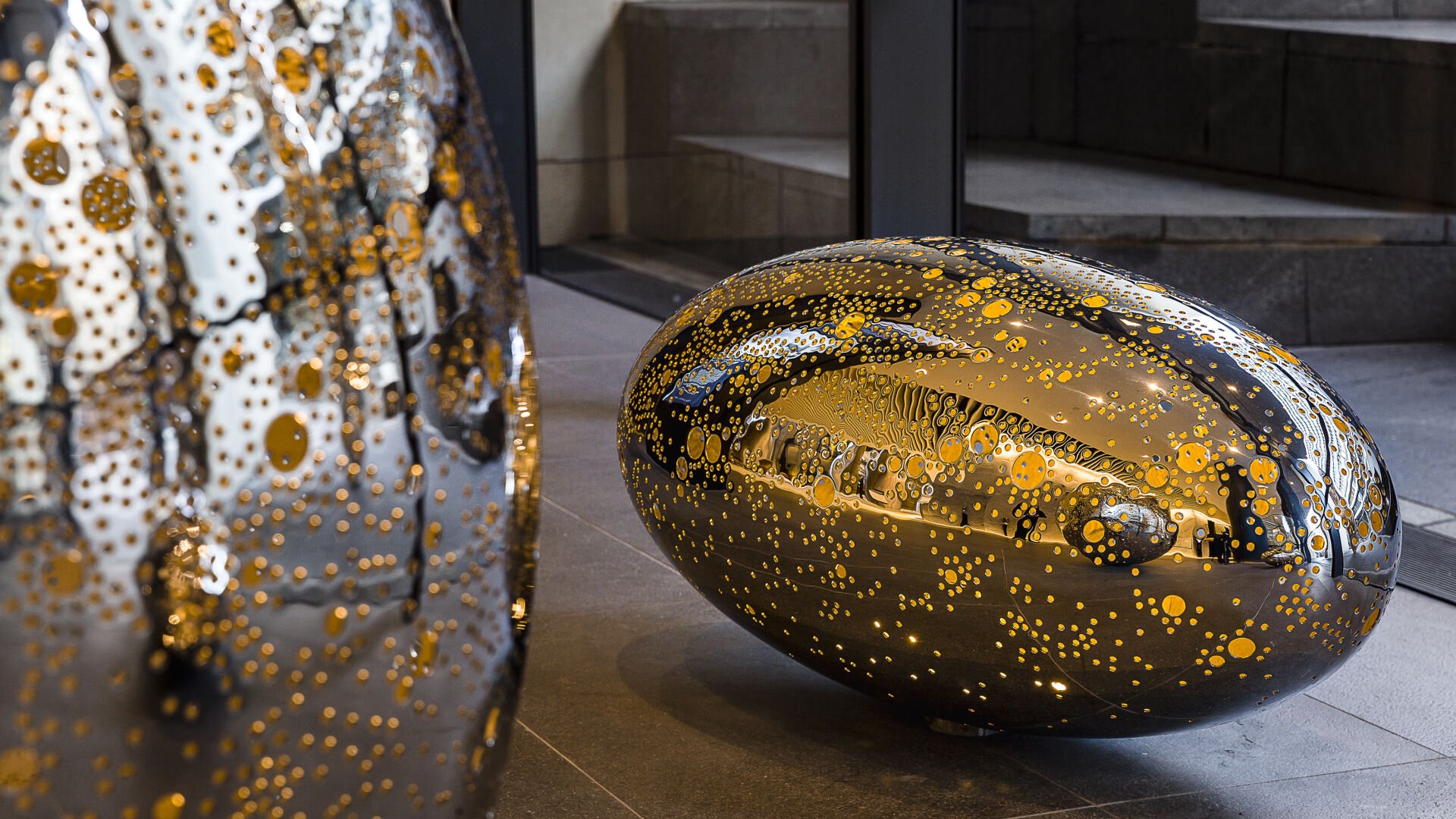 #Vault of Heaven & The Seeds of Cosmos
SYDNEY, AUSTRALIA
Lindy Lee's artworks Vault of Heaven and The Seeds of Cosmos seek to embody the civic and ceremonial significance of Martin Place as a place for the sharing of collective experiences and discussion. These works were created in response to the UAP written, 60 Martin Place Public Art Strategy and its Curatorial Vision, 'the forum: a creative catalyst for conversation',
Continuing her developed public practice, Lee created two distinct yet complementary works: Vault of Heaven, a soaring 17-metre tall intervention within the Civic Room of the building; and The Seeds of Cosmos, a cluster of ovoid sculptural forms sited by the Martin Place building entrance.
The finished works stand as testament to a successful long-standing collaboration between Lindy Lee and UAP. Simultaneously intimate and opulent, the works create an awe-inspiring space, revealing their grandness over time as they encourage connection and reflection for people engaging with the space.
UAP was engaged by Investa to curate, design and deliver the mirror polished stainless steel artworks, each imbued with patterns of perforations that capture the movement and light of the surrounding space.
Lindy Lee is represented by Sullivan + Strumpf and Sutton Gallery.
While this gesture is heroic and monumental in scale, the aesthetic or feeling should be one of 'intimate immensity' — grand, and sublime but not alienating.

Lindy Lee
Image credits: Document Photography, Rex Zou, Rachel See. Concept image: courtesy of the artist
Artwork Title
Vault of Heaven & The Seeds of Cosmos
Location
Sydney, Australia