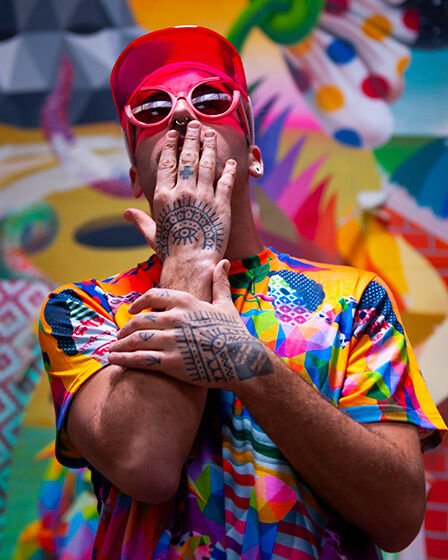 Born in 1980 in Santander and based in Madrid since 2000 with a Bachelor of Fine Arts from the Complutense University of Madrid. Since its inception in 1997, his pieces on railroads and abandoned factories in his hometown have been recognizable. Parallel to his work in the street, Okuda also started producing more intimate works in his studio, which from 2009 evolved into a more personal practice.
The multicoloured geometric structures and patterns are joined with gray bodies and organic forms in artistic pieces that could be categorized as Pop Surrealism with a clear essence of street forms. His works often raise contradictions about existentialism, the Universe, the infinite, the meaning of life, and the false freedom of capitalism, and show a clear conflict between modernity and our roots, ultimately, between man and the same.

In his work, multicoloured geometric architectures blend with organic shapes, bodies without identity, headless animals, symbols that encourage reflection... a unique iconographic language. His works can be seen in streets and galleries around the world: India, Mali, Mozambique, the United States, Japan, Chile, Brazil, Peru, South Africa, Mexico, and the European continent, among others.