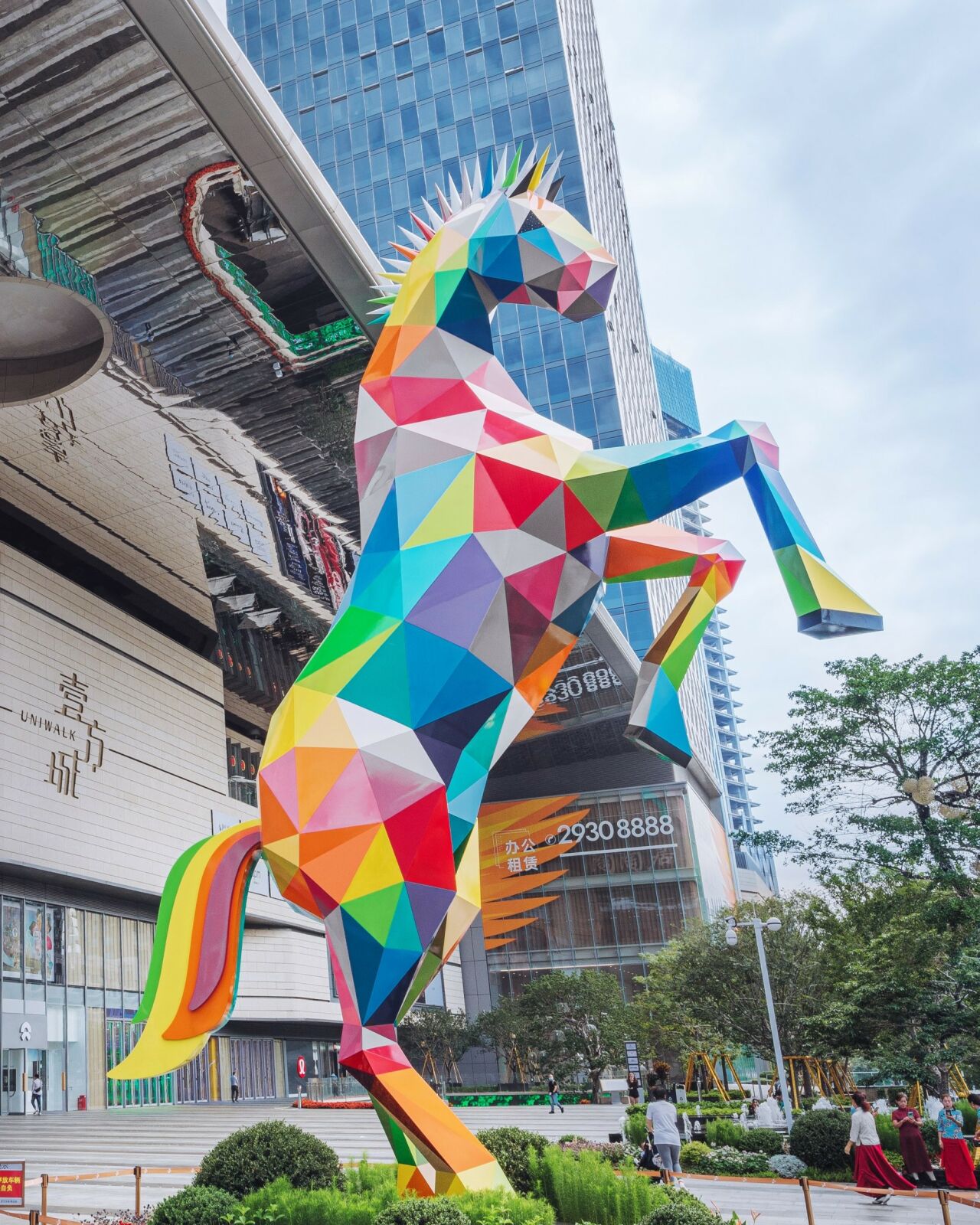 #Sky Unicorn
SHENZHEN, CHINA
Okuda San Miguel's distinctive style of geometric harmonies emboldened with intense colours can make his artworks feel like they're from a parallel universe. In his work, rainbow geometric architectures blend with organic shapes, bodies without identity, headless animals and symbols that encourage reflection in artistic pieces that could be categorized as Pop Surrealism with a clear essence of street forms. His works often raise questions about existentialism, the universe, the infinite, the meaning of life, and the contradictions of society's false freedom, showing a conflict between modernity and our roots; ultimately, between man and the same.
Sky Unicorn is a magical being with the ability to stop time and transform it into a different reality. Standing at a little over 10-metres tall, this artwork is San Miguel's largest permanent sculpture to date. This automotive-painted stainless steel artwork is frozen in time, rearing its legs in the air in a powerful gesture. The grandeur of the form alludes to Longhua Uniwalk being one of Shenzhen's most influential and experiential shopping malls and becoming a commercial development benchmark for China.
In collaboration with San Miguel and Ink and Movement, UAP Shanghai was engaged by China Horoy to curate and deliver the artwork for Shenzhen Longhua Uniwalk. Starting with the curatorial vision titled 'Many Rhythms/One Heart,' which sets to define the public art program for the development and help communicate Shenzhen and the development's cultural diversity, youthful energy, and innovative spirit.
"Urban art is any artistic manifestation made in the public space; it is not only mural painting; sculpture is also present and interacts with the environment. Their role is to impress, to thrill, beyond their position in the world of art and the level of the artist."

Okuda San Miguel
Image credits: Shenzhen Longhua Uniwalk
Consultancy
Public Art Masterplans and Strategies
Artist Procurement and Management
Design Assist
Digital Model & Render
Material Exploration
Materials and Construction Methods
Installation Methodology
Workshop
Technical Drawings
Paint Shop
Welding and Fabrication
Installation
Pattern Making
Project
Shenzhen Longhua Uniwalk
Client
China Horoy Holdings