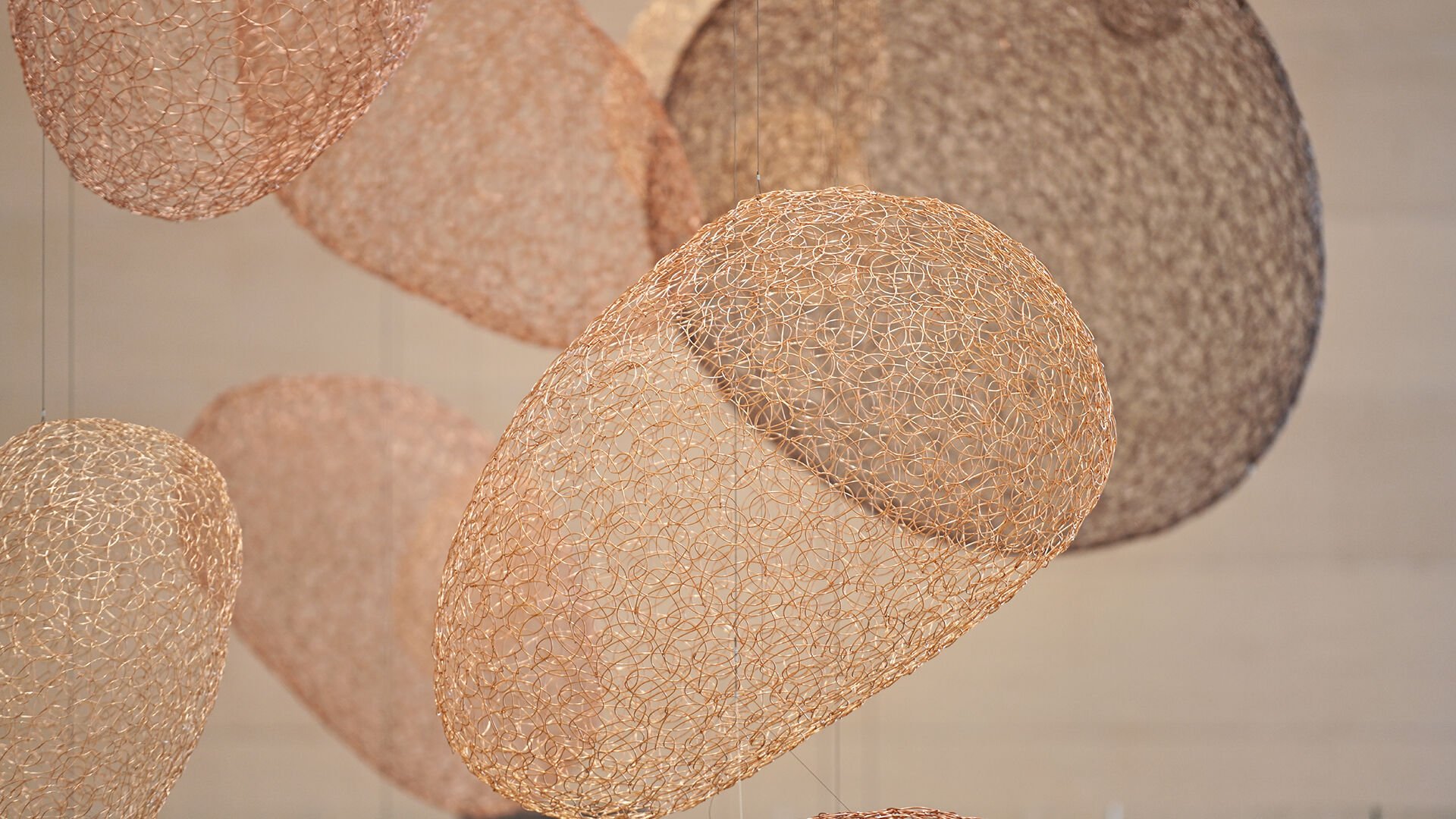 #Amble & Sequent
SHENZHEN, CHINA
Australian artist Carly Scofos' Amble and Sequent are sited in two significant gathering locations within the Shenzhen World Exhibition & Convention Center.
Created from intricate aluminium oxide wires with a custom colour finish, both pieces work to activate the spaces and mark their importance. The 72 airy forms of Amble appear to float within the Plenary Hall Atrium, expanding upwards and outwards across two levels and reflecting the calm atmosphere of the space. Sequent spans the ceiling of the Ballroom Pre-function Atrium; its continuous linear elements lead guests from end to end and engender a warm and vibrant ambience within the atrium.
UAP's Shanghai team assisted the artist throughout the design development, as well as coordinating the tailored fabrication and installation approach for both Amble and Sequent.
The 1.48 million square meter centre is set to become the largest of its kind in the world. Incorporated within and throughout the Centre are ten site-specific artworks from seven different artists, each of which were selected following a comprehensive public art master plan created by UAP's Shanghai team.
Consultancy
Public Art Masterplans and Strategies
Artist Procurement and Management
Design Assist
Digital Model & Render
Materials and Construction Methods
Installation Methodology
Workshop
Technical Drawings
Pattern Making
Welding and Fabrication
Installation
Artwork Title
Amble & Sequent
Project
Shenzhen World Exhibition & Convention Center
Client
Shenzhen Municipal Government & China Merchants Shekou