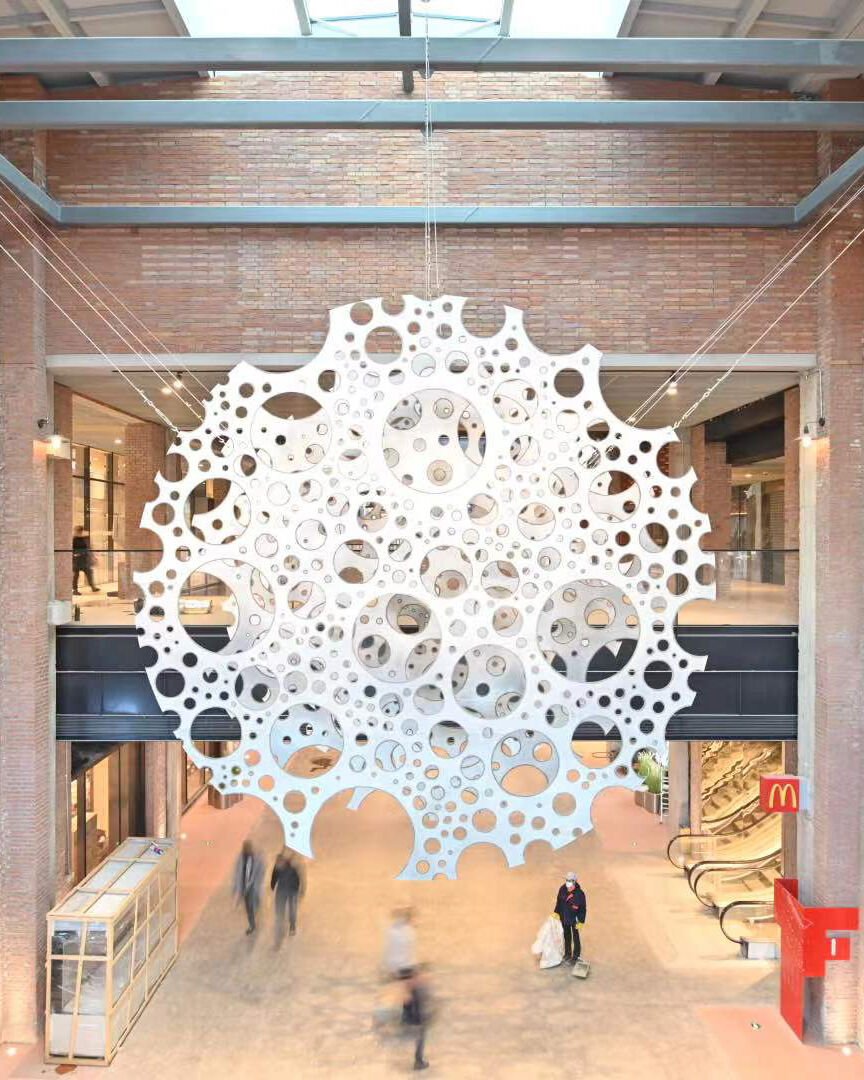 #Rolling In, Rolling Out
CHANGCHUN, CHINA
Suspended within the atrium of the Changchun Vanke Changtuo Creative and Cultural Park is Lindy Lee's Rolling In, Rolling Out. Lee's work not only creates an iconic meeting point within the development but also pays tribute to the industrial history of Changchun. 
Originally built in 1958 as a factory for tractors, Changtuo has been transformed by the Changfa and Vanke Groups to create a new image for the city, whilst adding a new culture and fashion destination in the city centre.

Rolling In, Rolling Out is comprised of four individual 4m diameter stainless steel discs and references how spirit and matter, the visible and invisible, are essential to each other.

UAP's Shanghai team worked remotely with Lee to digitise her original patterns that mapped out the exact locations of the perforations across the discs. Based off the digital patterns, our workshop team laser-cut each individual perforation onto the stainless steel sheets, ensuring Lee's signature heat scale and subtle warping were retained in the final artwork.
Consultancy
Public Art Masterplans and Strategies
Artist Procurement and Management
Design Assist
Digital Model & Render
Materials and Construction Methods
Workshop
Welding and Fabrication
Installation
Artwork Title
Rolling In, Rolling Out
Project
Changchun Vanke Changtuo Creative and Cultural Park
Client
Changchun Vanke & Changfa Group