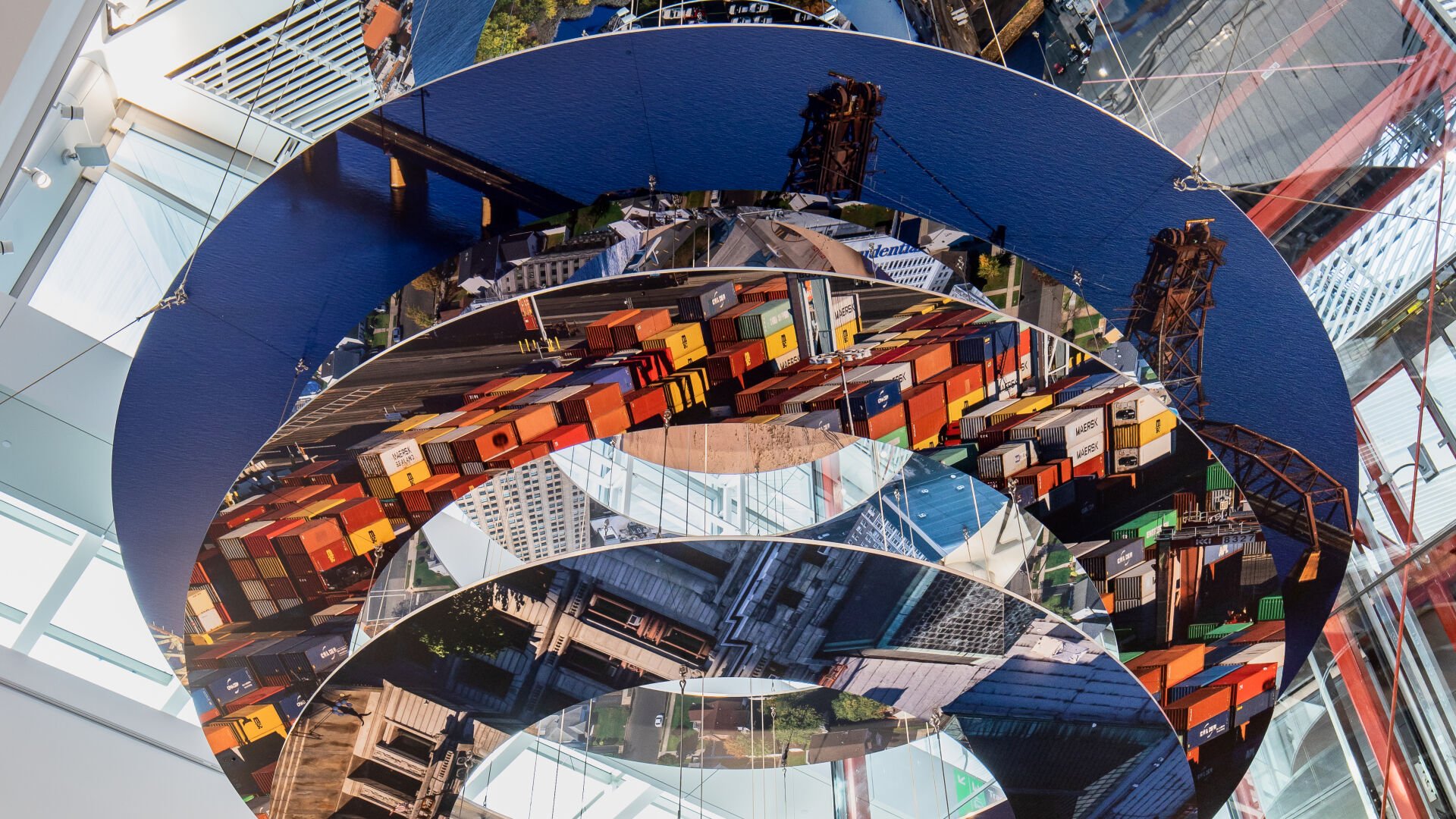 Karyn Olivier, a native of Trinidad and Tobago, creates sculptures, installations, and public art. Her most recent installation is housed at the Newark Airport in New Jersey.
In Olivier's work, familiar objects, spaces and locations are altered in function and medium to create uncanny meditations on stagnancy, division and the weight of materiality. Her sculptures, installations and public art explore space's politics and poetics and viewers' role in shaping their own experience and engagement. Olivier has been engaging with and reinterpreting the role of monuments creating both temporary and permanent sculptures, installations and "monuments."
Olivier embarked on an extensive photographic survey of Newark and the surrounding region to create 'Approach'. She captured the extraordinary tapestry of New Jersey's iconic skylines, robust infrastructure, and natural beauty. Slices of land and sky are suspended in a helix-like structure: one that depicts daytime and the other night.
The rings align concentrically as passengers approach the sculptures, revealing a rich topographical mosaic. The artwork even appears to move, compressing or expanding as our view shifts. The result is a dynamic study of landscape showing a rich topographical mosaic that echoes the disorientation of traversing time zones. The sculpture comprises 17 floating parallel metal rings adorned with panoramic photographs Olivier took of New Jersey's most recognizable sites. Using direct embed powder-coated graphics, we accomplished a tough, durable finish while maintaining a high-resolution image. Before reaching the Newark Liberty International Airport, each decorated ring was preassembled and tested for alignment checks at our Rock Tavern workshop.
UAP is proud to have assisted Olivier in the development of 'Approach', a 52' powder-coated aluminium and stainless-steel sculpture. This project was Commissioned by the Port Authority of New York & New Jersey and Munich Airport NJ, in partnership with Public Art Fund.
I was thinking about the critical moments of takeoff and descent. No matter how old I am, that's the point when there's a kind of anticipation of the unknown, a wonder, an awe with travel.

Karyn Olivier
Image Credit: Chris Roque, Zack DeZon courtesy of Public Art Fund, NY and Tanya Bonakdar Gallery
Design Assist
Digital Model & Render
Material Exploration
Construction Methods
Installation Methodology
Workshop
Technical Drawings
Welding and Fabrication
Finishing
Project Management
Client
Tanya Bonakdar Gallery