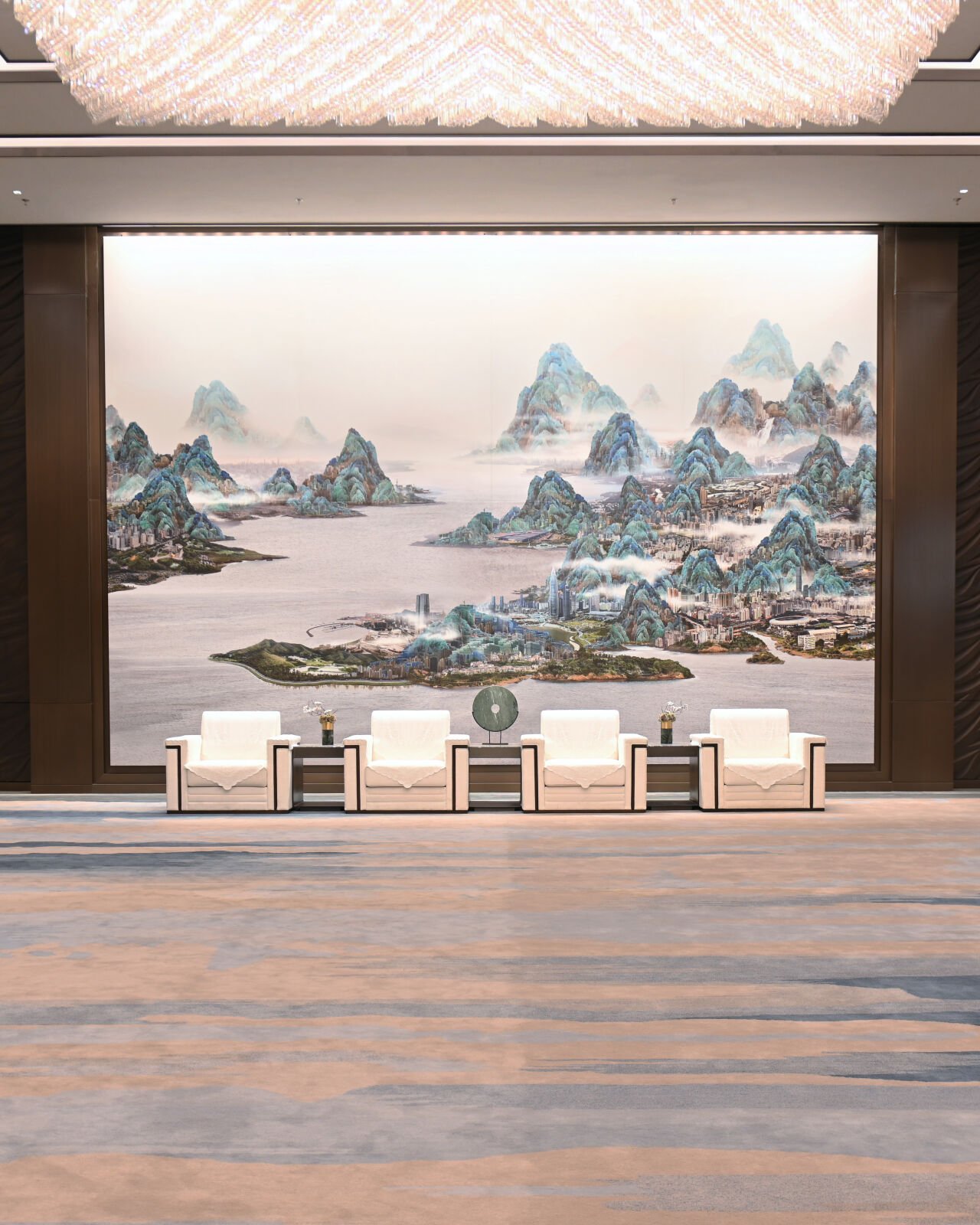 #Artificial Paradise
SHENZHEN, CHINA
Yang Yongliang's Artificial Paradise is a two-part work, with pieces positioned at either end of the Shenzhen World Exhibition & Convention Centre's most prominent VIP Meeting Room. Employing the aesthetic of traditional Chinese ink painting, Yang integrates modern architecture and images of Shenzhen's urban development into his paintings, bridging the gap between old and new, the natural world and its man-made counterpart. The 7.6m x 5.2m aluminium wall installation and 6.7m x 4.5m tempered glass screen become striking elements within the space, and act as a tether to the site's history and identity, as well as a symbol for the creativity and innovation of the future.
UAP's Shanghai team assisted the artist throughout the design development, as well as coordinating the tailored fabrication and installation approach for Artificial Paradise.
The 1.48 million square meter centre is set to become the largest of its kind in the world. Incorporated within and throughout the Centre are ten site-specific artworks from seven different artists, each of which were selected following a comprehensive public art master plan created by UAP's Shanghai team.
Consultancy
Public Art Masterplans and Strategies
Artist Procurement and Management
Design Assist
Digital Model & Render
Materials and Construction Methods
Installation Methodology
Workshop
Technical Drawings
Paint Shop
Welding and Fabrication
Installation
Artwork Title
Artificial Paradise
Project
Shenzhen World Exhibition & Convention Center
Client
Shenzhen Municipal Government & China Merchants Shekou