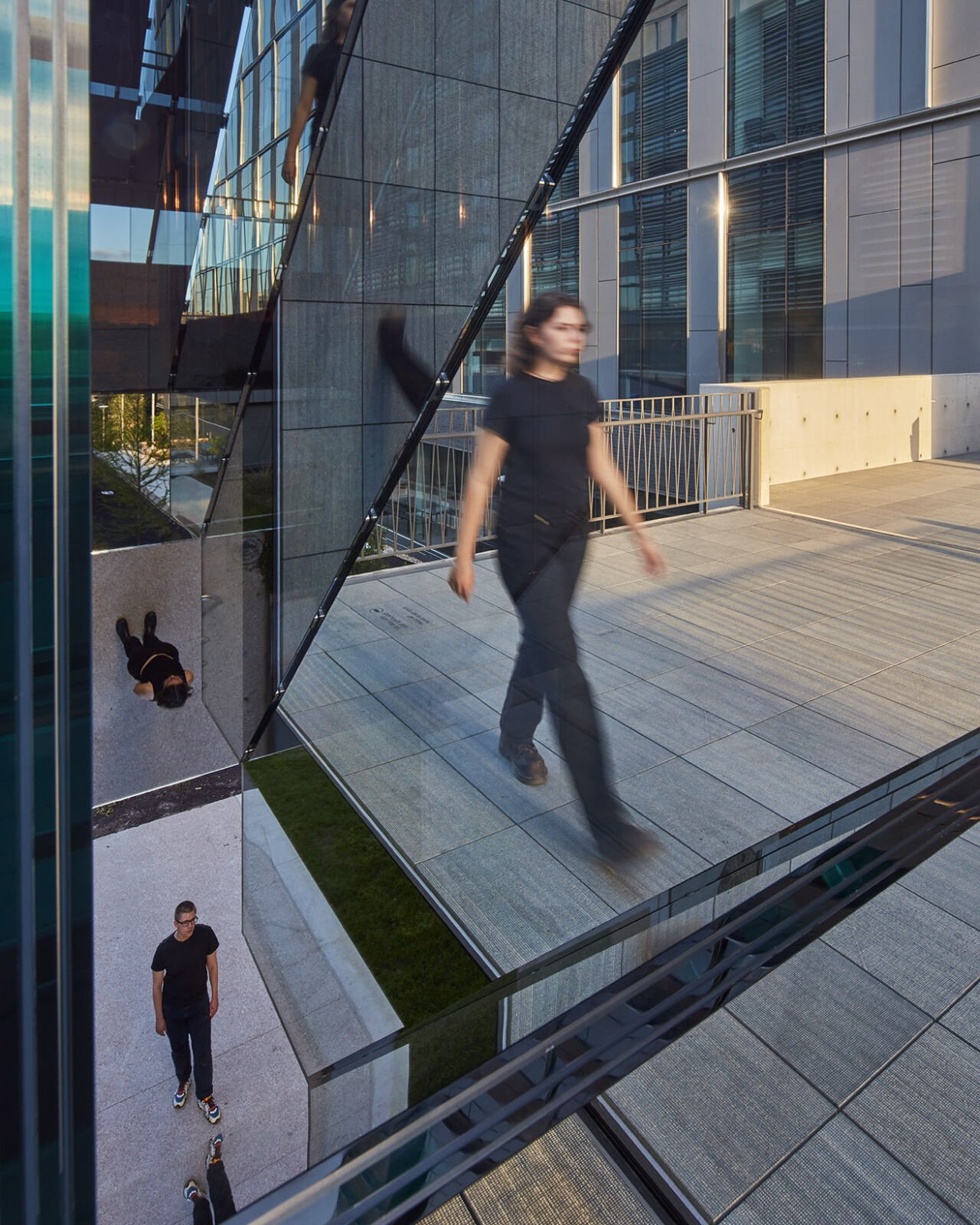 New York City-based artist Sarah Oppenheimer pushes the boundaries between sculpture and architecture and questions the limits of both mediums, within her practice.
In 2021, the University of Texas' public art program, Landmarks, commissioned Oppenheimer to create a new major public artwork for the University. Titled C-010106, the artwork is comprised as a pair of dynamic glass structures that are inserted into the footbridge. Transecting the bridge, the artwork creates new sightlines, from above and below, that generates unexpected social exchanges and reflections.
Sited within UT's Austin campus, C-010106 is sited on the footbridge that connects the Engineering Education and Research Center to the new Gary L. Thomas Energy Engineering Building at their Austin campus.
Working closely with the artist, our North American team explored materials, developed fabrication and construction documentation, oversaw assembly, and integration into the footbridge to realise this incredible artwork.
C-010106 was created in collaboration with Sedak, TriPyramid, Werner Sobek, Thorton Tomasetti and Arcadia Manufacturing Group.
C-010106 is a catalyst: it reconfigures social patterns emerging within the flux of public place.

– Sarah Oppenheimer, 2022
Sarah Oppenheimer, C-010106, 2022, Aluminum, steel, glass, and architecture, Two forms: 191 / x 124 / x 34 / " and 56 / x 124 / x 34 / ". Photo by Richard Barnes, Commission, Landmarks, The University of Texas at Austin, 2022
Design Assist
Digital Model & Render
Materials and Construction Methods
Installation Methodology
Creative
Sarah Oppenheimer
Project
University of Texas - Cockrell School of Engineering
Client
Landmarks & University of Texas