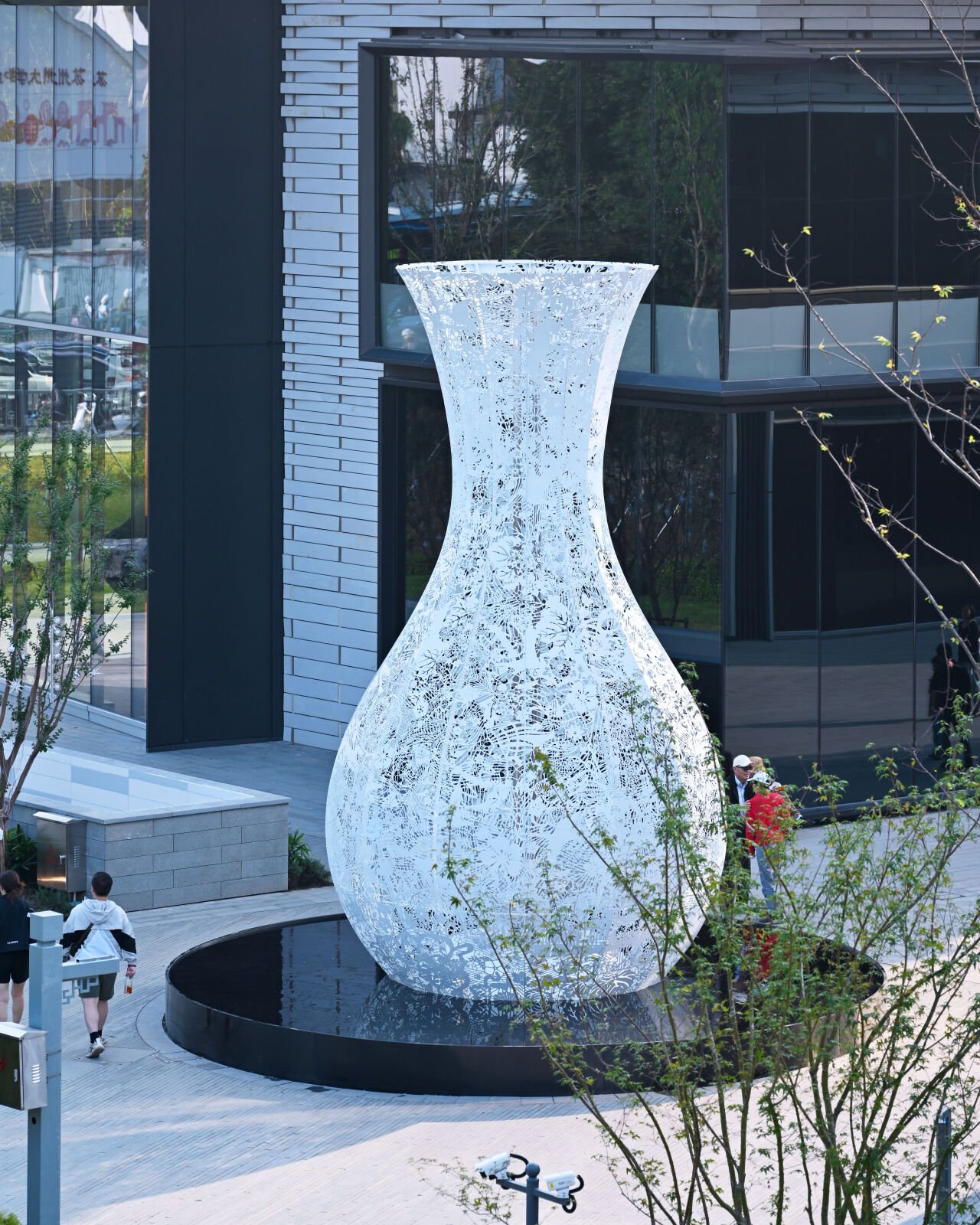 #Gravity and Grace
SUZHOU, CHINA
Suzhou, renowned for its fusion of land and water, stands as one of the birthplaces of Wu culture in Jiangnan. It also gathered various traditional treasures in Suzhou gardens, showcasing the Suzhou citizens' pursuit of a better life. Strolling through the Zhenhe Plaza, Japanese contemporary artist Shinji Ohmaki drew inspiration from Suzhou's unique landscape and cultural attractions. He crafted a poetic and exquisite modern stainless steel vase that pays homage to the city's rich craftsmanship and preserves artistic innovation. When the cutouts of this vase are illuminated, they create silhouettes that retell the history of humankind through shadows. This remarkable treasure enhances Suzhou's skyline at Yanlord Cangjie.
This artwork from Ohmaki is part of the public art strategy for Suzhou Yanlord Cangjie, taking inspiration from the curatorial vision of Seeking Treasures, Encountering Oneself developed by our team in Shanghai.
The stainless steel artwork is 7 meters tall and 4 meters long. It was precisely laser cut to create perforations that allow interior lighting to shine through and catch the viewer's attention, especially at night.

In Suzhou, where land and water intersect and various civilizations have converged and flourished, I hope that this facility, together with the visitors who come here, can create a new sense of time and space alongside nature and history in the context of the vast timeline that humanity has traversed thus far.

Shinji Ohmaki
Artwork image courtesy of the artist and Jerome Huang of UAP | Urban Art Projects
Consultancy
Public Art Strategy
Artist Procurement and Management
Marketing Solutions
Design Assist
Digital Model & Render
Material Exploration
Construction Methods
Installation Methodology
Workshop
Technical Drawings
Pattern Making
Mould Making
Welding and Fabrication
Installation
Artwork Title
Gravity and Grace
Project
Suzhou Yanlord Cangjie