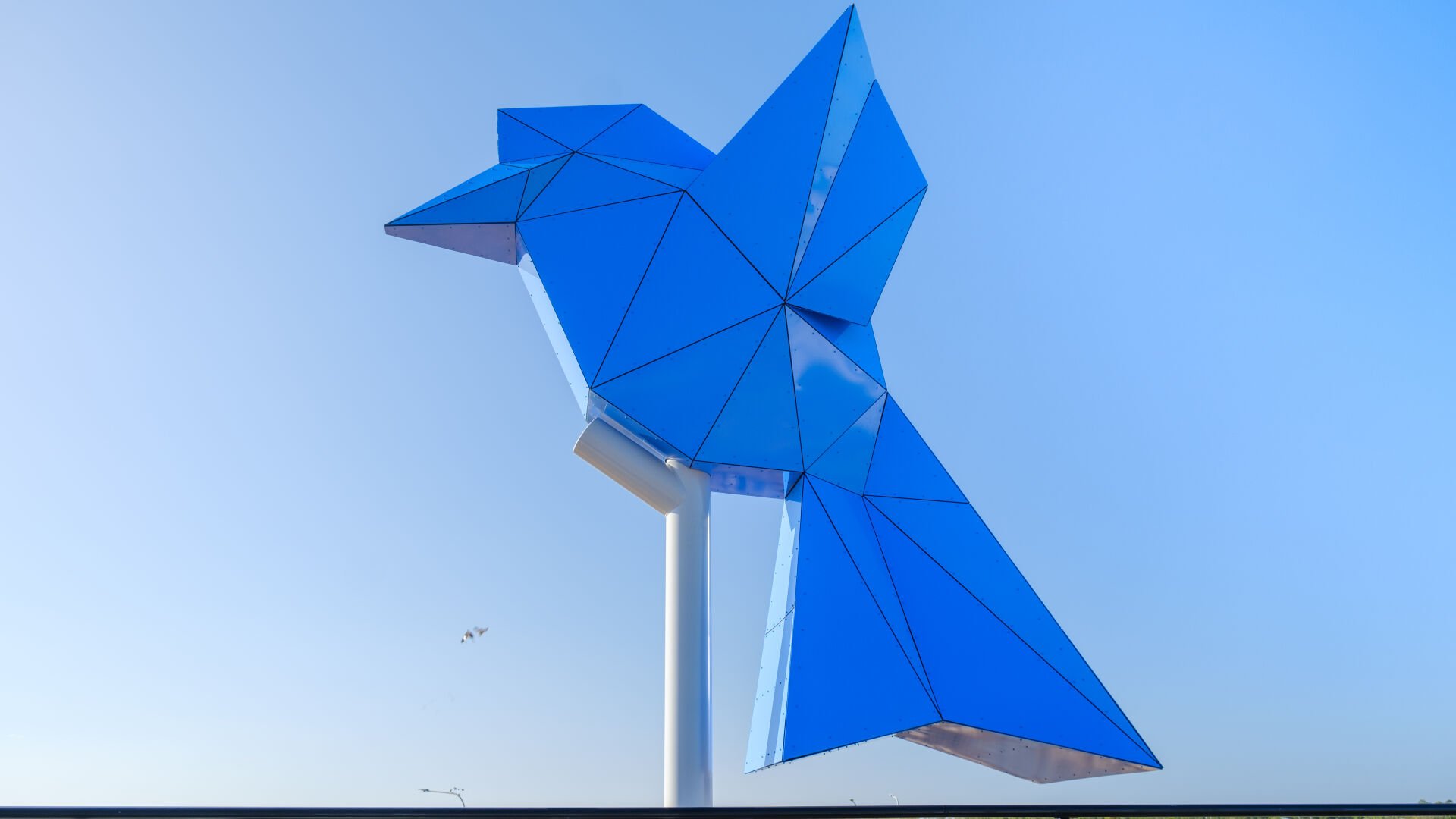 #Chorus
SUNSHINE COAST, AUSTRALIA
Stockland has opened a new 100-metre-long pedestrian bridge in its Aura community on Queensland's Sunshine Coast, safely connecting Baringa to Nirimba over the Bells Creek Arterial Road and incorporating the work of local artists James and Eleanor Avery.

Between fiction and documentary, replicated and real, James and Eleanor Avery's work displays a sense of postmodern irony with pop culture references that touch on power structures, hierarchies, and value systems. They conduct thorough research on site-specific idiosyncrasies and incorporate humour and the absurd into their finished pieces, revealing a handmade model-making approach that becomes translated into high-end fabrication methodologies.
Standing at opposite ends of the bridge, the two birds loosely reference a kookaburra and a songbird, not representing the two specific birds but capturing the spirit and energy of the rich spectrum of birds native to the area. The 'wave' connecting the birds refers to the soundwaves of birdsong. This interaction between the two sculptures is experienced throughout the site, up close as pedestrians and cyclists cross the bridge, and while driving on the highway—creating different and equally exciting experiences.
Two thousand four hundred seventy-one bolts, three hundred sixty-three metres of steel tube, and one hundred ninety-one panels, all laser cut for precise fitting - these are some of the many interesting facts and figures linked to the making of the two bird figures for 'Chorus.' The two birds sit on opposite sides of the bridge interacting through the rhythmic coloured wave along the bridge screens. Our team in Australia is thrilled to have collaborated with James and Eleanor Avery again and helped bring this project to life.
We enjoy researching a site's social, cultural, or historical aspects, aiming to make a work that can be appreciated on many levels and enjoyed by people from all areas of the community. We are always excited by the dynamics of artwork, how it can activate a site and the public interaction.

James & Eleanor Avery
Consultancy
Public Art Strategy
Artist Procurement and Management
Design Assist
Digital Model & Render
Material Exploration
Construction Methods
Installation Methodology
Workshop
Technical Drawings
Advanced Robotics
Welding and Fabrication
Installation
Creative
James & Eleanor Avery
Project
Sunshine Coast Council
Location
Sunshine Coast, Australia