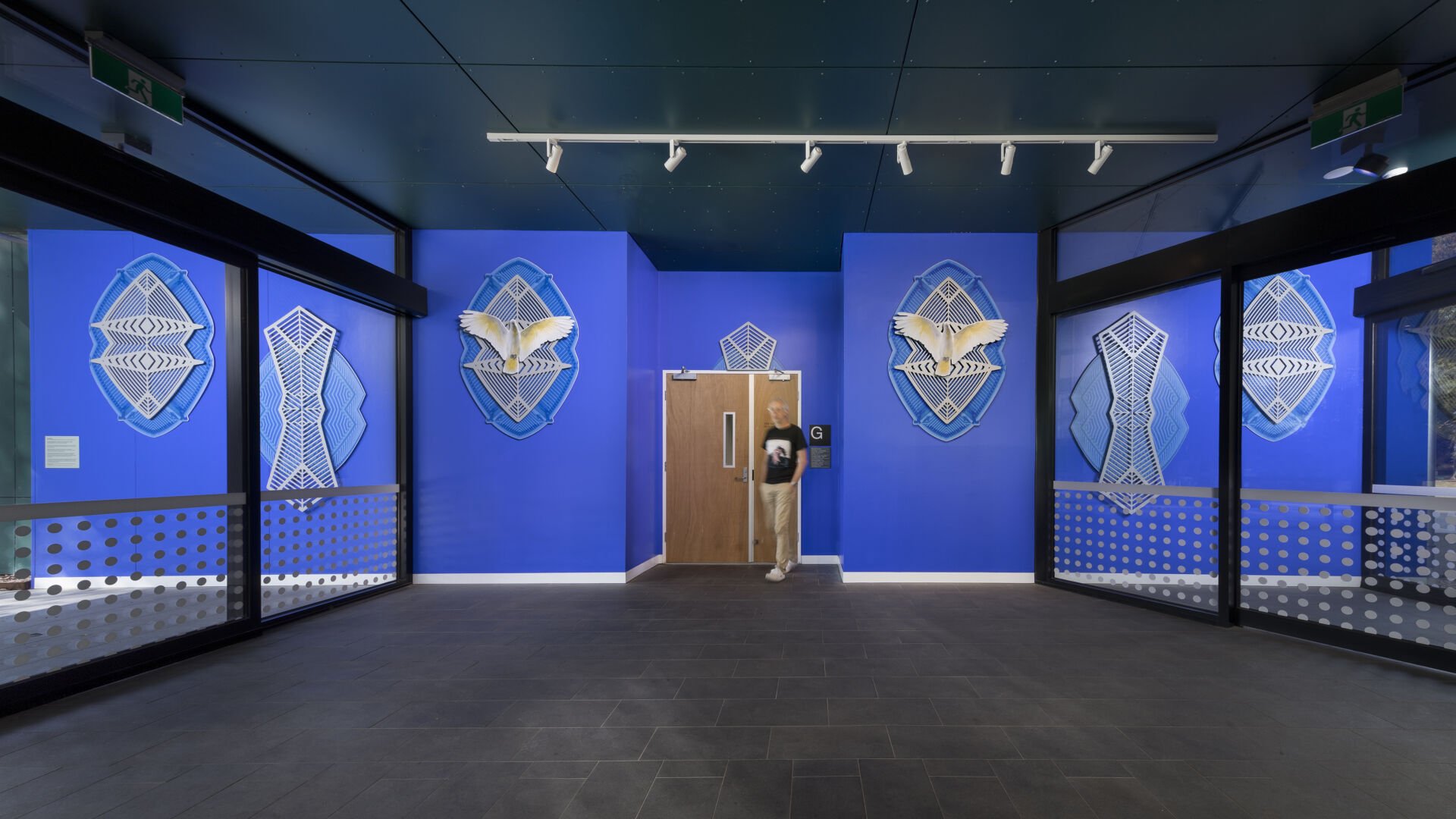 #Cultural Reflections - Continuous Connections
MELBOURNE, AUSTRALIA
A Barkindji artist living in Yalukit Willam Country, Kent Morris explores the connections between contemporary Indigenous experiences and cultural practices in his art. Using digital photographic processes, Morris highlights the ongoing presence of First Nations history, knowledge, and culture in the Australian landscape despite colonial interventions.
By visually deconstructing and reassembling Western systems, his artwork mirrors the methodical disassembly and denial of First Peoples' cultural knowledge. It highlights Morris' desire to reshape and reaffirm contemporary thought, understanding and truth about the deep-time existence of Aboriginal philosophy, spirituality and knowledge and the role they continue to play in today's society.
The designs and patterns that form appear like deep cuts on ceremonial trees or the fine symmetrical lines carved on the front of shields. They also reference ceremonial body designs.
Sulphur-crested cockatoos evolved in Australia around 53 million years ago and are among the world's oldest and most intelligent birds. They are bold and active communicators included in many Indigenous creation stories.
The concept represents the continuity of knowledge over time and the intertwining of stories and histories that symbolically reflect the transfer, maintenance, or reconstruction of cultural knowledge throughout generations. In addition, the work speaks to the rapid embrace of technology by First Peoples as we continue to reconnect and reconstruct missing pieces of our lives, histories, and cultural knowledge.
UAP is proud to have worked alongside the artist to incorporate elements such as First Nations creation stories, cultural symbolism, and processes like digital print on laser cut and powder-coated aluminium into the sculpture.
The intertwining of Indigenous cultural knowledge systems, technology and the built environment is an integral element of my art practice

Kent Morris
Image Credit: Andrew Curtis
Design Assist
Material Exploration
Construction Methods
Installation Methodology
Workshop
Technical Drawings
Welding and Fabrication
Artwork Title
Cultural Reflections - Continuous Connections
Client
Monash University Museum of Art
Location
Melbourne, Australia