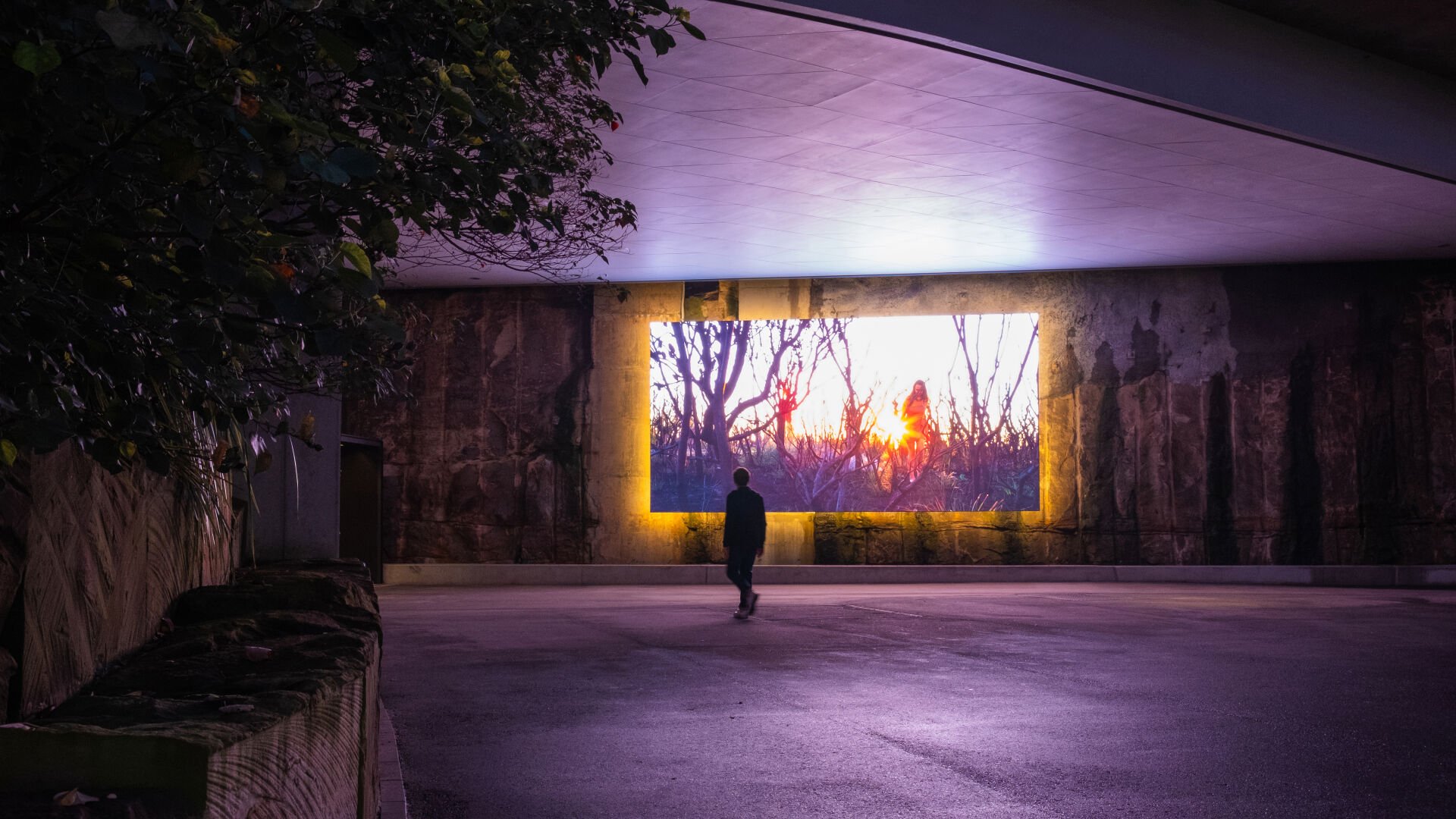 Alison Page & Nik Lachajczak
#Wellama
SYDNEY, AUSTRALIA
'Wellama' is a word that means 'to come back' in the local Indigenous language. This 10-minute looped audio visual artwork by Alison Page and Nik Lachajczak is a celebration of ritual, ceremony and story practised on Country since time immemorial. Commissioned for the entrance to the Cutaway in Barangaroo Reserve, it welcomes visitors to Gadigal Country and pays respect to the Traditional Custodians of the land.
The work developed from UAP's engagement by the Barangaroo Delivery Authority to manage the commissioning of a unique and dynamic audio-visual "Welcome to Country" temporary installation. UAP's Curatorial Team developed the project brief, which invited artists to create a conceptual response to the Curatorial Vision 'A Contemporary Re-Imagining of Welcome to Country'.
Today's 'Welcome to Country' is an adaptation of longstanding traditional Aboriginal and Torres Strait Islander practices whereby a Country's hosting group would welcome visitors, providing them with safe passage and spiritual protection. Though nowadays it is largely witnessed is as a protocol for the commencement of formal events, Alison Page and Nik Lachajczak's Wellama is a more encompassing welcoming moment that acknowledges the significance of the land's Traditional Custodians and their Country.
The film and the concept around it is about a loop, so the film itself doesn't have any beginning, middle, or end and it plays with the Aboriginal notion of time, the idea that time is cyclical, that 65,000 years exists right here, right now.

Alison Page
Video: Alison Page, Nik Lachajczak.
Photos: Rachel See
Creative
Alison Page & Nik Lachajczak
Project
Barangaroo Welcome to Country
Client
Barangaroo Delivery Authority
Location
Sydney, Australia