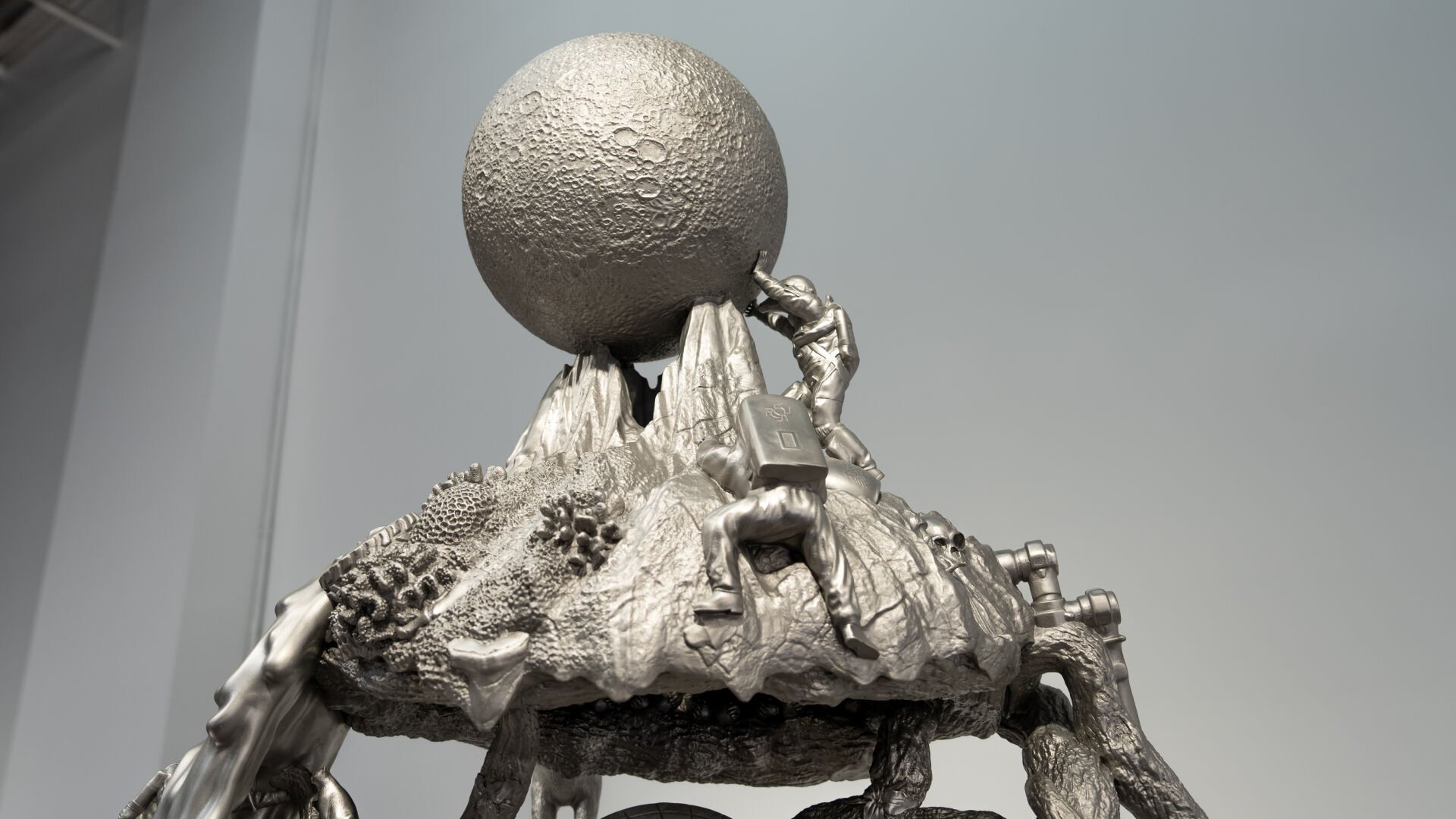 #Emergence
TORONTO, CANADA
Dustin Yellin is a storyteller who blends nature and technology in his multidisciplinary work. He highlights the interconnectivity of all things and beings across fields. Working primarily in the 2D space, he has embarked into the 3-dimensional realm through Emergence.
During an interview with Yellin, he explains that it was difficult to make the work. It was a long, complicated process of learning. One of the challenges was to take the complexity of his sculptures and bring it to the 3-dimensional world while maintaining its complexity. Making Emergence and casting something in 100 pieces is quite complex, and trying to tell the story of life emerging out of this eclipse was hard.
Insun Kim, Design Lead and Sculpting expert, shares similar thoughts on the manufacturing side of creating this artwork, stating that in 40 years of working on sculptures, this was one of her favourites.
The story of Emergence involves the night sky in Toronto during an eclipse on 29 May 1919 that helped prove general relativity. Then you see how life goes from a 2-dimensional primordial prebiotic soup from which all life on Earth is developed to the 3-dimensional world. When looked upon, you will see various elements pointing to its environment, like the maple leaves scattered around the sculpture or the telephone, which was invented in Canada. There are many hidden details in this artwork, making it something you will need more than a few minutes to look at.
This collaboration was genuinely organic, with calls lasting hours and deepening into individual elements. Our digital sculptors and fabricators explored the conceptual significance and assessed the feasibility of fabricating this wonderful sculpture.
I want people to go up to this sculpture and, for decades, keep coming back. I love the old cliché of the more you look, the more you find. I want you to feel curiosity, wonder, and the desire to venture deeper into the complexity and the unknowns.

Dustin Yellin
The project was great for me as a digital modeller and artist because it pushed the limits of my knowledge of digital sculpture and forced me to use almost every 3D trick and pipeline I know. We used a wide array of techniques from Zbrush to Rhino, Photoshop and Illustrator. Dustin was very excited by what could be done in the digital space throughout the development, and the digital approach really allowed his vision of creating complex, intricate and richly detailed elements to become a reality.

Nathan Lahikainen, Design Lead | Sculpting
The first thing I noticed when working on Yellin's piece was the gigantic tree coming out of the waves. To me, Mother nature is both trees and water. It was difficult finding a way to sand the base for the waves to really pop. Even the animals, brain, mushrooms, rabbits, phone and symbolic gesture of flowing milk, astronauts, the moon, and so many incredible parts of this project were difficult to piece together. It was challenging, but in the 40 years of working on sculptures, this is one of my favourites.

Insun Kim, Finishing Expert
Image Credit: Chris Roque, Jamo Best Photography, courtesy of Dustin Yellin Studio.

Design Assist
Digital Model & Render
Material Exploration
Installation Methodology
Workshop
Technical Drawings
Lost Wax Casting
Finishing and Patina