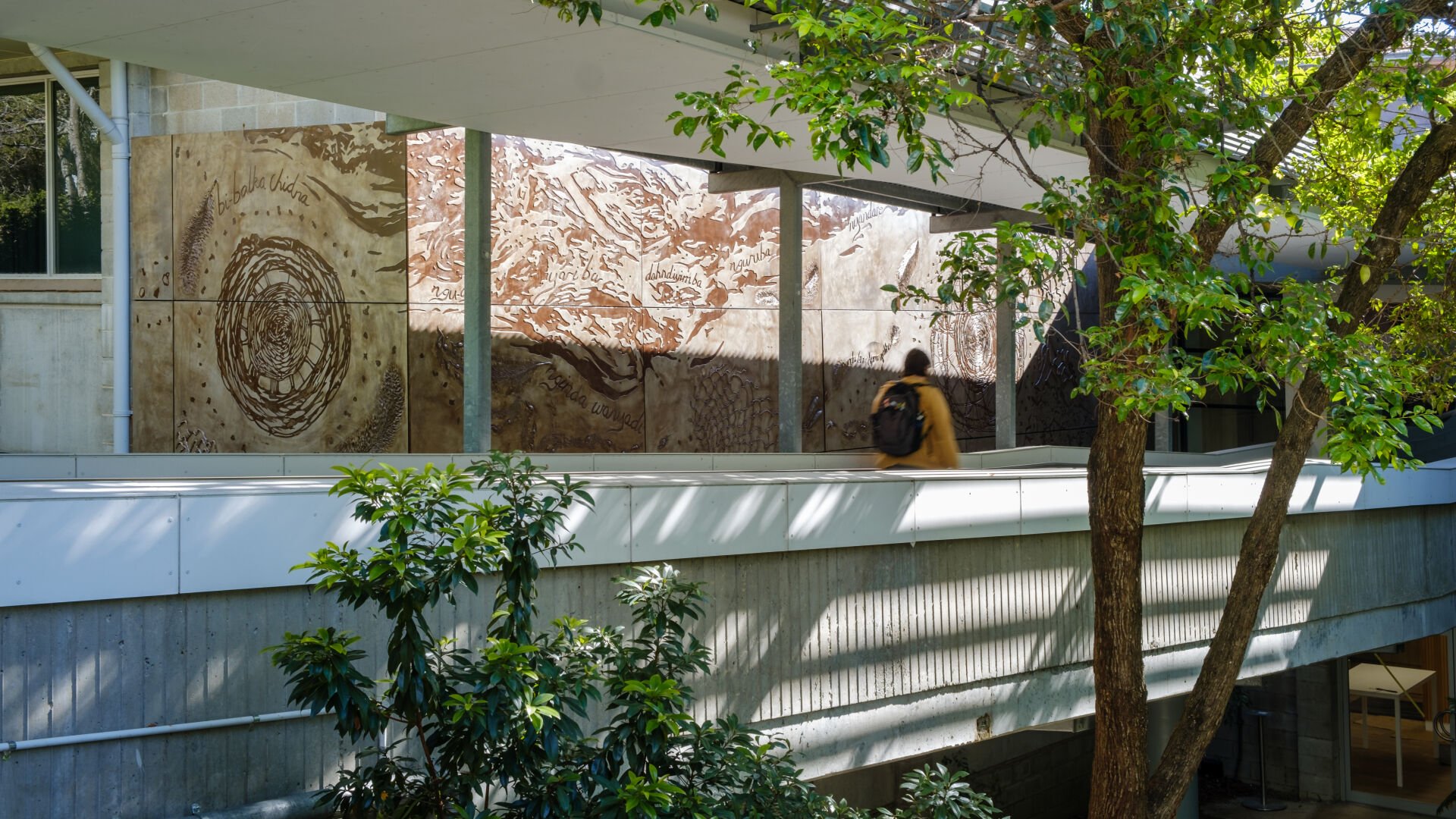 #Following Paperbarks
BRISBANE, AUSTRALIA
Jody Rallah, a descendant of the Biri Gubba, Yuggera, and Warangu peoples, is an artist whose diverse practice encompasses object making, sculptural installation, painting, sound, and performance. Through her art, she creates "knowledge vessels" that embody living histories, bridging generational gaps and fostering conversations.
Collaborating with the team at Blaklash, who curated the artist for this project at Queensland University of Technology in Kelvin Grove, Rallah designed a wall artwork celebrating First Nations culture and stories of the place and the community.
Jody Rallah's work for QUT Kelvin Grove, beautifully highlights the importance of honouring Country, culture, and community. These elements are strategically and intricately imprinted and embedded through the pattern-making process, forging a strong connection to their overlapping narratives. This artwork warmly invites visitors to look closer into the detail and shares stories of Yuggera ountry.
From woven waterholes, tracks, and paper bark elements to text, embedding site-specific narratives, Rallah worked with the guidance of Gaja Kerry Charlton, Christopher Bassi, and our team in Brisbane to create graphic components and design elements for the artwork using a combination of mechanical routing and Rallah's own hand sculptured application, intricate patterns were created, including handmade nets onto 24 cast aluminium panels. The panels were skillfully painted to create contrasting areas, seamlessly integrating Rallah's handwork.
UAP is proud to have collaborated with the artist and Blaklash on this 15.5-metre-long x 3.2-metre-high sculpture showcasing various elements like textures of Emu Feathers, roots, woven nets, swimming gum nuts, and more, making it a pleasure to look at and observe.
Strategically placed elements each hold overlapping metaphors, re-embedding our narratives from Country and community back into the birthplace of the built environment. Creating an encoded memory map of circulating movement.

Jody Rallah
Blaklash were humbled to be involved in this special work developed as part of the Campus to Country strategy for QUT. Our process working with Jody included engagement of cultural advisor and Traditional Custodian Gaja Kerry Charlton to ensure appropriate protocols were adhered to and that there was an opportunity for intergeneration knowledge sharing.

Troy Casey
Image Credit: Rachel See courtesy of UAP | Urban Art Projects
Design Assist
Digital Model & Render
Material Exploration
Construction Methods
Installation Methodology
Workshop
Technical Drawings
Pattern Making
Paint Shop
Mould Making
Sand Casting
Welding and Fabrication
Finishing and Patina
Artwork Title
Following Paperbarks
Client
Queensland University of Technology
Location
Brisbane, Australia