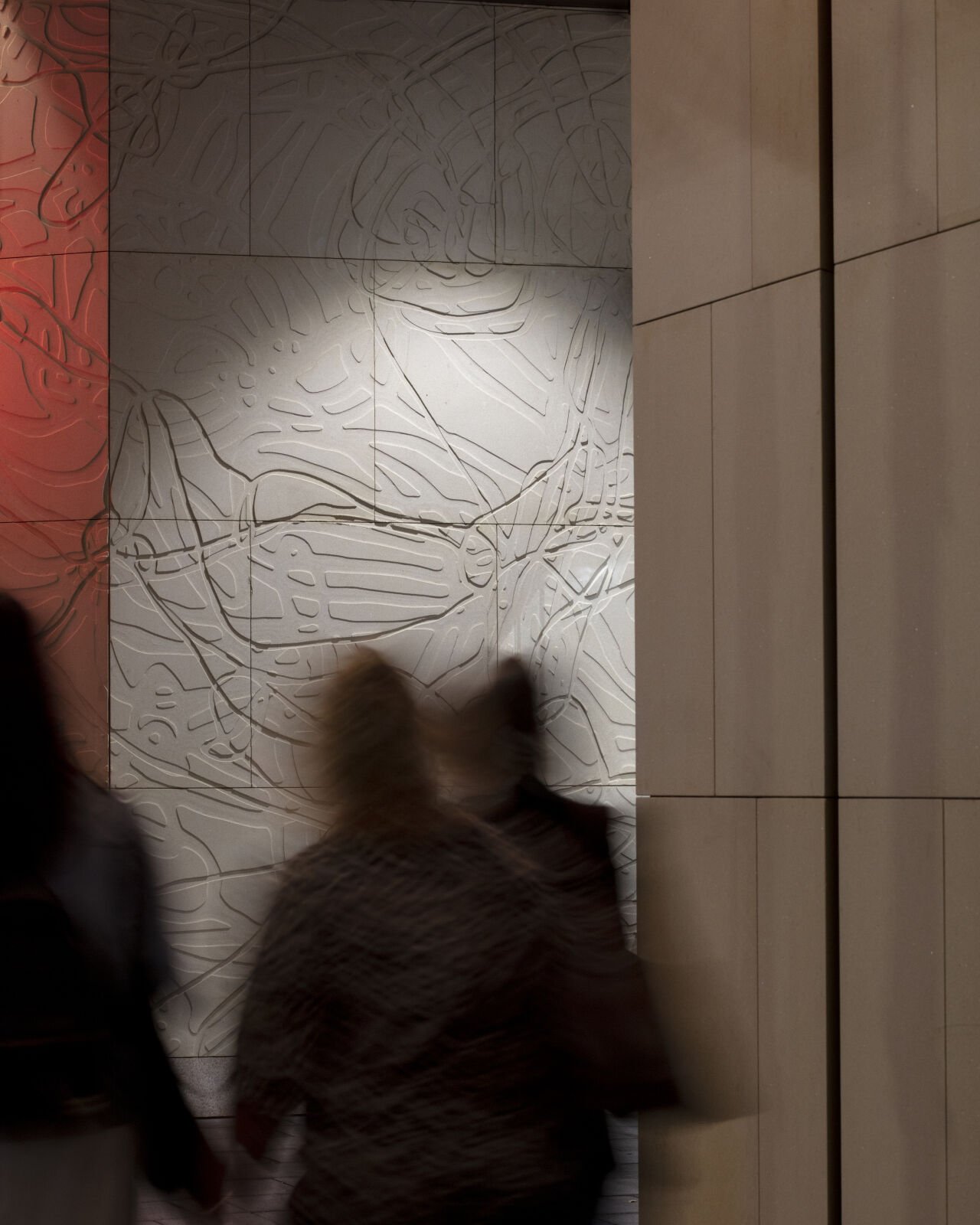 #Grown From Stone
SYDNEY, AUSTRALIA
Sydney is a sandstone city. Strolling through the city centre, sandstone can be seen to take its place as the city's bedrock – both geologically and metaphorically.
Adorning many of the city's most ornate public buildings, its presence is a perpetual reminder of both the city's Georgian beginnings and its more ancient past.
Grown from stone for 275 George Street by artist Hannah Quinlivan takes on this sandstone as its principal medium. Expanding across the facade and overhanging glass awnings of the recently completed premium office development, an array of scrambling lines cross and intersect in a complex visual pattern. This twisting and coiling of lines talks to the tangled rhythms and contours familiar to both Sydney sandstone and the localPort Jackson Fig, which can often be seen emerging from the fissures of Sydney's rocky sandstone outcrops.
The artist's inspiration for this timeless and sophisticated work arose from the Curatorial Vision established by our team during the development of the initial Public Art Strategy for the project. Driven by the sustainable and innovative aspirations that defined the building's conception, the Curatorial Vision 'Innovation Unearthed: Revealing Sydney's Inner Heart' provided a conceptual underpinning for the project, inviting artists to draw deeper into the city's hearth, to reveal and unearth the city's oldest stories and secrets.
Hannah Quinlivan's layered work Grown from stone can be seen as a metaphor for the multitude of stories and histories that intersect at this special place in the heart of the city. UAP is delighted to have had the privilege of working together with John Holland through all phases of the artwork procurement process, delivering a bespoke creative outcome that adds a new layer of narrative to the city's heart, and which endows this special place with new life, meaning and memory.
Images courtesy of John Holland Group
Photos by Brett Boardman
Consultancy
Public Art Masterplans and Strategies
Artist Procurement and Management
Design Assist
Digital Model & Render
Materials and Construction Methods
Workshop
Technical Drawings
Project Management
Installation
Artwork Title
Grown From Stone
Location
Sydney, Australia