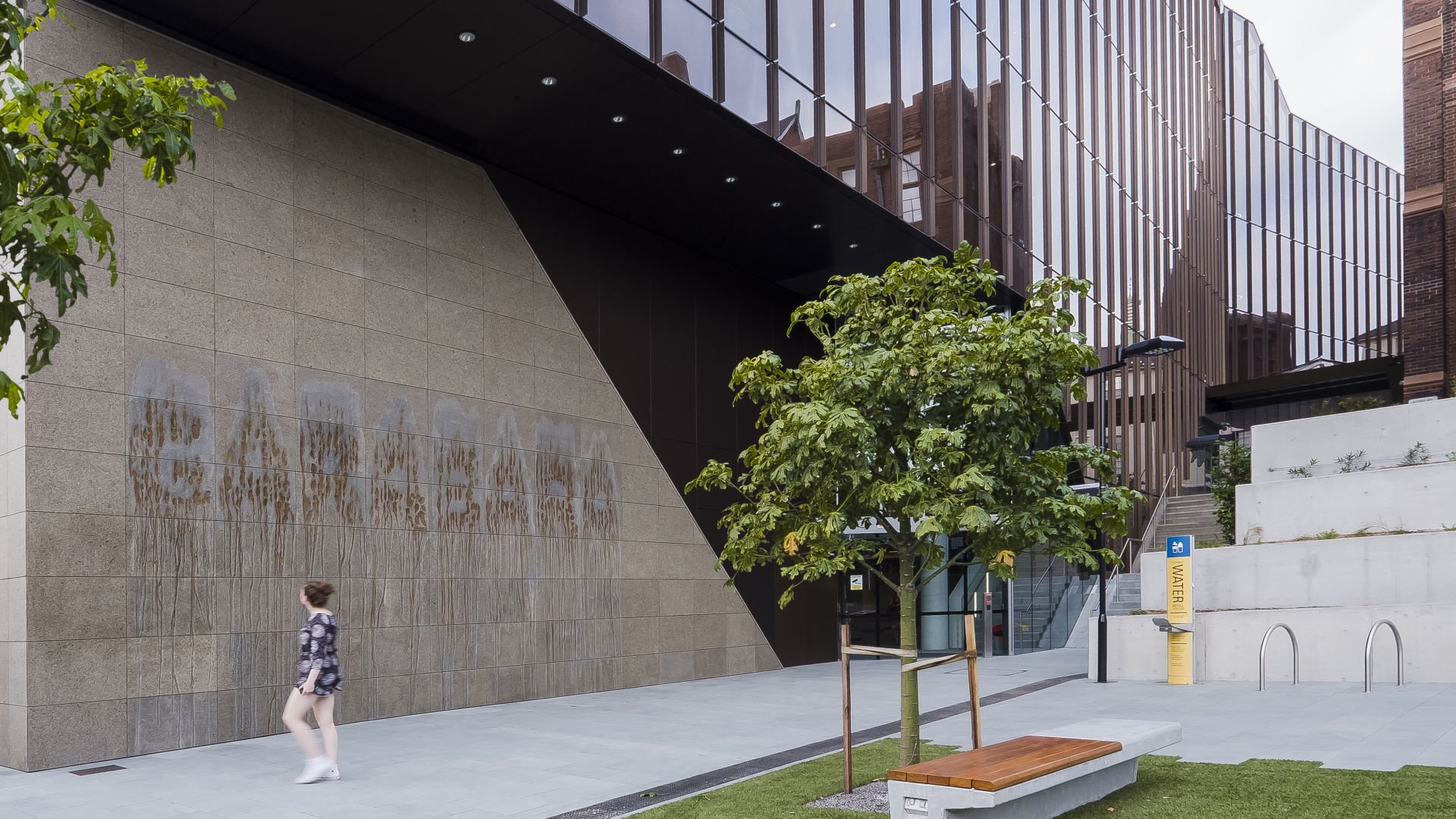 #Garabara
SYDNEY, AUSTRALIA
Robert Andrew's site-specific artwork was created for the newly developed Faculty of Arts and Social Sciences building at the University of Sydney. To create a context for artists to investigate, UAP developed the curatorial framework, 'A Sit Down & Paint Up Place: Sharing and Storytelling in Possum Ground on Gadigal Land' and the 'Wingara Mura Design Principles' for artists to explore ideas of knowledge sharing, histories, language and recognition of elders.
Australian artist Robert Andrew was selected by the project team to work closely with UAP to design, fabricate and install the final outcome, titled Garabara. A major aspect of Indigenous culture – the word 'Garabara' is used in ceremony for storytelling and as a means of passing on knowledge. The artist's use of this word as a permanent part of the building's façade responds to the site as both traditional land of the Gadigal People, and as a university – a place to reveal and share new knowledge.
Created with the intent to appear naturally eroded and stained on the building's exterior, UAP worked closely with Andrew through extensive material research, digital 3D modelling and photogrammetry — resulting in the accurate representation of eroded surfaces.
Using the 3D model, the work was CNC milled into each granite wall-panel with organic bronze and steel forms. To complete the work, an iron oxidization treatment was applied to give a natural rust-like stain, mimicking the natural processes of erosion and deterioration.
Image credits: Rachel See. Concept image: courtesy of the artist.
Project
University of Sydney, Faculty of Arts & Social Sciences Building
Client
University of Sydney
Location
Sydney, Australia