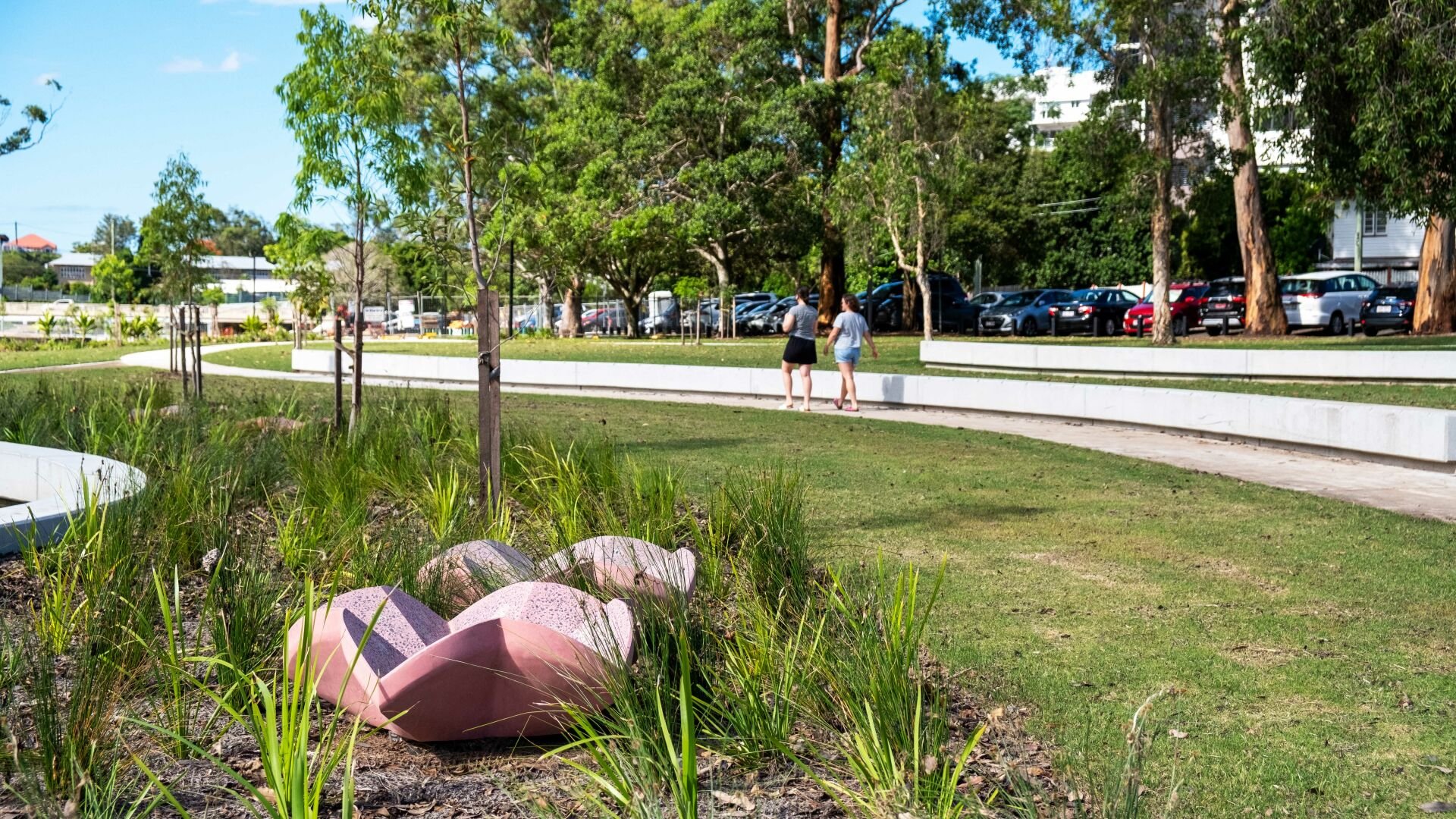 #re-wild
BRISBANE, AUSTRALIA
Norman Creek in Brisbane's inner-south was once a place of abundance for local Indigenous communities, with a healthy ecosystem of freshwater habitats, flood plains, and intertidal areas. With an aim to return the space to its more natural state and revitalise the area, the Brisbane City Council launched the Norman Creek 2012-2031 Project.
Running alongside Norman Creek in Stones Corner is Hanlon Park, which has been converted into a vibrant urban oasis. Inspired by the significance of returning Norman Creek to a natural waterway, artist Belinda Smith, created re-wild.
Researching the area, Smith discovered historic records of plants that would grow wild within the creek landscape – "Here and there in the pockets of the creek the wild convolvulus hung in the gay festoons from the overhanging branches of the trees." (Historical Society of Queensland, 1918). Convolvulus is a native herbaceous pink flower, that folds and funnels. Once opened, the flower only lasts one day.
Taking on the form of the flower, Smith designed a series of sculptures that celebrate the return of the natural waterway. Cast in overpour concrete within UAP's Brisbane workshop, re-wild was created in a collaboration with Five Mile Radius.
Image Credit: Grace Dooner & Rachel See
Consultancy
Public Art Masterplans and Strategies
Artist Procurement and Management
Design Assist
Dedicated Design Assist
Materials and Construction Methods
Workshop
Pattern Making
Advanced Manufacturing
Installation
Project
Hanlon Park Redevelopment Project
Client
Brisbane City Council
Location
Brisbane, Australia