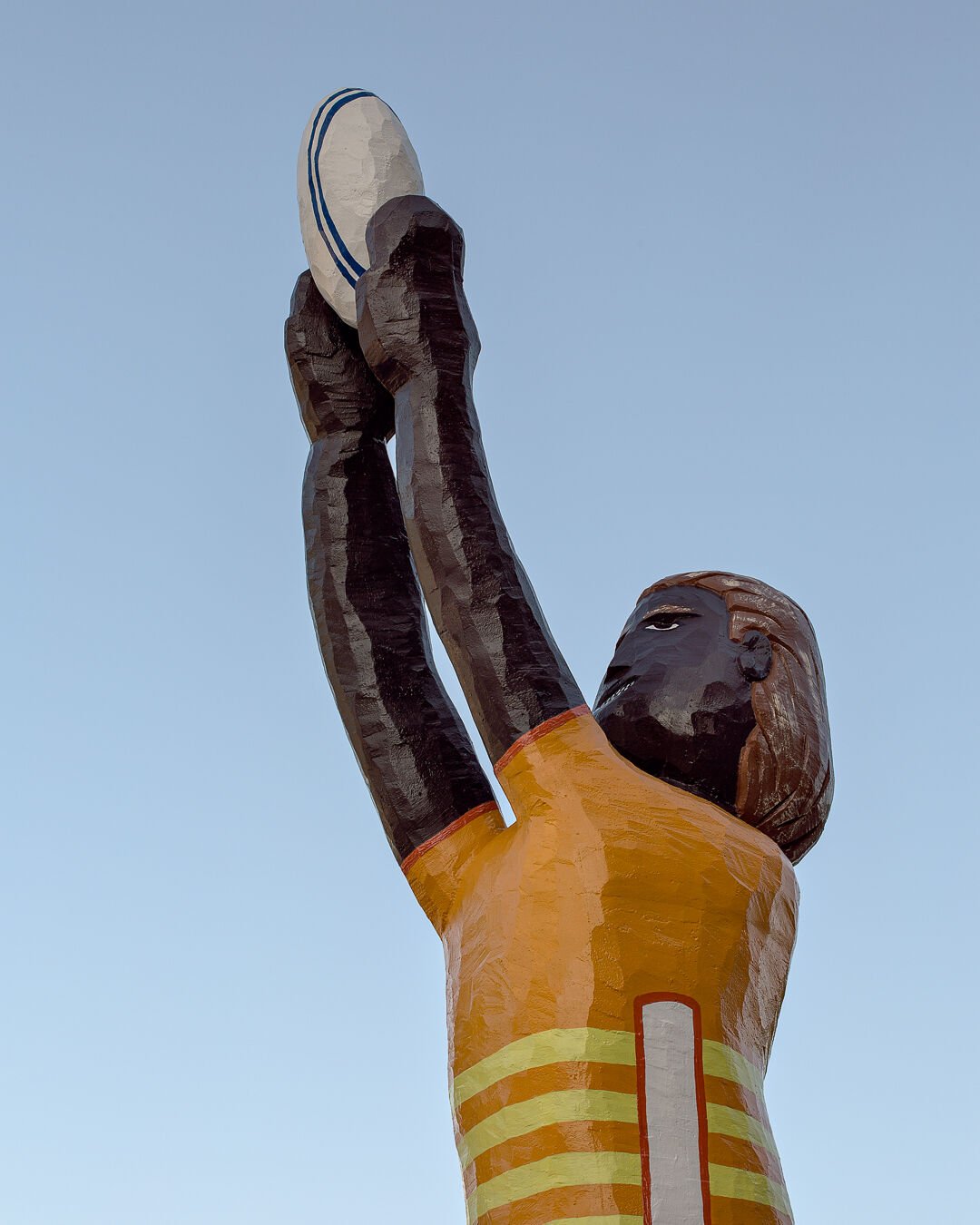 #One Big Mob, All Mixed Up
SYDNEY, AUSTRALIA
Celebrating community at its core, Dinni Kemarre Kunoth's large-scale sculptural work sited at Sydney Football Stadium, captures the joy of collaboration, participation, and the power of sport as a catalyst for connection. Titled One Big Mob, All Mixed Up, the work features three sportsmen, mid catch, vying for the ball. The work speaks to afternoons bonding over a friendly match, the fierce pride that comes with watching your team win, and the friendships forged through a universal love for the sport. One Big Mob, All Mixed Up explores the far-reaching ways sport touches individuals and communities and the impact of sport has on promoting togetherness. In Dinni Kemarre Kunoth's work, football becomes conceptualised, to transcend the game itself, and is celebrated for the way in which it allows for community building and a collective joy to abound.
To realise the work, Dinni Kemarre Kunoth and UAP collaborated remotely due to pandemic restrictions, working to emulate the distinctive notches and capture the artists' hand brushed painterly finish which feature in the artists small-scale, carved figurative sculptures upon which the players who comprise One Big Mob, All Mixed Up are based. Cast in aluminium and detailed with an automotive paint finish, each figure stands at approximately three metres in height with the sculpture totalling five metres tall. Underpinned by a celebration of community, One Big Mob, All Mixed Up speaks to belonging and solidarity to create a vibrant reminder of the fact that we are all connected.
Curated by Cultural Capital, the Sydney Football Stadium will be home to a suite of new public artwork commissions. Dinni Kemarre Kunoth and Mossenson Art Projects approached UAP to collaborate and support the realisation of the artwork vision through the delivery of concept design, technical design, fabrication and installation. Dinni was supported by the Utopia Art Centre throughout the project.
Image Credit: Courtesy of Utopia Art Centre, Grace Dooner, Rachel See and Document Photography courtesy of UAP | Urban Art Projects
Design Assist
Digital Model & Render
Materials and Construction Methods
Installation Methodology
Workshop
Technical Drawings
Pattern Making
Paint Shop
Mould Making
Sand Casting
Welding and Fabrication
Installation
Creative
Dinni Kemarre Kunoth
Artwork Title
One Big Mob, All Mixed Up
Project
Sydney Football Stadium
Location
Sydney, Australia