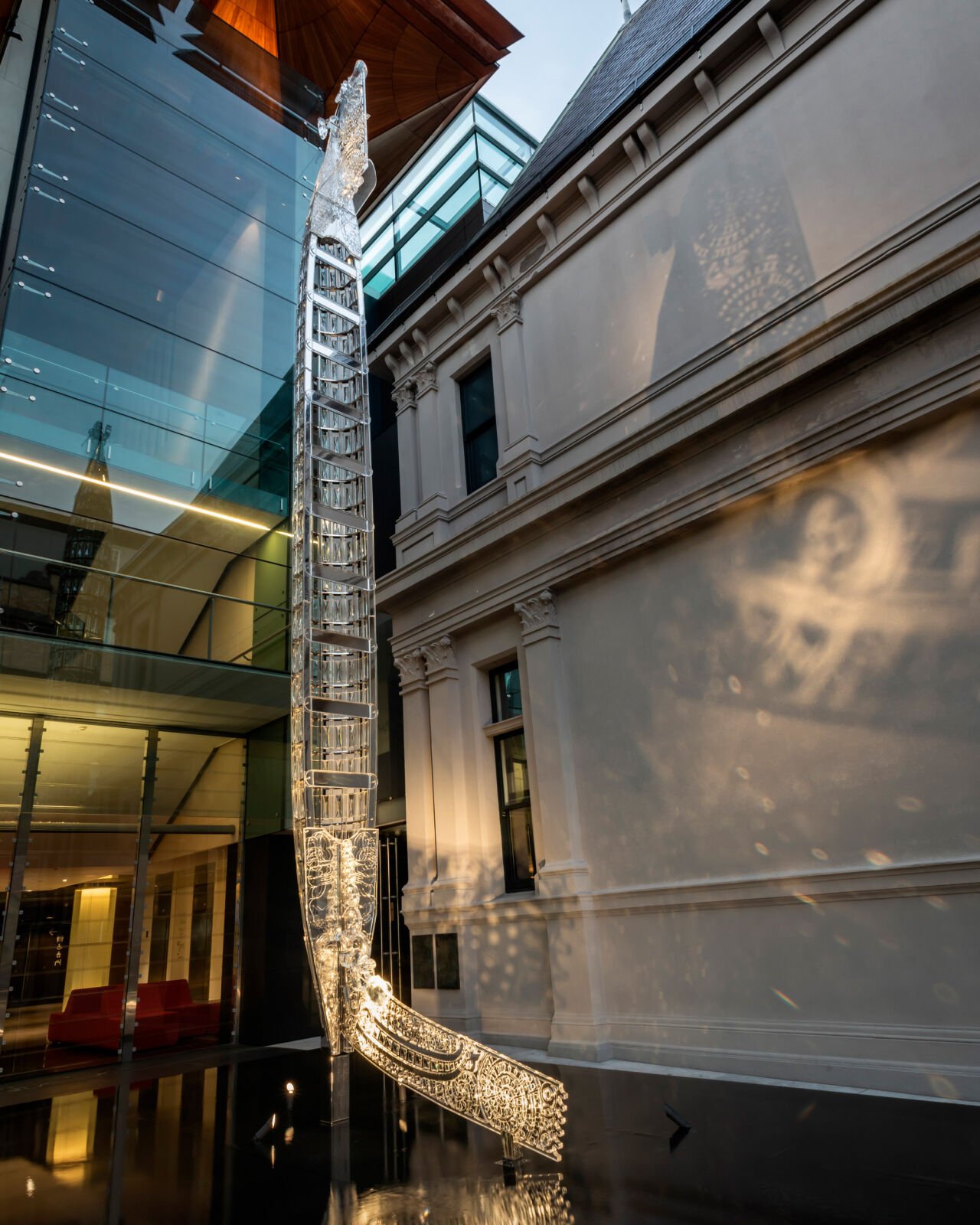 #Guide Kaiārahi
AUCKLAND, NEW ZEALAND
Guide Kaiārahi, by Māori artist, Reuben Paterson was commissioned by the Edmiston Trust and the Auckland Art Gallery as a semi-permanent commission sited in the public forecourt, above the reflection pool of Auckland Art Gallery Toi o Tāmaki in New Zealand.
Paterson is best known for his use of glitter, and creation of sequin encrusted paintings and sculptures. The artist is adept at harnessing the appeal of light, its reflectivity, and the visual articulation of surfaces to amplify pattern, colour and texture. Paterson draws from both his Māori and Scottish ancestry to combine traditional Māori pattern and design with non-traditional media, reinvigorating and extending Māori expression.
Guide Kaiārahi takes inspiration from the sighting of a "phantom waka" (canoe) at the foot of Mount Tarawera on Lake Tarawera eleven days prior to a massive volcanic eruption which took place in June 1886. The apparition of the waka was interpreted at the time to be ominous, with the Priest Tūhoto Ariki confirming this conclusion. The eruption that resulted was catastrophic for nearby settlements which were buried by a mixture of ash and debris. The Māori community felt that the eruption was the God Atua Te Tamahoi, who had been buried within Mount Tarawera, expressing rage at traditional Tapu (religious customs) not being observed, and therefore perceiving the land as being taken for granted.
Paterson's work was conceived prior to the reveal of COVID 19 and subsequently built during the pandemic, perhaps another foreshadowing of this more recent catastrophic event. In late 2019, Paterson engaged the services of UAP Australia to help create the work, and over a two-year period, his vision was realised within the walls of UAP's Brisbane workshop. Affixed to a custom stainless steel skeleton frame are 595 crystals and hand-carved Māori figures. Once installed in the gallery's forecourt, the highly polished reflective materials illuminate and irradiate the gallery's external facade and interior, bathing viewers in the rainbow refractions of light. Th sculpture is Paterson's most ambitions work to date and is expected to be on display for the next five years.
Image Credit: Photography by Hamish Melville courtesy of Auckland Art Gallery Toi o Tāmaki & Rachel See
Design Assist
Dedicated Design Assist
Materials and Construction Methods
Workshop
Technical Drawings
Project Management
Pattern Making
Welding and Fabrication
Artwork Title
Guide Kaiārahi
Project
Auckland Art Gallery Forecourt
Client
Auckland Art Gallery Toi o Tāmaki
Location
Auckland, New Zealand