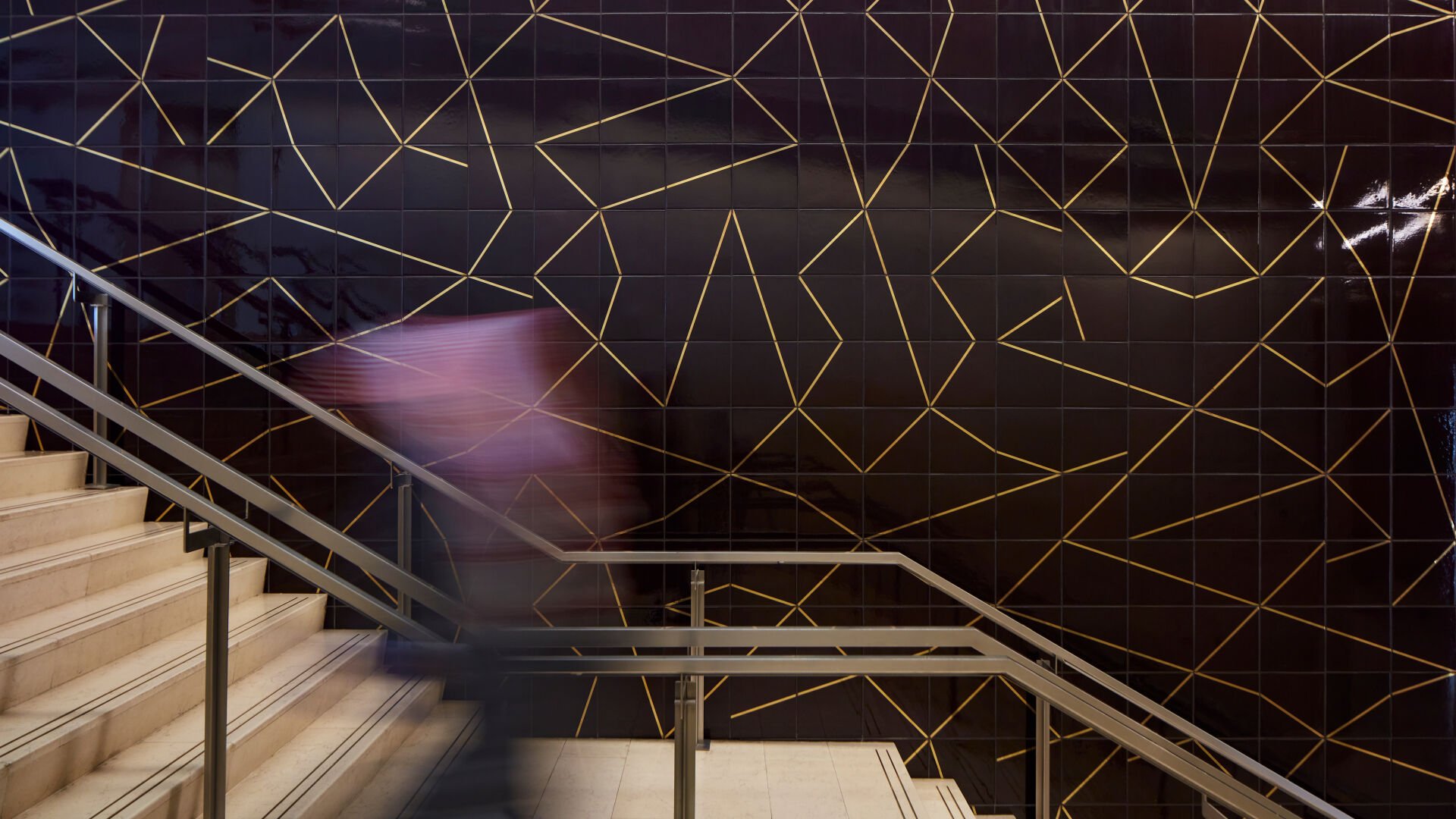 #Limelight
DHAHRAN, SAUDI ARABIA
Sweeping across the entire wall surface area of an open, two-floor reception vestibule and cinema entrance at Ithra, the integrated tile artwork Limelight went through several design iterations that culminated in the striking large-scale installation seen today. Creatively directed, designed and fabricated by UAP in Australia, Limelight responded to a set of curatorial criteria that called for exploring a contemporary application of the traditional Iznik quartz tile and an enhancement of the environment of the space. This has been achieved contemporaneously to creating a dialogue with the surrounding context, including the architectural design of the building.
Approximately thirty-five meters long and six meters high, Limelight draws conceptually on the technical perspective of the cinema projector, and how it manipulates, redirects and choreographs light. The design is inspired by the infinite possibilities of light beams extending from a single point, which are then refracted to create a mirage-like composition that radiates across the vast surface of the tiles. Limelight is a strikingly dynamic installation that commands attention. It captures gaze analogous to the allure of a film by its constant altering appearance with light and perspective as it dances across space, spilling onto the floor at times in hued shadows, while temporarily borrowing the reflected silhouettes of people passing by, who subtly and unbeknownst become characters in a montage or vignette.
UAP joined the Ithra project team in 2010 in a curatorial capacity, to work alongside Mona Khazindar in the early planning stages of the integrated art program. Ithra and Mona's vision was ambitious, to procure and commission twelve highly site-specific artworks that spoke symbiotically to Ithra's core philosophy and architecture, designed by the Norwegian studio Snøhetta. UAP also worked with Aramco and the King Abdulaziz Center for World Culture to oversee the delivery and install of these incredible projects.
Image credit: Cieran Murphy
Project
King Abdulaziz Center for World Culture - Ithra
Location
Dhahran, Saudi Arabia